If Harvick is committed to RCR, he's not saying it
July, 25, 2009
07/25/09
5:03
PM ET
INDIANAPOLIS --
Kevin Harvick
sat on a stack of tires outside his garage stall at Indianapolis Motor Speedway on Saturday willing to talk about what has been the most frustrating season of his Sprint Cup career.
He was not ready to commit to driving for Richard Childress Racing next season.
Despite a contract and sponsorship that runs through 2010 and a statement by owner Richard Childress that he expects both deals to be honored, Harvick went out of his way to be noncommittal.
[+] Enlarge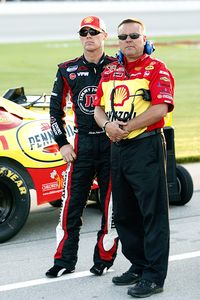 AP Photo/Skip StewartWhat did we learn from Kevin Harvick's trackside interview Saturday at Indy? Not much.
Here's a snapshot of how the interview went:
• What are your plans for the future?
"Right now we're focused on this week. We have a good car this weekend and the focus is on this weekend's race.''
• You talked to Childress this past week. What kind of conclusion did you guys come to?
"Our focus is we brought a new car here and everything has gone well since we unloaded it. Our focus is to do what we need to do on the track and go from there.''
• Childress says you two are all good for next season. Is that correct?
"I think everybody has talked.''
• Have you asked out of your contract?
"We're focused on this weekend.''
• Do you want to be at RCR in the future?
"Right now we're here to race and do what we need to do from a driver's standpoint. Everybody is working well together. … Right now I'm the driver of the Shell Pennzoil No. 29 RCR Chevrolet. That's my job and that's what I intend to focus on. All the rest of that stuff will take care of itself.''
• Will you be at RCR next year?
"All of us drivers and crew chiefs, we're not going to drag this thing through the mud. We're going to put our heads down and make it as good as we can.''
• I know you're not happy with the performance of the team, but are you happy with RCR?
"That's the same question, just a different way of asking it. We're all focused on a week-to-week basis on what we need to do at the racetrack. Nothing has changed from that point."
• You easily could say you'll be back next season. Why not?
"I told you, we're here to race this weekend and do the best we can, and we'll continue to do that on a week-to-week basis.''
This doesn't sound like a driver committed to the future of RCR. This sounds like what sources said last week is a driver who wants out of his deal to go somewhere else.
He reportedly is interested in moving to Stewart-Haas Racing and joining Tony Stewart and Ryan Newman, two of his closest friends in the garage. It makes sense in a lot of ways. Harvick would join one of the top organizations. Stewart would get the benefit of Harvick's Nationwide Series program.
If Harvick doesn't want out, this could be his way of trying to force Childress to elevate the performance of the entire organization, which has no driver in the Chase hunt after putting three in the past two seasons.
He has been known to play mind games. Maybe as much as Dale Earnhardt, the driver he replaced in 2001.
Harvick obviously is frustrated with his Cup teams. He doesn't appear to think swapping out longtime crew chief Todd Berrier was the reason for his struggles.
How this all turns out is anybody's guess. Remember, a year ago Stewart went months saying he hadn't asked out of his contract at Joe Gibbs Racing. Look at him now.
All we know for sure is that Harvick is focused on this weekend. He said it more ways than we could ask questions.
"Richard and I, no matter what happens in the end, Richard and I will always be friends,'' Harvick said. "We have gone through a lot of good times and hopefully we'll go through a lot of great times together as we go forward.''