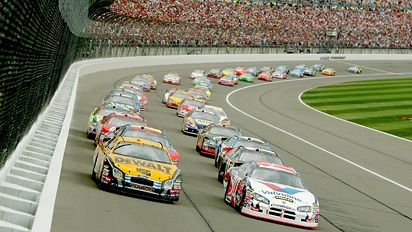 Tune up on terminology
Don't know your drafting from your wedge? Just check out our glossary of racing terms so you can follow along in any conversation about NASCAR.
Story
LOOK INSIDE AND UNDER THE HOOD OF A RACE CAR
How about these options?

They may be Chevys, Fords, Dodges and Toyotas, but there's a lot of differences between NASCAR race cars and the one in your garage. Check out a cutaway view of a stock car, a peek inside the cockpit and a comparison of race tires and street tires.
THE RACETRACKS OF SPRINT CUP

TRACK
RACE DATES
Atlanta Motor Speedway
March 9, Oct. 26
Bristol Motor Speedway
March 16, Aug. 23
California Speedway
Feb. 24, Aug. 31
Chicagoland Speedway
July 12
Darlington Raceway
May 10
Daytona International Speedway
Feb. 17, July 5
Dover International Speedway
June 1, Sept. 21
Homestead-Miami Speedway
Nov. 16
Indianapolis Motor Speedway
July 27
Infineon Raceway
June 22
Kansas Speedway
Sept. 28
Las Vegas Motor Speedway
March 2
Lowe's Motor Speedway
May 17, May 25, Oct. 11
Martinsville Speedway
March 30, Oct. 19
Michigan International Raceway
June 15, Aug. 17
New Hampshire International Speedway
June 29, Sept. 14
Phoenix International Raceway
April 12, Nov. 9
Pocono Raceway
June 8, Aug. 3
Richmond International Raceway
May 3, Sept. 6
Talladega Superspeedway
April 27, Oct. 5
Texas Motor Speedway
April 6, Nov. 2
Watkins Glen International
Aug. 10

Complete 2008 NASCAR Sprint Cup schedule and results