CHARLOTTE, N.C. -- Amid the various NASCAR executives, team owners, current and former drivers at the memorial service for Robert Yates, the ones not dressed in formal attire were the ones who spoke volumes about the Yates legacy.
Three buses of employees of Roush Yates Engines arrived at Hickory Grove Baptist Church dressed in their signature blue shirts, having been fed the chicken biscuits normally brought to the shop after one of their engines wins a race.
They weren't the only one wearing race shop attire. Members of the Hendrick engine shop attended, probably having come from work and headed straight back afterward.
Yates, a member of the 2018 NASCAR Hall of Fame class, died Monday at age 74 after a battle with liver cancer. His influence will last well beyond his nearly 40 years of working in stock-car racing.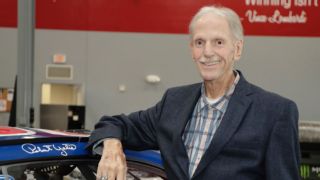 "The thing I think about most is the lives that he changed, the opportunities he gave people ... to come in, be part of an organization and succeed," said pallbearer Dale Jarrett, who won the 1999 NASCAR Cup title driving for Yates, prior to the service. "He helped us to do that, among thousands of others that came through Robert Yates Racing.
"There's so much more to him than that engine builder that we all think about. Everybody in that garage area today has been impacted in some way shape or form because of things that he did and things that he changed."
The 65-minute service celebrated the life of Yates, the son of a reverend and a deacon in his own church. Retired Trinity Baptist Church pastor Dr. Hugh Cooper said it was natural that Yates was put on the church's transportation committee.
Cooper recounted the story about how Yates figured out that it would be easier to tighten lug nuts if he glued them to the wheel hubs. Other teams would come around to Yates to figure out what he was doing.
"To this day, that little lug nut, they're still using that little dab of glue from the mind of Robert Yates," Cooper told the several hundred people who attended the service.
Jarrett, prior to the service, talked about how because NASCAR rules at one time dictated that the engine cylinder heads be the same as passenger cars, Yates developed cylinder heads that were then used in Ford vehicles.
Yates won 77 races as an engine builder and 57 as a team owner. He won three Daytona 500s as a team owner and in addition to Jarrett's championship, he built the engines for the 1983 title for Bobby Allison. Allison first met Yates in 1967 at Holman-Moody when Yates was the manager of the team's air gauge department.
"He was there and he was enthusiastic," Allison said. "In 1971, he was the key engine builder for the team, but he was also on the pit crew and a real member of the whole team."
Rev. John Brady, Yates' nephew, reminisced during the service about the 18-year-old Yates who took him to his first movie as a 5-year-old. They went and saw "Tarzan." It was that human side of Yates that endeared him to his employees. And then he inspired them because of Yates' ingenuity.
"The impossible became possible [with Yates]," Brady said.
Why? Kenny Crosswhite, a chaplain who used to travel with the NASCAR community, explained that Yates was meticulous and wanted everything to be right.
"He knew the excellence was in the small things," Crosswhite said.
That was indicative when Yates' son, Doug, said in a video prior to the funeral: "The reason our shops are clean today are because of him."
That attention to detail, as well as his faith, was well-known to those in the audience. NASCAR chairman Brian France, other owners and several drivers, including former Yates driver Ricky Rudd, attended.
"If I knew exactly what a genius was, I could put him in that category," Jarrett said. "I still consider him that.
"He did so many things. He was in the wind tunnel with us. When we were building our chassis, he was doing that. ... The thing that stands out the most is his competitive desire to be the best -- but his compassion for people exceeded everything that he was as far as his competitive spirit."