Busch Whacks 'Em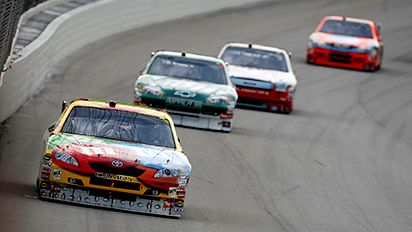 Jonathan Daniel/Getty Images
Kyle Busch made a bold move to get his seventh Cup win of the season.
Just when it looked like Kyle Busch might lose a race he was leading late, he took the high line to blow past defending champion Jimmie Johnson and sweep the weekend at Chicagoland Speedway.
Watch
Must Read

How do independent tracks Pocono Raceway and Dover International Speedway compete with the ISCs and SMIs of the world? Very carefully. David Newton
• McGee: From the track to the street

More from ESPN.com
Newton: The Juniors belong together
They fight, laugh and sometimes even call each other names you can't print. Dale Earnhardt Jr. and cousin and crew chief Tony Eury Jr. have a special relationship. And after Sunday's win, it appears to be working just fine, writes David Newton.
UP NEXT

SPRINT CUP SERIES
Daytona 500
Sunday, Feb. 20, 2011, TBA
Daytona International Speedway
•
Sprint Cup Series schedule
NATIONWIDE SERIES
DRIVE4COPD 300
Saturday, Feb. 19, 2011, TBA
Daytona International Speedway
CAMPING WORLD TRUCK SERIES
NextEra Energy Resources 250
Friday, Feb. 18, 2011, TBA
Daytona International Speedway
NASCAR on ESPN TV
Play Stock Car Challenge
Given a $100 million salary cap, build a team of five NASCAR drivers and compete for great prizes.
Select your drivers today!
2010 NASCAR Track Guide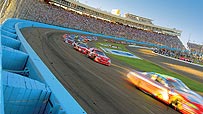 So this is the year you want to make NASCAR a bigger part of your sports existence. ESPN SportsTravel can get you started with a guide to all
22 tracks of the Sprint Cup Series.
Head out to the speedway