Another classic Smoke screen at Talladega?

By David Newton
ESPN.com
Archive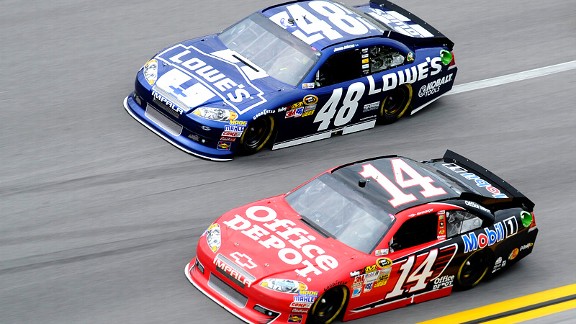 John Harrelson/Getty ImagesWhile Tony Stewart (14) had fuel issues at Talladega, Jimmie Johnson exited early with engine trouble.
CONCORD, N.C. -- Sarcasm, when used correctly, can be a clever tool for making a point.
It also can be harmful when overused.
Tony Stewart's news conference following Sunday's Sprint Cup race at Talladega Superspeedway was full of both. It bordered from brilliant to a violation of Section 12-4-A of the NASCAR rulebook, which covers everything "detrimental to the sport."
In one of the most bizarre postrace transcripts you'll ever read, the three-time Cup champion made a mockery of one of the sport's biggest races. He did it in such a sarcastic way that you may want to read it twice just to catch the surgeon-like precision in which he ripped apart the race and governing body.
The note accompanying the transcript says the interview was "tongue-and-cheek." According to several reporters there, Stewart never let on that he was joking and some left confused by what they heard.
But Stewart's point was well made: NASCAR needs to change a few things before the sport returns to the 2.66-mile track for the Chase.
He began with this general comment: "We didn't quite crash half the field, which is what we normally look to do here. I was excited about it. I thought it was a pretty good race. I made it further than I thought I would before I got crashed. I call it a successful day."
That led to questions about fuel issues that led quite a few drivers to run out of fuel earlier than expected, causing at least one big wreck, on Lap 142.
"I'm not quite sure what the fuel issue was," said Stewart, who finished 24th after being caught up in a late wreck. "The racing was awesome. It's fun to be able to race and have to watch the gauges at the same time. It makes us as drivers have to do so much more."
For the record, Stewart said he ran out of gas twice.
"Being able to make yourself run on the apron and everything else to try to get clean air, it makes it fun," Stewart continued with a straight face. "I'm sorry we couldn't crash more cars today. We didn't fill the quota for today for Talladega and NASCAR."
Stewart appeared serious while responding to Jeff Gordon's criticism that NASCAR needs to open the grill to prevent the extreme overheating that kept drivers from racing like they wanted.
"I think they need to close it down," Stewart said. "Honestly, I think if we haven't crashed at least 50 percent of the field by the end of the race, we need to extend the race until we at least crash 50 percent of the cars, because it's not fair to these fans for them to not see any more wrecks than that and more torn-up cars."
Stewart reportedly never cracked a smile. He went on to suggest that NASCAR should tape the front grill "solid" and run all the cars until they blow up.
"I think it would make it a lot more exciting for the fans," he said.
Stewart then said he felt "bad that as drivers we couldn't do a better job of crashing enough cars for [fans] today."
Evidence that the sarcasm wasn't caught by all, a reporter said to Stewart, "I can't figure out if you are happy or you are upset, with your tone."
"I'm upset that we didn't crash more cars," Stewart responded. "I feel like that is what we are here for. I feel bad if I don't spend at least $150,000 in torn-up race cars going back to the shop. We definitely have to do a better job with that."
To top it off, Stewart made several suggestions when asked if he preferred the pack racing NASCAR created with rules packages that resulted in cars overheating when pushing in pairs to tandem racing.
"I think we ought to make it a figure-eight," Stewart said. "I mean if we could make it a figure-eight it would be perfect. … That is going to be my vote next week, is that we make it a figure-eight and/or we can stop at the halfway, make a break and turn around and go backwards the rest of the way.
"Then with 10 to go we split the field in half, and half go the regular direction and half of them go backwards."
To Stewart's point, as great as Brad Keselowski's move to escape Kyle Busch on the final lap of the green-white-checkered finish was for the win, several issues must be addressed.
The overheating that ended the day early for Jimmie Johnson and Stewart teammate Ryan Newman with blown engines has to be fixed even if it means the return of tandem racing.
So does the issues that caused cars to run out of fuel early. Catastrophe can't be avoided when that happens while running three-wide in packs at 200 mph.
This all may have created some excitement for fans, but it left drivers angry.
"Some people call that exciting," Juan Pablo Montoya said after the Lap 142 crash led to his 32nd-place finish. "I don't. It sucks."
Stewart apparently felt that way, too. He just explained it in a way that made fun of the sport instead of using constructive criticism as Gordon and others did.
"I think that would be nice next time we come back here to have a little concession for Talladega," Gordon said.
Stewart went right to the heart of Section 12-4-A of the NASCAR rulebook, which if correctly enforced means a fine should follow.
Bring back the secret fine?
That's sarcasm. Those have been eliminated.
Stewart's biggest fault is he may have overused sarcasm. According to wikiHow, rule No. 6 in the seven steps to being sarcastic is "don't overuse your talent."
"Absolutely, I had a blast," Stewart concluded when asked if he had fun. "It would have been a lot more fun if I could have gotten caught up in one more wreck. If I could have done that, it would have been perfect."
Ed Hinton column: "Perfect race" | Live! rewind | Recap | Results | Highlights
Nationwide Series: No punishment for Danica?
Danica Patrick apparently won't be penalized for intentionally wrecking Sam Hornish Jr. on the cool-down lap Saturday at Talladega.
The question is: Why not?
NASCAR vice president for competition Robin Pemberton told The Sporting News on Sunday that Patrick and Hornish would be talked to before Friday's Nationwide race at Darlington Raceway, but no penalties are expected.
"It didn't go unnoticed," Pemberton said of the postrace incident in which Patrick sent Hornish into the wall. "Those are two good competitors, clean competitors. We'll just make sure it doesn't go any further."
That NASCAR didn't call at least Patrick to the hauler after the race isn't unusual. That the governing body doesn't plan to penalize Patrick for what was an obvious retaliation isn't out of the norm, either.
A year ago, Montoya turned Newman during the race at Richmond in retaliation for an earlier incident. NASCAR didn't meet with them until the following Friday at Darlington, and no penalties were publicly issued.
But in two other situations last season NASCAR responded with penalties. Kyle Busch was benched for the Nationwide and Sprint Cup races at Texas after intentionally wrecking Ron Hornaday Jr. under caution during the Truck series race. He also was fined $50,000 and placed on probation.
In May, Busch and Kevin Harvick were placed on four weeks of probation and fined $25,000 for a postrace pit road issue at Darlington. They also were called straight to the hauler after the race.
After Saturday's race, officials still were dealing with the violent wreck that sent Eric McClure to a Birmingham, Ala., hospital. But to allow Patrick to go without at least a tiny slap on the wrist leaves the governing body open to criticism for playing favorites to a driver who brings a great deal of notoriety and money to the sport.
Pemberton said Patrick's retaliation wasn't comparable to what Busch did to Hornaday but did not comment on the differences. He said the two didn't have a past, although NASCAR constantly argues each incident is taken at face value.
Bottom line: What Patrick did to Hornish put him at risk under caution at high speed. That it came on the heels of McClure's scary accident makes doing nothing seem inconsistent at best.
As driver Michael McDowell wrote on Twitter, "Not sure how you dynamite someone after the checkered flag and escape the call to the NASCAR hauler."
Patrick will get her trip to the hauler at Darlington. That she isn't expected to be punished once again puts NASCAR on the public relations defense.
Brant James: Danica's postrace punt | Recap | Results | Highlights
Camping World Truck Series: Gearing up for Charlotte
The series resumes May 18 at Charlotte Motor Speedway.
David Newton covers NASCAR for ESPN.com. He can be reached at dnewtonespn@aol.com.
Racing Reso urces says …
Sprint Cup Series

• Brad Keselowski won the Aaron's 499 on Sunday at Talladega Superspeedway. It was his sixth Cup win in his 99th start and his second victory of 2012. He joined Denny Hamlin and Tony Stewart as the only repeat winners of the season, each with two.
• Keselowski posted his second Talladega win in his seventh start and his second restrictor-place win in his 13th start.
• Keselowski led twice for 10 laps, including the final two.
• Keselowski has five wins in his past 34 Cup starts. • Penske Racing posted its 73rd Cup series victory but first win at Talladega. Penske has two wins in 2012.
• Dodge posted its fourth Talladega victory; the last was by Dave Marcis in fall of 1976. Dodge has two wins in 2012, both by Keselowski.
• Kyle Busch (second) posted his second top-5 finish in his 15th start at Talladega; it was his third top-5 of the season.
• Matt Kenseth (third) had his first top-10 finish in the past 11 races at Talladega. He led a race-high 73 laps.
• Kasey Kahne (fourth) posted his fourth straight top-10 finish of 2012 after starting the season with six finishes of 14th or worse.
• Greg Biffle (fifth) had his second top-5 finish in his 19th start at Talladega. His sixth top-5 of 2012 left him as the points leader by seven over Kenseth.
• David Ragan (seventh) had last finished in the top 10 in September 2011 at New Hampshire.
• Trevor Bayne (eighth) had his third top-10 finish in his 22nd career start.
• Dale Earnhardt Jr. (ninth) had his sixth straight top-10 finish, matching his career longest streak.
• It was the seventh race at Talladega to end with a green-white-checkered finish, second most among all tracks behind Daytona with nine.
• Nineteen cars failed to finish, the most of the season by eight cars (11 at Daytona).
Nationwide Series

• Joey Logano won the Aaron's 312 on Saturday at Talladega. It was his 11th Nationwide Series win in his 95th start. He joined Elliott Sadler (two) and Ricky Stenhouse Jr. (two) as the third repeat winner of 2012.
• Logano got his first Nationwide Talladega win in his fourth start; his worst finish there is third. He became the seventh winner in the past seven races at Talladega, the longest active streak of different winners at a track in the Nationwide series.
• Two of Logano's past three wins were with last-lap passes.
• Logano led six times for 17 laps, including the final lap.
• Joe Gibbs Racing posted its 70th Nationwide Series win and second victory of 2012. JGR has four wins at Talladega, most of all teams.
• Toyota posted its third Talladega win and third victory of 2012.
• Kyle Busch (second) had his best finish of 2012.
• Stenhouse (third) had his best restrictor-plate finish.
• Cole Whitt (fourth) tied his career-best finish from Daytona.
• Dale Earnhardt Jr. (fifth) posted his fifth top five-5 finish in his ninth Talladega Nationwide race.
• Kurt Busch (sixth) recovered from being two laps down.
• Elliott Sadler (10th) suffered damage and had to make repairs on pit road.
• Josh Richards (30th) made his Nationwide Series debut.
• It was the fourth straight race at Talladega to end with a last-lap lass.
-- Racing Resources