A lot to like on All-Star weekend

By Terry Blount
ESPN.com
Archive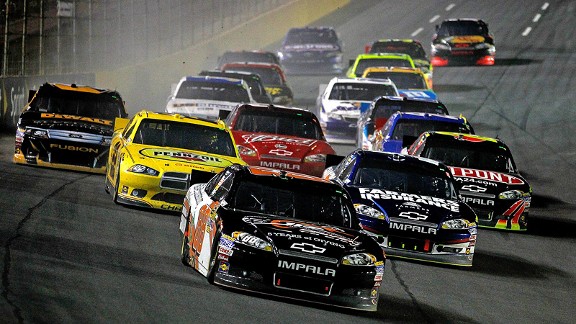 Jeff Zelevansky/Getty Images for NASCARDale Earnhardt Jr. thrilled fans with his dash to victory in the Sprint Showdown on Saturday. He finished fifth in the All-Star race.
Dale Earnhardt Jr. can win again. Jimmie Johnson still can dominate. AJ Allmendinger can fight his way to the front. And the immediacy of short stint All-Star racing still can thrill at times.
Those are a few of the things we learned Saturday night at Charlotte when Johnson coasted to his third All-Star race victory in the final 10-lap segment, the only one that didn't have some exciting moments.
First, all the Dale Jr. fans can celebrate. He's a winner, sort of. Earnhardt won the Sprint Showdown to earn a spot in the All-Star race rather than relying on the obvious freebie of the fan vote. Bobby Labonte, no doubt a distant second in that count, got the fan-vote spot thanks to Earnhardt's victory.
"I think we showed what we are capable of doing here next weekend [in the Coca-Cola 600]," said Earnhardt, who finished fifth in the All-Star race. "We are probably going to bring the same car. We have a couple of ideas on how to make the car even faster, especially for qualifying, that I hope will work out.
"I am real pleased with our effort. These races are little sprints and you really depend on the team to put the car out on the line ready to go, ready to take off. You can't really wait for the car to come in or anything like that. My guys did that all night. They built a great car. I had a lot of fun."
So did Johnson, who was better than everyone else when he needed to be and sandbagging at the back when he didn't.
The four 20-lap segments showed how immediacy can improve racing and make drivers go for it, but it also had a flaw. The first three segment winners, who were guaranteed the first spots in the mandatory final pit stop, could coast after winning a segment.
"It's kind of strange to ride around back there," said Matt Kenseth, who won the second segment and finished third at the end. "Being drivers, we're always programmed to go as fast as you can and be up on that edge as far as you can without wrecking. It's really hard to run slow like that and try to save it."
Nevertheless, the racing up front was competitive, with a lot of side-by-side action.
It also was possible to go from the back to the front in a few laps, as Allmendinger proved in the Showdown. He was supposed to start on the front row in the qualifier race but had a flat on the pace lap.
"Man, to get a flat tire coming to the green," he said. "I don't know if we've got to sacrifice a goat or what I need to do or what I've done wrong to somebody to keep having the bad luck."
But Allmendinger powered his way to a second-place finish to earn the other transfer spot into the All-Star race, including some door-panel banging with Jamie McMurray at the end to get the runner-up spot.
"I'm not going to give up on these guys," Allmendinger said. "They work too hard. They deserve to be in the [All-Star] race. I knew if I got to [McMurray's] bumper, I was going to move him the heck out of the way because I wanted to be in this race."
The night was filled with passing up high and down low. Was it just the format or was it the technical changes NASCAR made earlier in the week? NASCAR raised the side panels on the cars to decrease downforce in an effort to improve on-track competition.
"I couldn't really tell much difference," Kenseth said. "It's a pretty small change. But I thought it was maybe a little easier for me to pass. When I caught the 11 [Denny Hamlin], I didn't think I was much quicker than him, but I was able to maneuver around enough to get by him."
How the change will play out in a 400-lap race next weekend instead of 20-lap segments is unknown. But it was an encouraging sign that the change is a step in the right direction.
"I think it's a penny in a situation where you're looking for a dollar," said Brad Keselowski, who finished second to Johnson. "So, yeah, you like it, but more would be better."
David Newton column: JJ and Mr. H | Live! rewind | Recap | Results | Highlights
Nationwide Series: Wallace impresses in series debut
Nationwide Series points leader Ricky Stenhouse Jr. won for the third consecutive time at Iowa with his victory Sunday, but a couple of things happened behind him that were interesting.
Kurt Busch got punted (unintentionally) by Michael McDowell on the last lap, but Busch was all smiles afterward and handled the situation perfectly. It probably helped that McDowell, who finished a career-best third, walked down pit road and apologized to Busch, but Busch was all class in his response.
"I got loose and [McDowell] got into me," Busch told ESPN. "That's just hard racing. I don't care. We had a good day."
Rookie Austin Dillon had another good day. He finished fourth for his sixth top-5 in the No. 3 Chevy. Dillon is third in the standings.
But Darrell Wallace Jr. was the young driver who made the biggest impression. Wallace, an 18-year-old African-American racer who is a product of the NASCAR Drive for Diversity program, finished ninth in his first Nationwide Series start, driving the No. 20 Joe Gibbs Racing Toyota.
"Great day for us and for me," Wallace told ESPN. "We executed pit stops well and that was one of my biggest worries. And I have to manage my restarts better. Running with the big guys is tough, but I look forward to doing it again."
Recap | Results | Highlights
Camping World Truck Series: Lofton keep youth movement rolling
The youthful depth of the Camping World Truck Series is clear this season. The first five events have produced three winners who earned their first victory in the series.
Justin Lofton, 26, was the latest new winner Friday at Charlotte, which gave Lofton a 1-point lead over Timothy Peters in the season standings.
A couple of young rookies also are garnering attention. Ty Dillon, 20, is third in the standings, driving the truck his brother Austin guided to the championship last year.
Rookie Jeb Burton, Ward Burton's 19-year-old son, earned his first top-10 with an eighth-place finish.
If the young drivers want to know the proper way to handle things when they're angry after a race, Cup regular Brad Keselowski showed them Friday.
Keselowski felt Ron Hornaday Jr. didn't treat him fairly on the final restart, bumping him front behind, so Keselowski let him know it.
''I'm not [expletive] going to put up with it anymore," Keselowski told Hornaday.
Yes, Brad used a cuss word. But it was a private conversation between the two of them. Keselowski didn't throw a fit. He simply made his point and that was it.
Terry Blount is a senior writer for ESPN.com. He is the author of "The Blount Report: NASCAR's Most Overrated and Underrated Drivers, Cars, Teams, and Tracks." He can be reached at terry@blountspeak.com.
Racing Resources says …
Sprint Cup Series

• Jimmie Johnson won the Sprint All-Star Race at Charlotte Motor Speedway on Saturday night. It was his third All-Star win in his 11th start, tying Dale Earnhardt and Jeff Gordon for most. He is the only repeat winner in the past 14 All-Star races (three wins).
• Johnson won Segment 1 and the final segment. He led all 10 laps of that last segment.
• Johnson's winning share of the purse was $1,071,340.
• Johnson leads all drivers with more than $4.2 million in career All-Star winnings.
• Hendrick Motorsports posted its seventh All-Star Race win, most of any team.
• Segment winners were Johnson (Segments 1 and 5), Matt Kenseth (2), Brad Keselowski (3) and Dale Earnhardt Jr. (4).
• Earnhardt won the Sprint Showdown preliminary event at Charlotte. It was his first Showdown win in his second start. He transferred to his 13th All-Star Race.
• It was Earnhardt's seventh NASCAR special event win: All-Star Race (1), Shootout (2), Qualifier (3), Showdown (1).
• Earnhardt joins Jeff Gordon and Tony Stewart as the third driver to win all four NASCAR special events.
• Earnhardt led all 40 laps of the Showdown.
• AJ Allmendinger (second) finished second in the Showdown and transferred to his second All-Star Race. He started on the pole but had to pit coming to the green flag with a flat left-front tire.
• Bobby Labonte (12th) received the fan vote to transfer to his 17th All-Star Race.
Nationwide Series

• Ricky Stenhouse Jr. won Sunday's Pioneer Hi-Bred 250 at Iowa Speedway. It was his fifth career win in his 83rd start and his third victory of 2012. He has won three consecutive races at Iowa.
• Stenhouse has finished in the top six in the past nine races.
• Stenhouse led a race-high 209 laps, tying Kyle Busch for the most at Iowa.
• Roush Fenway Racing posted its 127th career win, the most by any team. RFR has three wins in 2012 and three wins at Iowa (all with Stenhouse).
• Ford posted its series-leading third victory at Iowa and third win of 2012.
• Elliott Sadler (second) has top-5s in all three starts at Iowa. It was his first top-5 in the past six races after starting the season with four top-3 finishes.
• Michael McDowell (third) tied his career-best finish (Montreal in 2011). He recovered from a speeding penalty on Lap 185.
• Austin Dillon (fourth) had his sixth top-5 finish this season.
• Kurt Busch (fifth) has finished in the top 10 in five of his six starts this season. This was his first start at Iowa.
• Parker Kligerman (eighth) tied his career-best finish in his first start of 2012 (eighth at Montreal in 2010).
• Darrell Wallace Jr. finished ninth in his Nationwide Series debut, the best finish by a driver making his debut at Iowa.
• Sam Hornish Jr. (12th) blew a tire on the last lap while running eighth.
• Michael Guerity finished 39th in series debut.
Camping World Truck Series

• Justin Lofton won Friday's North Carolina Education Lottery 200 at Charlotte Motor Speedway. It was his first career win in his 55th start. His previous best finish was third (twice).
• Lofton became the fifth different winner in five Truck series races in 2012.
• Lofton led twice for 44 laps, including the final 10 laps.
• Lofton leads the points for the first time in his career.
• Eddie Sharp Racing posted its first career win in the Truck series. Lofton won the 2009 ARCA championship with Eddie Sharp.
• Chevrolet posted its fourth victory of 2012 and seventh win at Charlotte, the most by any manufacturer.
• Brad Keselowski (second) matched his career-best finish set at Gateway in July 2010.
• Todd Bodine (third) posted his best finish of 2012 (second top-5) and fourth top-3 finish at Charlotte.
• Jason Leffler (fourth) had his best finish in his fifth start of 2012.
• Ron Hornaday Jr. (fifth) posted his best finish of 2012. It was his sixth top-5 finish in his eighth start at Charlotte.
• Jeb Burton (eighth) had his first career top-10 finish.
• Ty Dillon (10th) has finished in the top 10 in the past seven races.
-- Racing Resources