Sprint Cup: Logano rolls to third win
Sprint Cup: The haves and have-nots get feisty
With Joey Logano's third victory of the season Saturday night at Bristol Motor Speedway, the number of winners in the Sprint Cup Series held at 12.
If it stays that way the next two weekends -- at Atlanta on Sunday and Sept. 6 at Richmond -- four drivers are going to make NASCAR's expanded Chase based on points.
That's looking like good news for Matt Kenseth, who at 73 points ahead of 17th-place Kyle Larson can lock up a playoff spot with a decent finish at Atlanta, or of course, a victory. Ryan Newman, Clint Bowyer and Greg Biffle, 14th through 16th respectively, have more work to do, but can look at the next two races as genuine opportunities to lock themselves in with a win.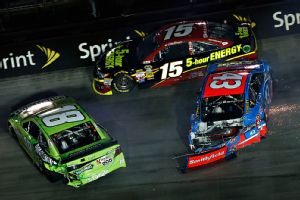 Sean Gardner/Getty ImagesThere was plenty of twisted metal to go around after Saturday night's race at Bristol.
For Larson, 26 points behind Biffle, on back to the last driver with a reasonable mathematical chance at getting to 16th -- Paul Menard at 20th and 45 points back -- the odds are getting longer.
"Atlanta is a fun track," Larson said. "I hope we can go there and get a win and stop worrying about points.
"I think 26 behind Biffle is a long way to go for two races. Hope for some bad luck for him, but we will see."
Menard fought back from a lap down but never could find the speed to get to the front. He'll need a win or a lot of problems for those ahead of him -- Kasey Kahne and Austin Dillon are 18th and 19th -- to salvage his playoff hopes.
"Definitely wanted more," said Menard, who finished ninth. "We had a really good car. We had two runs where we just got off."
Kahne is 33 points behind Biffle and a two-time winner at Atlanta. Another victory on Sunday would soothe the sting of a disastrous 35th-place finish at Bristol.
For Dillon, his 28th-place finish at Bristol was the second race in a row he failed to finish on the lead lap.
So the current have-nots are feeling the pressure to get in, but many of the haves felt frustration after Bristol proved to be a wild and caution-filled affair.
Kevin Harvick plowed through Denny Hamlin for the lead, leaving Hamlin 40th and fuming he didn't have enough car left to give Harvick some payback. He did have the wherewithal to throw part of his HANS device at Harvick's car as the No. 4 circled the track after the incident.
So is the old Bristol back? Yes and no, according to Hamlin.
"This is kind of a product of everyone fighting for track position," he said. "While I believe, in my opinion, when they tried to fix the racetrack by grinding the top it just made the top better, and now you just see a ring around the top, which it was a good thought, it just didn't work.
"And now you almost need to grind the bottom or something to give it some grip as well. It's still a great racetrack. I mean, look at the fan turnout that was here tonight. It's one of the most exciting races all year. This is Bristol. It's the Bristol night race and that's why that adds to the emotion and the frustration that I had tonight is that we're here in front of a big crowd and we wanted to run well."
Motorsports
Senior motorsports editor for ESPN.com
Has covered NFL, MLB, Colleges
Native of Fort Worth, Texas
Cup Rundown: Not enough to catch Joey
Nationwide Rundown: Chase's take
Nationwide: Blaney bolts
Chalk another race victory up to the developmental series drivers after Ryan Blaney beat Kyle Busch on a restart with six laps left in the Food City 300 on Friday night and held on to win.
Blaney
And it was a night on which more than a few had tempers rise, starting with Busch after that final restart. He was frustrated with Regan Smith, who restarted behind him, with Busch intimating Smith had moved him up the track and out of the racing groove. That it looked as if Busch was holding back, made it all the more confusing.
"My rear tires weren't on the racetrack and I couldn't accelerate," Busch told reporters after the race. "NASCAR doesn't police it and so everybody keeps jacking around on it and one of these days I'm just going to lock all four [tires] down and stack the whole field up."
Busch never could quite get back up to Blaney after that, and the 20-year-old held on for his second Nationwide Series win. He's a full-time Camping World Truck Series driver, currently fourth in points.
His view of the restart was different, of course. When the leaders got to the second line in the restart zone, Blaney took off, as the rules allow, while the rest of the field was following Busch's lead. Blaney got clear quickly and held on.
"Kyle didn't go on that last restart," Blaney said. "He said his tires were jacked up and we got to the second line and we just went."
Chase Elliott finished third and upped his series points lead to 12 over Smith.
His account of the final restart backed up Blaney.
"I saw Kyle make a rare mistake," Elliott said.
Camping World: Brad good
There aren't many things Brad Keselowski hasn't accomplished in NASCAR, but before Thursday afternoon at Bristol Motor Speedway, winning a Camping World Truck Series race was one of them.

Keselowski
Even better, he joined his father, Bob Keselowski, to become the first father-son duo to win in the series. Bob, who drove trucks beginning in the series' inaugural season in 1994, won at Richmond in 1997.
"My family has been with this series since its inception," Brad Keselowski told reporters after his victory. "I feel I've been a part of it too, whether it was as a kid watching or now as a team owner and a driver."
He passed leader Kyle Busch with 75 laps to go and held off hard-charging Darrell Wallace Jr. down the stretch of the UNOH 200, a race set to run Wednesday but moved to a Thursday morning slot because of weather. Wallace got to Keselowski's bumper with two laps left, but didn't opt to use the chrome horn to get the win.
"I try to race everybody with respect," Wallace said. "I was sitting there in the truck after the race just trying to replay everything and if I could have done anything different. I would have had to wreck him to get by him."