Our experts weigh in on four of the biggest questions in motorsports as the Monster Energy NASCAR Cup Series heads to New Hampshire Motor Speedway on Sunday for the second race of the playoffs:
Turn 1: What do you think of Kasey Kahne going to the Leavine Family Racing car next year?
Ricky Craven, ESPN NASCAR analyst: Kasey Kahne is better than what we've seen of him the last several years. I believe this team has the potential to make the playoffs next year with Kahne behind the wheel. Keep in mind the 78 car with Martin Truex Jr. was once a single-car team.
Ryan McGee, ESPN.com: This is the new reality, the new NASCAR math for veterans. Bob's piece that uncovered details of Kahne's contract with Farmer's might have been a glimpse into a world that is gone, certainly for the guys Kahne's age, who did their first contracts in the booming 2000s. Smaller fields and an influx of younger talent, there's only so many places to go. I think the move was a smart one. Over the years we've seen guys hold out too long and end up with no ride at all. If he ends up having success, what a great story.
Bob Pockrass, ESPN.com: It has great potential -- to work and to fail. If they see progress, everyone will be happy. If not, this will be a miserable time for a driver who has appeared as not having much fun the last couple of years. Can see either scenario playing out.
Matt Willis, ESPN Stats & Information: My first thought was that it was unfortunate for Michael McDowell, who was in his fourth season with the team and has given them their only top-5 finish, and four of their five top-10 finishes. Not to mention, he's got a Leavine Family Racing driver in the top 25 in points. However, Kahne can probably bring sponsorship that can help the team get to the next level. Furniture Row Racing got a win and some decent runs from Regan Smith, but the team didn't start taking off until they hired Kurt Busch, and later, Martin Truex Jr. Now, they've gone from a team struggling to stay in the top 30 to winning playoff races by seven seconds. See you in 2024, Leavine Family Racing!
Turn 2: Will a non-playoff driver win in the final nine races? If so, who, and where?
Craven: I believe Erik Jones wins and I think he may win at Dover. But I truly believe he could win at any track other than Talladega. Of all the young prospects, he is at the top of my list.
McGee: Dale Junior is going to win Talladega! Oh lawd!!!
Pockrass: Clint Bowyer wins Martinsville.
Willis: It seems likely that a driver previously eliminated in the playoffs will win in one of the later rounds, but I just don't see a non-playoff driver getting a win. Sixteen drivers out of a field of 40 (sometimes less) are playoff drivers, and the drivers not making it will likely have their teams throwing a lot of their resources behind the playoff drivers. Since NASCAR expanded the playoffs to 16 drivers in 2014, no non-playoff driver has won. That's 0-for-31.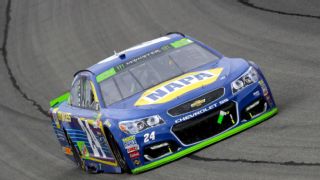 Turn 3: What do you think of the Chase Elliott penalty?
Craven: I've been clear on my stance regarding postrace infractions. I think they're very dilutive to our sport and the efforts of NASCAR. I know that this doesn't make sense to a lot of people, but the only solution I can come up with is if the car passes prerace inspection, then we are good until next week, primarily because the only ones that come out of this looking bad is NASCAR, and all they're trying to do is make sure everybody plays by the rules. I think it's a no-win situation for NASCAR.
McGee: I think that race fans can no longer make fun of golf fans for phoning in rules violations.
Pockrass: The penalty wasn't as harsh as I expected, considering the photos I saw of a potentially manipulated spoiler, side panel and wheel well. That being said, what did Elliott have to lose? Might as well take a chance and see what NASCAR will do during a season where you're not fast enough to win the championship.
Willis: I think it's another step down a slippery path. The encumbered wins and failed postrace inspections are getting to be a problem. What happens when it happens after a cutoff race and the next round of the playoffs are set on Tuesday afternoon? It's a bad look for NASCAR, even though their hands are tied. Rules are rules after all. But what happens if this happens to several cars in the same race? If you're looking for solutions from me, I'm afraid you've come to the wrong place. But at least I can bring up the problem.
Turn 4: What are you most looking forward to in the Xfinity or Truck Series playoffs?
Craven: I am most eager to see how William Byron manages the playoffs. I think he has the least amount of pressure of anybody in the field because he has a clear path to the Cup series beginning next year. He should feel as though he is playing with house money. I'll be very surprised if William doesn't win the championship.
McGee: I think the Elliott Sadler story is a great one. He's been so selfless at times this season, helping his younger teammates. I think his entire career is a fascinating tale of young gun-turned-old lion, coming so close to glory so many times yet never getting over the hump. If he were to somehow finally win a championship, I don't know a single person in the garage who wouldn't celebrate that, even the guys he's racing against.
Pockrass: l am looking forward to seeing if the JR Motorsports drivers truly play nice with each other or whether they will destroy themselves from within. They are all so competitive, that competitive streak could take over the mind.
Willis: I'm looking forward to seeing the Xfinity and Truck series drivers be able to race for themselves without the usual full field of Cup Series drivers running up front. I know that the Cup drivers are needed in this series to sell sponsorship, but starting the process of easing the Cup drivers out of more races in these series, especially the races that most directly affect the championship race, is a good thing for the series. Seeing more Xfinity or Truck series regulars in Victory Lane will, down the road, help their appeal with sponsors and help the long-term health of the sport.