LOUDON, New Hampshire -- Kyle Busch ran away with the victory Sunday in the ISM Connect 300 at New Hampshire Motor Speedway, and Kyle Larson, Matt Kenseth, Brad Keselowski and Martin Truex Jr. -- playoffs drivers all -- filled out the top five.
But it was the rest of the top 10, minus ninth-place Ryan Blaney, that scored for the drivers who are supposed to be just hanging around, as drivers outside the playoffs mixed in with the top dogs.
Truex's teammate Erik Jones finished sixth, with Clint Bowyer and Daniel Suarez right behind him. Joey Logano came in behind Blaney in 10th.
It was a little bit of a bright spot for drivers who want to do more than just race out the string, but it's still frustrating for them to see the likes of Busch and Truex run up front every week.
"It really wasn't a strategy race," Bowyer said. "We just kept digging and were just off a little bit.
"The same cars are kicking everybody's butt every week."
Jones had a strong outing but never could get the car to handle right for very long over the last half of the race.
"I thought we were about a third-place car all day and just kind of missed the adjustment there on that long green-flag run and lost some track position," he said. "I got behind a little bit and then never could quite get the car back the way it was. We just couldn't quite close it out, but a strong day again for us."
Now it's off to Dover Speedway for Sunday's Apache Warrior 400 and another shot at upsetting the playoff contenders from the outside.
Xfinity Series: With Cup stars absent, Reddick breaks through
Tyler Reddick isn't in the Xfinity Series playoffs because he doesn't have a full-time ride, but maybe he will next year after winning the VisitMyrtleBeach.com 300 on Saturday at Kentucky Speedway for his first career series victory.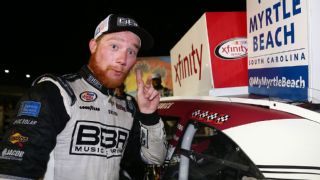 A part-time driver for Chip Ganassi Racing, Reddick delivered a beatdown, topping second-place teammate Brennan Poole by 14.540 seconds.
"It was all about being smart, executing, not making mistakes," Reddick said. "We had plenty of opportunities throughout this race to throw it away, whether it was being too aggressive, passing lapped cars, trying to pass for the lead, trying to pass for position on the racetrack or even coming to pit road or on pit road. Plenty of opportunities to give the race away. We had a pretty sizable lead.
"It was our race to throw away. We played it smart. We were conservative. We were safe, and we got to Victory Lane."
Reddick led twice for 66 of the laps, including the final 39.
Justin Allgaier took over the playoffs points lead with a third-place finish, rallying from two laps down after a flat tire early in the race.
"We talked about not beating yourself coming into this first playoff race," Allgaier said. "The flat tire was out of my control. We did what we had to do. We persevered through it."
William Byron started the playoffs as the leader, but a loose wheel early in the final stage put him a lap down and relegated him to 18th. He's now fifth in the standings. Cole Custer, Elliott Sadler and Daniel Hemric make up spots two through four. Poole's second-place finish jumped him to sixth.
The series' next stop is the Drive Sober 200 on Saturday at Dover Speedway. The first playoff round concludes the following Saturday at Charlotte Motor Speedway, where the field of 12 will be cut to eight.
Camping World Truck Series: Leader Bell backs up status at Loudon
Christopher Bell dominated the first two stages of the UNOH 175 on Saturday at New Hampshire Motor Speedway, but he needed a pass of Ryan Truex with 16 laps left to pull off the perfect day.
Bell started the playoffs Saturday in the top spot, and he made his road to the third round of the playoffs that much easier with the bonus points he earned. The win guarantees him a spot in the second round.
"He was doing a really good job watching his mirrors," Bell said of Truex. "It was tough to pass all day, but we just had such a fast truck that we could do it until we caught up to Ryan. I kept trying to work down [the track], and he kept blocking my air.
"I got one run to go up in [Turn 1 and 2] and could get down and finally by him in Turn 3. It was a great battle."
The next four finishers, including Truex, aren't in the playoffs, which gave Bell an even better day.
Playoff drivers Matt Crafton finished sixth, with Ben Rhodes, Austin Cindric, Johnny Sauter, Kaz Grala and Chase Briscoe rounding out spots 7-11.
The first round ends next week at Las Vegas Motor Speedway, with Briscoe and John Hunter Nemechek on the outside looking in on the eight-driver field. Nemechek had a rear-end issue that relegated him to 20th. The second round starts Oct. 14 at Talladega Superspeedway.
"To be able to win the first race today means we can be more aggressive at Las Vegas and Talladega, which we couldn't do last year," Bell said.