AVONDALE, Ariz. -- Denny Hamlin would love to change the good news/bad news statistical mark he continues to carry throughout the 2017 playoffs, but he won't call it a motivating factor.
The good news: Hamlin has 31 career NASCAR Cup wins.
The bad news: His 31 wins are the most by any active NASCAR Cup driver without having won a title in the series.
The driver with the most wins not to win a title is Junior Johnson with 50, but Johnson never ran a full season, so he never finished higher than fifth in the standings. Mark Martin has carried the "best driver never to win a championship" badge as he earned 40 wins -- with five second-place finishes in the standings and four times placing third.
Fireball Roberts won 33 races without a title (like Johnson, he never ran all the races in a season), and then comes Hamlin.
So Hamlin finds himself in select company, and like Martin, Hamlin can look at the almosts and what-could-have-beens. The Joe Gibbs Racing driver finished second in the 2010 standings, and third in 2006 and 2014.
And like Martin, Hamlin talks philosophically on whether he needs to win a title to make it a great career.
"One of the greatest drivers NASCAR has ever seen is Mark Martin," Hamlin said last week. "He's never won a title. It does not bother me either way.
"Honestly, it really doesn't. The respect that Mark Martin had among his peers and the general public and the way he treated people was second to none. I'd rather be that guy than a bad guy that wins every week."
Hamlin should be enjoying one of his best playoff runs, with four top-5 finishes, including a third Sunday at Texas Motor Speedway. But even with a seventh at Martinsville, he sits 19 points behind Brad Keselowski for the final playoff spot going into the race Sunday at Phoenix Raceway.
Keselowski entered the semifinal round with a 12-point edge on Hamlin in playoff points, thanks in part to having two extra wins that count toward those bonus points (Hamlin's win at Darlington did not earn him playoff points because of a rules violation).
Keselowski has earned one more point based on finishes in the first two races of the semifinal round, and his winning the first two stages at Martinsville has helped Keselowski build a cushion on Hamlin.
Hamlin helped create this format, and as he entered the race at Texas, he said he believes it rewards drivers for good seasons.
"The format is great," Hamlin said. "It works, and obviously the win-and-move-in format works and also the stages that everything we did throughout the entire season -- building points for the end of the year -- really is good.
"It obviously, in my mind, puts the best four cars out there racing for the championship at Homestead."
While he likes the format, it's been frustrating to have two solid finishes and not find himself in a better position to be among the four finalists for Homestead.
"It's the second year in a row the third round where I average inside a top-5 finish, and that [possibly] ain't going to be good enough," Hamlin said. "It needs to be better."
Hamlin, who sits 25th on the all-time wins chart, is fifth among active drivers in wins. Ahead of him: Jimmie Johnson (83 wins, seven titles with his first in 2006), Kyle Busch (43 wins, 2015 champ), Matt Kenseth (38 wins, 2003 champ) and Kevin Harvick (37 wins, 2014 champ).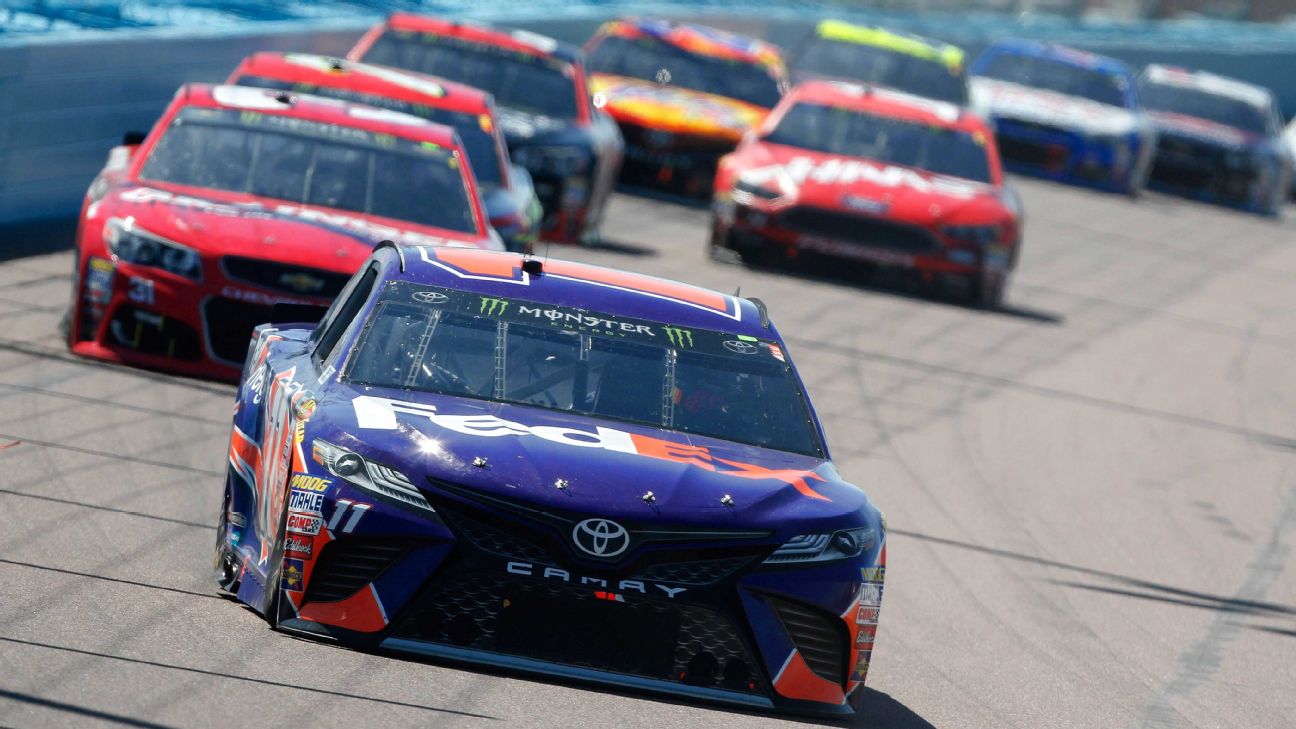 Two active drivers have fewer wins but own a championship: Kurt Busch (29 wins, 2004 champ) and Keselowski (24 wins, 2012 champ).
Among the active drivers with more than 10 wins but no championship behind Hamlin: Dale Earnhardt Jr. (26), Kasey Kahne (18), Joey Logano (18), Ryan Newman (18) and Martin Truex Jr. (14).
Two of the drivers on this list -- Kenseth and Earnhardt -- won't be racing full time next season, leaving just 10 drivers on the circuit with more than 10 Cup wins in their career. There are only 60 drivers in history who have had 10 or more wins.
Hamlin shouldn't rule out adding to his win total Sunday. In the March race at Phoenix, he rallied from the rear of the field into the top 10 twice. He started the race in the back because his team had to change a tire after qualifying. He then had to make an unscheduled pit stop for a flat right rear, which put him in the rear again with about 100 laps remaining. He finished 10th.
"In Phoenix, we had a car that I thought could win in the spring," Hamlin said. "Phoenix is a track where we should excel."
And if he can win this weekend, Hamlin can feel he has a chance at Homestead, where Truex and Kyle Busch likely will be the favorites.
Hamlin tested a couple of weeks ago at Homestead, a track where he has two Cup victories. The plan all season was for Kyle Busch to test Martinsville for the semifinal round and Hamlin at Homestead.
"I'm usually the guy that goes and does [Homestead]," Hamlin said. "They must trust my notes."
But first things first: Hamlin faces a potential must-win this weekend. His wins this year have come at New Hampshire and Darlington.
"We'll just keep digging, keep giving ourselves a shot to win," Hamlin said. "And hopefully [Phoenix] will be our week. ... [We have to] just give ourselves a chance to win [by being] up front inside the last fuel window. We'll see how it all pans out."