Toyota, Kyle Busch getting it done all over NASCAR
Sprint Cup Series: Kyle Busch, Toyota Find Way To Top
Nick Laham/Getty Images
FONTANA, Calif. -- One of
Kyle Busch
's goals when the 2008 Sprint Cup season began was to make Hendrick Motorsports look bad for dropping him to sign
Dale Earnhardt Jr.
One of Toyota's goals when it signed Joe Gibbs Racing -- which coincidentally signed Busch -- from Chevrolet was to make life uncomfortable for HMS. Both are off to a good start. Busch followed his fourth-place finish in the Daytona 500 with a fourth on Monday at the rain-delayed Auto Club 500 to move into the points lead for the first time in his career. In doing so he put Toyota on top, the first time in the history of the sport a foreign manufacturer has led the standings. "It doesn't mean much right here in California,'' said Busch, who also leads the Truck Series standings after Saturday's win at California. "If the championship was paid for -- woo-hoo, yay for us -- but we've still got 33 weeks left in this deal. "We'll take it now and hopefully hold on to it for a while and keep battling with [
Jeff Gordon
and
Jimmie Johnson
]. We know they'll come back strong in the points. There's going to be some other contenders, too.'' Johnson and Gordon, Busch's former HMS teammates, finished second and third at California after going 25th and 38th at Daytona. They moved to eighth and 14th in the standings. Neither is surprised that Busch is in this position, or that he's atop two series, and not far from the lead in the Nationwide Series. "Kyle is a huge talent,'' Johnson said. "He's been able to show that in whatever he drives. It's awfully early in the year to put too much weight into it, but it doesn't surprise me because we've been teammates with him for a long time.'' Among the other contenders Busch referred to is JGR teammate
Tony Stewart
, who finished seventh on Monday to hold on to third in the standings. Throw in
Brian Vickers
at No. 11 in the race and the standings and all three Toyota drivers are higher than any Toyota team a year ago. JGR is a big reason. Busch and Stewart combined to lead 102 laps at Daytona. Teammate
Denny Hamlin
led 32. Busch led another 14 on Monday, giving Toyota 152 laps led in two races. The Japan-based manufacturer led only 166 laps all of last season. "Overall a good day -- a good solid points day for us,'' Busch said. "We'll take it. When you don't have a winning car all you can ask for is a top-5, so it's cool. The ultimate goal is to be in first place in points all year." And prove former owner
Rick Hendrick
gave away the better driver to get Earnhardt. By the way, Earnhardt is 23rd in the standings, 149 points behind Busch after finishing 40th at California thanks to a crash with HMS teammate
Casey Mears
early in the race on Sunday afternoon when weepers and rain forced the event to spill into Monday. That has to provide some satisfaction to Busch, who during the preseason media tour was dripping with sarcasm when asked about Hendrick's decision to sign Earnhardt. "Hendrick going out to get Junior, yeah, they're making money,'' he said. "Hell yeah, it was a smart decision. I wasn't making them any money. I was costing them money. I would agree to that.''
-- David Newton
Nationwide Series: Toyota, Stewart, Brought "A" Game To Fontana
FONTANA, Calif. -- Well, the real racing in the Nationwide Series has begun and it looks an awful lot like the racing did at Daytona -- at least in terms of the results sheet. The restrictor plates of Daytona were replaced by carburetor spacers at Auto Club Speedway, but the Toyotas still ruled the roost. The only good news for the likes of
Carl Edwards
,
David Reutimann
,
David Ragan
and
Clint Bowyer
is that
Tony Stewart
and
Kyle Busch
aren't planning on running all 35 Nationwide events. And it's mathematically impossible for Stewart to win the championship while running just nine races. Even if he wins all nine of them -- and he's already won the first two -- he can't win the title. And Busch isn't running enough races to win the title, either. All he's done is finish second to Stewart in each of the year's first two races. The bad news -- at least for the rest of the field -- is that the two of them will be in Joe Gibbs Racing Toyotas on Saturday
(4 p.m. ET, ESPN2)
at Las Vegas. And it will shock no one if they sweep the top two spots yet again. It's awfully early to start talking about the championship, but the standings already have a familiar look once you eliminate Stewart and Busch from the equation. Carl Edwards is third, 96 points behind Stewart. He's the first driver slated to run the full schedule and he's followed by David Reutimann, who is eight points behind Edwards. A year ago, Reutimann finished second to Edwards in the standings. David Ragan is fifth in points, tied with
Kevin Harvick
. Ragan is running the full schedule. Clint Bowyer, driving for Richard Childress Racing is 10th in points and 154 out of the lead. More importantly from his perspective is that he's just 59 points behind Edwards. So after two weeks, it's clear that the Toyotas are coming into their own this season. Whether they'll be slowed down at Las Vegas is yet to be determined.
-- Mark Ashenfelter
Craftsman Truck Series: The Youngest Busch Brother Keeps Bashing
Federal law kept
Kyle Busch
off the track the first time he tried to race a Craftsman truck at Fontana, Calif. Unfortunately for the regulars of the truck series, there wasn't some other statute to keep him away the second time. The 22-year-old Busch -- barred from competing at the track in 2001 at age 16 because of a tobacco company's sponsorship of another race on the same weekend -- continued his recent dominance in the trucks, winning the San Bernardino County 200 on his first tour of the 2-mile oval in a Billy Ballew Motorsports pickup. Busch outlasted
Todd Bodine
in a race far less eventful than a week ago at Daytona, where Bodine beat Busch. In the season opener, half the field was caught up in accidents, while at Auto Club Speedway only rookie
Justin Marks
(Bodine's Germain Racing teammate) wrecked and the final 52 of 100 laps were run under green. Former champions
Ron Hornaday
,
Mike Skinner
and
Ted Musgrave
returned to the top 10 after poor finishes at Daytona, and
Johnny Benson
impressively finished third for a second race after starting at the rear of the field. But 2006 champion Bodine is showing the most strength in the early season. He's not first in the standings, however, having surrendered 25 points after the No. 30 Toyota was found to have an illegal part during prequalifying inspection at Daytona. Bodine and the rest of the familiar faces in the trucks won't miss Busch when he can't pilot the No. 51 Tundra due to conflicts with his Sprint Cup ride with Joe Gibbs Racing. In his past six truck races dating to the end of 2006, Busch has three wins and two seconds. Laws can't keep Busch away from truck races anymore, but schedules can.
-- John Schwarb
Jayski Podcast

Mark Garrow recaps a rainy weekend, debates whether the race should've taken place and hears from some of the drivers about Sunday's action.
Listen

Sweatin' With Smoke

Stewart
The great thing about the news business is that you'll never know what crosses your laptop. Although most of the stuff is business-as-usual previews and Monday morning wrap-ups, occasionally something comes in that's like finding a gold nugget in a played-out mine. Last week's missive from
Tony Stewart
is brilliant, and a little disturbing, at the same time. His sponsor, Old Spice, is offering up Smoke's used towel from his victory in the Feb. 16 Nationwide Series race at Daytona in an auction to benefit the Tony Stewart Fund. After winning the Nationwide race Monday, he's at it again. Charity is a good and important thing. Knowing his sense of humor one can't get too uptight about this new development. But consider the following. According to the release it's the "sweat towel right off his shoulder -- unwashed and autographed!" It also notes that temperatures in the cockpit reached 150 degrees and Stewart can lose between 15 and 20 pounds of water weight by sweating. Excuse me, ever been in a men's locker room? That's not the sweet smell of success your olfactory nerves are receiving. After a good workout, which this writer sorely needs, the first thing I want is fresh air. I'd like to think the best thing to do is leave a soiled towel in the to-be-washed hamper. Certainly this is getting a little up close and personal at the same time. If this is the start of a trend, what's next? Will Daytona 500 winner,
Ryan Newman
's autographed used socks be up for sale to benefit his foundation? His lovely wife, Krissie, would probably black-flag that idea. One of the great attractions of NASCAR for the fans is the degree of accessibility to its stars versus those in other professional sports. All of this gets me thinking about the memorabilia market. Once Tony's auction is done, and some collector gets the towel home, he or she might get tired of it and put on a Web site auction. I haven't been on eBay in a while but can only imagine the uncountable number of autographed products out there. Because there are millions of fans and only dozens of Sprint Cup drivers, the market value of these items is continually on the rise, if you have the right one. Autographed hero cards are the most common and probably are the entry level for collectors. Then on to die-cast scale model replica cars. Less common items, like a visor or helmet, would be on the next level. A few savvy individuals might find a way to make them a better investment than the shaky housing market or stocks and bonds these days. Picture where this trend might lead? I can see it now. Where fans used to line up with photographs and new, or semi-used baseball caps, that would be replaced by the loyal followers bringing suitcases or carts full of all sorts of attire. The clean and unused stuff would not be as valuable as the sweat-stained stuff from previous races. Then there would be the issue of authenticity, which the collectors call provenance. There'll have to be an authority to verify that a particular article was worn at a particular event. Does that sound like a new market for the RFID chips used in Goodyear race tires to track them? Any collector will explain that the item's rarity and demand will drive the price. A new factor will apply to the racing world. Obviously, something with a favorite driver's DNA will be scarcer than something without. An autographed driver's Nomex fire suit would be worth plenty, but, based on the latest sweat towel marketing scheme, the same driver's Nomex underwear would be priceless. Will it get that far? Not likely. How far will the Fontana towel get? You can bid at www.tonystewart.com. For now, I'm telling you Tony -- think Lucite enclosure for that used sweat towel.
-- Lewis Franck
We're Off To ... Las Vegas Motor Speedway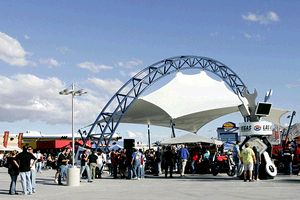 What can you say about Vegas that hasn't been said? It's obviously one of the most popular destinations on the circuit for drivers, fans, media and everyone else involved in racing. The UAW-Dodge 400 on March 2 is the third race of the season, but it's first in the hearts of many race fans simply because of its location. The fun at the track comes in watching drivers negotiate the newly improved 1.5 mile tri-oval, which has added banking to provide extra speed through the corners -- and hopefully an extra groove. You'll also get a gas out of taking in the track's new Neon Garage fan experience. The fun away from the track? Well, let's just say that's up to you, and whatever you are looking for you can find it in Las Vegas. From fabulous shows to around-the-clock casinos and hotels, this city never sleeps, and you'll want to enjoy every waking moment when visiting for the race.
ESPN Travel