July, 18, 2013
07/18/13
1:30
PM ET
Take a deep breath. This weekend is the last time Sprint Cup goes "raceless" until the end of the season in November -- 17 consecutive weeks of action, starting with the Brickyard 400 on July 28.
Here's a list of six things to watch for (and in some cases, hope for) in the four-month stretch from midsummer to the final weekend of racing at Homestead-Miami Speedway:
[+] Enlarge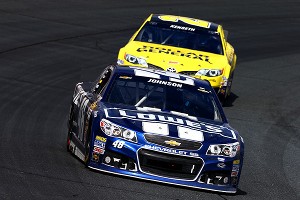 Jonathan Ferrey/Getty ImagesJimmie Johnson's biggest obstacle to a sixth Sprint Cup championship could be Matt Kenseth.
1. Johnson and Kenseth slugging it out for the title -- Other drivers can get in the fight before it's done, but this is shaping up as a classic championship battle between the two guys who have dominated things this season.
Each man has four victories. Jimmie Johnson wants that sixth Cup title. Matt Kenseth wants his second crown, but his first at Joe Gibbs Racing and his first in the Chase format.
And all you Chase haters should be thankful Cup has a playoff. Johnson is 120 points ahead of Kenseth in the season standings. Any realistic chance of some championship drama between them would be lost without the Chase.
2. Back to the future on dirt -- The show so many NASCAR fans have been waiting to see is only a few days away: the Camping World Truck Series race on the dirt track at Eldora (Rossburg, Ohio) on July 24.
No one really knows what will happen, but almost everyone with the slightest interest in NASCAR wants to watch and find out. As Brad Keselowski said: "It's either the smartest things we've ever done or the dumbest."
I'm guessing the former, going back to NASCAR's roots on a dirt short track in the boonies. It's probably the most anticipated race of the season. If it's a success, maybe there's a place in NASCAR's future for dirt tracks once again on a limited basis.
But don't expect the Cup series to start adding dirt tracks to the schedule. The dirt days are long gone for the big boys.
3. The boiling Chase bubble -- Throw about 10 guys in a hat, shake it up and see what you get. This race to the Chase is up grabs like never before.
Only 42 points (fewer than a driver can make up in one race) separate ninth-place Brad Keselowski from 20th place Joey Logano. Kasey Kahne in 10th is only 25 points in front of Jeff Burton in 17th.
Kahne has the advantage of one victory, which might earn him a wild-card spot if he falls below 10th. Right now, Martin Truex Jr. in 12th and Tony Stewart in 13th hold down the two wild-card berths with one victory each, but several drivers could change their playoff fate by winning in the last seven races before the Chase.
So you have the points battle of trying to finish in the top 10 and earn a guaranteed spot, along with the wild-card spots that likely will change a couple of times over the next two months based on who wins or who doesn't.
4. Watching to see where Newman, Busch, Vickers and Dinger end up -- Silly Season speculation will get crazier by the week with the future of several quality drivers still unknown.
Ryan Newman is officially out at Stewart-Haas Racing, Kurt Busch is weighing his options, Brian Vickers raised his stock with his victory at New Hampshire and AJ Allmendinger is the comeback story of the season.
The question isn't so much "Where will they go?" as it is "Where can they go?" Quality options are limited, and as always, any spot depends on sponsorship.
Austin Dillon probably will move up to Cup (likely in the No. 3) to replace Kevin Harvick at Richard Childress Racing. But Richard Childress, and Jack Roush, could add a fourth car if the money is there for the driver they want. Maybe Newman is that guy.
Or maybe Newman could drive for Kyle Busch's Truck team next year. Just kidding.
Roger Penske could add a third car and Allmendinger might get a full-time ride there, or possibly the spot at JTG/Daugherty Racing in the No. 47 Toyota. Maybe Sam Hornish Jr. gets another shot in Cup with Penske.
Vickers appears to be a lock now for the No. 55 Toyota at Michael Waltrip Racing, but most of these unknowns will become clear over the second half of the season.
[+] Enlarge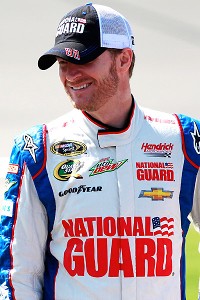 Geoff Burke/Getty ImagesWill Dale Earnhardt Jr. reach Victory Lane in 2013? Stay tuned.
5. Will Dale Jr. win this season? -- Frankly, I'm tired of asking this question, but Junior Nation wants to know. Anyone who runs in the top 10 as often as Dale Earnhardt Jr. has this season could win a race. And his best track -- Michigan -- is coming up next month.
Whether or not he wins in 2013, Earnhardt probably will make the Chase. Is he a contender to win the Chase? Probably not.
The fact that Earnhardt is ahead of Kenseth in the standings shows the points system still needs some tweaking. Kenseth and Earnhardt each have four top-5s and 10 top-10s. Kenseth has a 4-0 advantage in wins, but Earnhardt is fifth with 578 points and Kenseth is sixth with 576 points.
It won't matter come Chase time (drivers are seeded by wins), but it's still wrong.
6. Nationwide could have a winless champion -- With Kyle Busch and other Cup stars dominating Victory Lane again in the Nationwide Series, it's possible that the eventual 2013 champ could be winless.
Six of the top eight drivers in the standings haven't won this season. The top two (Regan Smith and Hornish) have a victory, but Austin Dillon is only 12 points back in third, Justin Allgaier is 20 back in fourth and Elliott Sadler is 24 back in fifth. All three are serious title contenders without a win.
I almost hope this does happen in order to force NASCAR to do something about Cup stars taking all the glory -- and most of the purse money -- in Nationwide.