When the fans speak, NASCAR listens
January, 18, 2010
01/18/10
4:39
PM ET
CONCORD, N.C. -- Leave it to the old football coach to lead the charge. Only one day into the annual NASCAR Media Tour, the message is obvious:
"Come back to us."
That theme was emphasized by NASCAR team owner Joe Gibbs, who has given his share of motivational halftime speeches over his years as an NFL head coach.
[+] Enlarge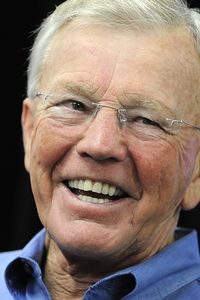 AP Photo/Mike McCarnTeam owner Joe Gibbs says exciting times lie ahead for NASCAR fans in 2010.
Gibbs addressed the media, but he spoke mainly to a group of 100 fans invited to the proceedings Monday afternoon at Charlotte Motor Speedway.
"We just finished some exciting meetings," Gibbs said of recent talks the teams and track operators had with NASCAR officials. "A lot of things were discussed, and fans are going to be excited about what they see.
"I can honestly say everyone is pointed in the same direction. Everyone is pulling together. The racetracks are all on board. So are the race teams and the drivers."
The only thing missing was a chorus of "Kumbaya."
Then Gibbs made his final pitch. The former Super Bowl-winning coach knows how to close on a point and get everyone fired up to play.
"We want to bounce back, but I think we'll come roaring back," he said. "I'm as excited about the sport and our future as I've ever been. You're going to like it."
NASCAR officials and the people who work in the sport want to make you happy. And they aren't just saying nice things. Actions speak louder than words.
Marcus Smith, the president of Charlotte Motor Speedway, showed he means it. CMS is replacing 15,000 of its old frontstretch seats with new seats that are 25 percent wider.
Fans who purchase a season ticket get their name on the seat. They also get to keep the old seat as a souvenir.
Joe Gibbs Racing showed the fans they mean it. On Monday, JGR drivers, along with old Joe, gave the fans rides around CMS in pace cars.
It's all part of the 2010 plan to bring back the fans. More examples are coming this week when NASCAR officially announced changes to the car and relaxed rules on restrictor-plate racing.
"The tough times we've gone through have given us two things," Smith said. "One is a new sense that we're all in this together. And two, I think we all got a wake-up call to put the customers first."
The economic problems across the nation hit NASCAR hard last year. Attendance was down at most races, but it wasn't just about the economy. Some fans were unhappy with the direction of the sport.
The perception, whether true or not, was the racing suffered at times. NASCAR addressed that at midseason by going to double-file restarts among the lead-lap cars.
Judging by Monday's talk, it was only the beginning. The thought process this season is to give the fans what they want, or at least try to move in that direction.
Cooperation and agreement of ideas is at an all-time high. J.D. Gibbs, the president of JGR and Joe's son, said he's never seen this much unity in NASCAR.
"It's encouraging to see the tracks, NASCAR, the owners and the teams all on the same page," J.D. said. "I haven't seen that before in my 18 years involved in the sport. Usually, different teams want different things. Now we're all together."
Everyone having the same objective, at least publicly, doesn't happen often in NASCAR. Instead of "what's best for me," it's "what's best for all of us."
"The key is making the sport something the fans will flock to," J.D. said. "A lot is involved in that -- making it more economical, making better racing, lots of things under the heading of 'taking care of the fans.'"
So bring in Captain Stubing and jump on the Love Boat. Have some fun.
NASCAR wants you to come home.