Knaus' innovative ways would serve NASCAR well
January, 20, 2010
01/20/10
5:11
PM ET
CONCORD, N.C. -- I have the perfect solution for finding a way to beat
Jimmie Johnson
.
I also have the perfect guy to replace John Darby as Sprint Cup Series director. Darby is taking a new position at NASCAR, which will be announced Thursday.
[+] Enlarge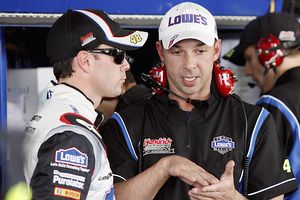 AP Photo/Mary SchwalmWith four straight Cup titles between them, Chad Knaus and Jimmie Johnson are the most feared crew chief-driver combo in NASCAR.
And I can fix both things in one move: Name Chad Knaus as Darby's replacement.
Knaus is the mastermind crew chief who has guided Johnson to four consecutive Cup titles. He's also seen as the most innovative guy in the Cup garage.
That's the nice way to put it. Others might say he's the guy who has found the most ingenious ways to skirt the rules.
And NASCAR has a history of convincing the man who outsmarted it the most to switch sides and become its top policeman. I won't be harsh and say the biggest cheater, just the man who was best at pushing the envelope. Former Cup director Gary Nelson is one example.
So Knaus is the right man for the job. You couldn't fool him. For Knaus, it's been there, done that.
But most teams would welcome the move for one obvious reason: It would weaken Johnson, possibly ending his reign of invincibility. It's a no-brainer, solving two issues with one decision.
Only one problem: It ain't happening. Knaus isn't interested, not now, anyway. That was his clear response Wednesday during the annual Hendrick Motorsports stop on the media tour.
"But I do have an idea about it," Knaus said, looking very serious. "I think [the Cup director job] should be ruled by committee. A group of people that interacts together to make a rule."
Then Knaus delivered his punch line: "And this is my committee right here."
Knaus was pointing to the three men sitting next to him, the three other Cup crew chiefs at Hendrick.
Right, Chad. Very funny.
But seriously, Chad, would you ever consider it?
"I don't know," he said. "If I could contribute and give back to the sport, I might do it. The situation would have to be right. But I don't foresee leaving Hendrick Motorsports anytime soon."
Knaus is 38. He said he is giving some thought to what he wants to do when "he grows up," as he puts it. "I can't be a crew chief forever," he said. "I can go until I'm 42 or 44 before I feel I need to make a significant change. I'm going to do something else at some point. I think this is going to be a defining year to lay out some of that stuff for me."
For now, NASCAR will have to find a Cup director elsewhere. Some people mentioned Robbie Loomis, the GM of Richard Petty Motorsports.
Loomis laughed at that idea when asked about it Tuesday.
"Oh no," he said. "I've got my arms full right now at Richard Petty Motorsports and everything we're doing here.
"I think John has done a tremendous job of putting a strong arm around things. That position is a tough job, but he's been very fair. I think the world of John. I was surprised to hear [Darby is changing jobs], but at the same time, I'm sure it's very taxing."
Another candidate could be Nationwide Series director Joe Balash. He was a little coy Wednesday when asked whether he wanted the job.
"There are a lot of us that work very well together within NASCAR," Balash said. "As we unfold this process, we'll see how things go. Whether I'm in those talks or not, the Nationwide Series is very cool place to be."
Good answer, Joe. It shows you're ready for that Cup job. But could he step right in and take over for Darby?
"I don't think anybody can step right in and replace John Darby in the garage," Balash said. "It's going to be hard for anyone to get to John's level and take the series forward."
I'm betting Knaus could do it, giving Cup a spark by setting his version of the rules and forcing Johnson to win without him.
But Chad says, "No thanks." Trying to win a fifth consecutive championship at Hendrick is good enough to keep him in his current role. "Honestly, this is a really nice place to work," he said.