Kahne punches his ticket to superstardom
April, 13, 2010
04/13/10
4:58
PM ET
The rich just got richer. Kasey Kahne will drive for Hendrick Motorsports no later than 2012. I'll explain.
And the poor -- or at least the underfunded -- at Richard Petty Motorsports are left with an uncertain future.
Tony Stewart once was asked what Dale Earnhardt Inc. is without Dale Earnhardt Jr. "A museum," he said.
That proved to be more fact than fiction in some ways when Junior left DEI to join Hendrick in 2008. DEI lost sponsorship and later merged with Chip Ganassi Racing.
So what is RPM without Kahne? Not much, especially if Budweiser, his sponsor, leaves with him.
[+] Enlarge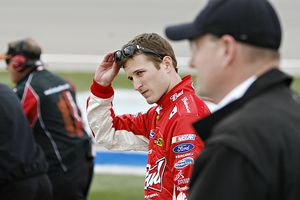 AP Photo/Isaac BrekkenWill Kasey Kahne take Budweiser with him when he eventually joins Hendrick Motorsports?
That remains to be seen, but Budweiser left DEI when Junior went to Hendrick. And Budweiser was a sponsor at Hendrick before moving to DEI when Earnhardt started in Sprint Cup.
The conspiracy theorists will have a field day with this one. Here's the first wild theory you'll hear:
Because Earnhardt has flopped at Hendrick, Kahne will replace Junior in the No. 88 Chevy.
Not going to happen. Although he hasn't won a race in almost two years, Earnhardt remains a sponsorship cash cow as the most popular driver in the sport. He also is only three years into a five-year deal at Hendrick.
And Jeff Gordon isn't retiring, either, in case that thought crossed your mind. Gordon, 38, said just last week that he has rethought his original plan of quitting by age 40. He plans to stay in the No. 24 Chevy for several more years.
Officially, Kahne probably won't drive for Hendrick until 2012, which leaves him in limbo for one year.
Not really. Look for Kahne to drive one season for Stewart-Haas Racing, which means he'll be driving for Hendrick. SHR leases its cars and engines from Hendrick.
Mark Martin is signed to drive the No. 5 Chevy through 2011, when he'll be 52. Martin could leave early, but he'll probably stick it out and Hendrick will farm Kahne to a third car with Stewart's team.
When Martin leaves, Kahne will take over in the No. 5 Chevrolet. That will give Rick Hendrick yet another version of NASCAR's Fearsome Foursome: Jimmie Johnson, Gordon, Earnhardt and Kahne.
And RPM? Losing Kahne is a crushing blow, but the organization never had much chance of keeping him. If the best team in NASCAR comes calling, what would you do?
Kahne, who turned 30 on Saturday at Phoenix, is one of the most talented drivers in NASCAR. But he's never had the best equipment since moving to Cup with Ray Evernham's Dodge team in 2004. People will see just how good Kahne really is in 2011.
RPM and team owner George Gillett (Petty is really just a figurehead) have some difficult decisions to make. The Sports Business Journal reported Tuesday that Gillett is in default on a $90 million loan and is trying to reorganize.
Things were looking up this season thanks to the merger with Yates Racing, which made RPM a Ford team that shares an engine program with Roush Fenway Racing. But can it continue to progress without Kahne?
AJ Allmendinger appears to have a bright future as the team's rising star, and Paul Menard also has showed improvement this year. But neither man is Kahne, a lead horse RPM could build around. Elliott Sadler, RPM's other driver, is in the last year of his deal after the team tried to fire him a year ago.
Hendrick's signing Kahne is similar to the New York Yankees' signing first baseman Mark Teixeira last year. They were good without him. But they are better with him, and he is better with them.
The same is true for Kahne. He just signed his ticket to stardom. Finally, someone will challenge Johnson and probably beat him. But Hendrick will keep on winning championships, and only the name on the Cup will change.