Davis hoping for start, then a fast one, at Bristol
March, 20, 2009
03/20/09
11:15
AM ET
I'm unabashedly pumped for Marc Davis in Friday afternoon's Nationwide Series practice sessions at Bristol. The two sessions are critical to his taking his next career step and making a little history in the process.
[+] Enlarge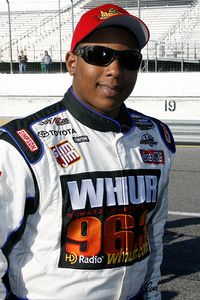 Worth Canoy/Icon SMIMarc Davis is hoping to get his car sorted out quickly in Bristol practice.
"We definitely need to get good practice on short runs to get ready to qualify," he said by cell phone Thursday afternoon as he and his father/business manager, Harry Davis, drove toward Tennessee.
If Marc, 18, makes the race, he'll become the first African-American driving for his family's team to compete in a major NASCAR race since Wendell Scott retired in 1973.
The Davises decided to field their own team over the winter after Joe Gibbs Racing, where Marc had been a developmental driver, couldn't find sponsorship to move him up to Nationwide. Marc ran three Nationwide races in 2008, one for JGR and two for Fitz Racing.
At first, the Davises considered starting at California and Las Vegas, but they decided the West Coast trip was just too expensive for a team that operates on about $75,000 a race.
So Bristol is the geographic/economic launching point.
"It's been a long wait the last several months, talking about it, and now we're finally going to the racetrack," Marc said from the road.
"I think it's been a long time coming, and Marc is prepared for it, and we've done the best we can do with the resources that we have," Harry said. "It's just a matter of setting realistic goals."
The first goal is to sort out their Toyota, powered by a JGR engine, in this afternoon's practice, focusing totally on preparing for time trials.
Fifty-two Nationwide cars are entered for Saturday's Scotts Turf Builder 300, and Marc is "a go-or-go-home driver, so he's got to make the race on time," Harry said.
The next goal would be "to finish the race," Harry said.
The son is a little more ambitious than the father, looking for a top-20 finish.
"It's Bristol, so we've just got to stay out of trouble and keep a clean race car and try to come out of there with a top-20," Marc said. "If we make the race -- well, when we make the race -- that should be a given, off the bat."
The Davises' funding, primarily from Howard University radio station WHUR with support from The Word Network (an urban religious TV channel), doesn't match the $200,000 per race some of the top Nationwide teams spend.
But, "We think we've got some pretty good equipment for this weekend, with Venturini Motorsports helping us out," Marc said.
Venturini, mainly an ARCA operation, prepared the car, and Billy Venturini will be crew chief. Some crewmen will be volunteers who are friends of the Davises, with others from the Venturini operation.
The Davises plan to run six Nationwide races this season, along with a handful of Cup races. Marc's projected Cup debut is the road course at Sonoma, Calif., in June.
Is the historical significance a major thought to Marc?
"It is now that you brought it up," he said. "But at the end of the day, you know me: It's all about racing."