Hamlin plays the classy card at Martinsville
March, 30, 2009
03/30/09
3:04
PM ET
I'm well aware of the old line, "Show me a good loser, and I'll show you a loser."
And I've heard many a football coach say that to win, you have to really, really, really hate to lose.
[+] Enlarge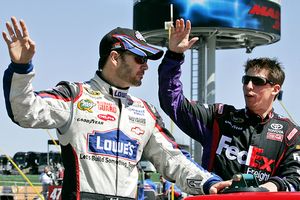 AP Photo/Steve HelberJimmie Johnson, left, earned the Martinsville victory. Denny Hamlin earned respect for the way he handled the loss.
I have no doubt that Denny Hamlin hates to lose. But I had to admire the class with which he lost Sunday to Jimmie Johnson at Martinsville Speedway, a track where both excel -- but where in the past six races, Johnson has won five times, and Hamlin but once.
With 15 laps to go, Hamlin was leading when Johnson edged his right-front fender inside Hamlin's left rear. They rubbed, Hamlin slid high, Johnson got underneath and went on to win.
Hamlin was heartsick afterward. You could see it on his face and in eyes that retained a sort of stunned stare for a good half hour following the Goody's 500.
Yet he made himself smile, and even laugh, as he acknowledged that losing a fender-rubbing contest with Johnson as the aggressor coming from second while Hamlin was trying to defend his lead was all accepted procedure for short-track racing.
At 28 years old, Hamlin has made no secret in recent weeks that he feels he should have more Cup wins on his résumé than just four in his 3½ seasons -- two of those in his rookie year.
I've lost count of the races he should have won when his pit crew has cost him. He has complained occasionally about that, but not nearly as much as he has been hurt by it.
Taking that into account, then adding that Martinsville is one of two "home tracks" -- Richmond being the other -- that can be claimed by the Chesterfield, Va., native, and that he lost Sunday in such a rough-and-tumble way, I expected Hamlin to be livid when he climbed out of his car, maybe raging.
But here's the first answer he gave to Fox TV reporters:
"I'm honored to be on the racetrack with guys like Jimmie and Jeff [Gordon, who finished fourth] and Tony [Stewart, who was third]. Those are the guys who are the best in the business.
"And, you know, it's just that we came up short. That was short-track racing. I would have done the same to him [Johnson], and if it comes back around, I will do the same.
"But that's just the way it is. This is Martinsville. You gotta battle for every inch. I was trying to protect the spot and he was trying to get it, at the end of the race, and that's the way it goes."
Later, in the media center, I asked Hamlin just how hard that was, to give such a classy answer after such a heartbreaking -- and to some, infuriating -- loss.
Hamlin not only gave me yet another classy answer but also added that he really, really does hate to lose … but keeps his dignity.
"It's not that hard," he said, "because I know I would have done the same thing. You can't sit here and … nobody can sit here and tell me they wouldn't do the same thing that [Johnson] did. You know, with 15 to go, I'd rather be in second than first because I'm going to move the guy out of the way."
And then he broke eloquently into the disappointments of a career that started off as such a skyrocket.
"It's tough to say that you've gotten used to losing," he said, "but I've gotten used to the disappointment at the end. It's not like a new thing.
"My hunger is still the same, for sure. I want to win races … but I can't help being in the position I was in."
He questioned himself for taking the lead from Johnson with 45 laps to go. Maybe, Hamlin thought, he should have stayed in second and made Johnson the vulnerable one late.
When Johnson came into the media center for the winner's interview, he became quietly, dignifiedly incensed when we told him what Hamlin had said about being moved out of the way. Johnson felt he'd actually had the position by his front fender, and that Hamlin had squeezed him, and that's why they had touched and nearly wrecked -- "the fact that he chopped me," as Johnson put it.
Johnson was nice about it, soft-spoken as usual.
The winner came away as a class act, but the loser -- hating the result though Hamlin did -- came away as the classiest act of a typically slam-bang day at Martinsville.
My 21-year-old son, who was a Dale Earnhardt fan growing up, has been a Hamlin fan for a few years now because Hamlin's driving style reminds him of The Man in Black.
And a dad who sees beyond the driving, sees the character, is just fine with the son's choice of favorites.