I know what makes you happiest, NASCAR fans. You love to hate more than you love to love, and lately there has been no infuriating figure you can sink your teeth into.
To paraphrase Jefferson Airplane, don't you want somebody to boo?
Don't you need somebody to boo?
Wouldn't you love somebody to boo?
You better find somebody to boo.
In other words, don't you wish Kyle Busch were back?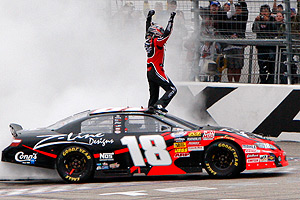 AP Photo/Brandon WadeKyle Busch made NASCAR history Monday at Texas Motor Speedway, becoming the third driver to win five consecutive races at the same track.
I mean the genuine article.
We haven't seen so much as a smashed guitar, or felt the pain of artist Sam Bass, who painted it, or read a verbal shot at Dale Earnhardt Jr. for what seems like ages now.
Let alone seen any new and creative screen names for anti-Kylers on the ESPN Conversation. We're stuck with the same old "Cryle" and "Kryle" stuff. None of his naysayers are creative anymore because they're not fired up anymore.
Whatever happened to the guy who shrugged off thunderous booing by rationalizing that "It's better than a kick in the nuts"?
Or the one who broke the party line that drivers are athletes by observing that "our job entails us sitting on our ass and not doing a whole lot besides moving our arms and legs."
Whatever became of Rowdy? Or Wild Thing?
What we've got now is a guy who is winless this season in Cup, and who after Nationwide wins -- well, take the pure vanilla of Texas Monday evening ...
He was garden-variety polite, first naming off all his sponsors and then going on and on about how it's a team sport, not just naming the generic "all the guys back at the shop" but every department of Joe Gibbs Racing.
True, it's a team sport, and sponsors are vital. But is that the way you want Rowdy the Wild Thing behaving in Victory Lane? I mean, you can get that from Jimmie Johnson anytime, and you roundly consider JJ bland.
Even when JJ and his teammate/mentor Jeff Gordon get a little feud going, as they did with a little beating and banging in the Texas Cup race Monday, JJ squelches the thing and promises they'll settle it "at the shop," and that "there's no need to play it out in the press."
Boooooooooo!
The genuine Kyle Busch used to play out plenty in the media, especially how much better he was doing than the man who replaced him at Hendrick Motorsports, Earnhardt.
Now he has been programmed with the standard NASCAR personality package, which is about as flavorful as a plain omelet with no salt or pepper.
Worse, he has taken to taking only one bow atop his car after a win. From him, you need two -- one to the left, setting off the boos in that part of the grandstands, then one to the right, detonating the thunder there.
Just imagine him deprogrammed. Just think of the bashing you could do if, for example, Toyota fulfilled the promise of those TV commercials where he's in a pink car with kittens and baby seals painted on it.
In this car he goes on a rampage a la 2008, winning and mouthing off and winning some more, then climbs on top of the pink car in his pink uniform and pink helmet and takes two bows and counts off the wins on his fingers.
Don't you want that?
Don't you need that?
Wouldn't you love that?
Of course you would. But you'd never admit it.