Austin and F1? Believe it when you see it
July, 27, 2010
07/27/10
7:33
PM ET
On Tuesday, the promoters who have pledged to bring Formula One racing to Austin, Texas, officially rolled out their plans to construct a world-class road course outside of Elroy.
There is private money to fund the project, including a large kick-in from Red McCombs, one of the America's richest men and former owner of the San Antonio Spurs, Denver Nuggets and Minnesota Vikings. The Lone Star State has also pledged millions out of its events fund. There is an agreement with F1 officials, specifically Bernie Ecclestone, to run the resurrected United States Grand Prix in the home of Lance Armstrong, Mack Brown and Matthew McConaughey for 10 years, starting in 2012. They even launched their new website, www.formula1unitedstates.com.
Everything looks so buttoned up. There are plenty of smiles and back slaps to go around. Yet I have to be honest. I won't be a believer until I actually see a green flag wave.
Why am I so jaded? Why am I not excited about the prospect of a custom Hermann Tilke-designed, state-of-the-art course being built in the U.S.? Why am I, the writer who went to Montreal last month and almost drooled onto Fernando Alonso's Ferrari, not salivating about this new track?
Because here in my office where I currently type I literally have a file packed with nearly two decades of news releases, all promising new racetracks, racing series and teams … none of which ever actually existed or at best tripped over their own shoes coming out of the starting gate. On Monday, when the Austin news conference was announced, I realized that I am not alone in my eyebrow-raising. Within minutes my Twitter account was crackling with correspondence from colleagues throughout the motorsports media centers. We collectively shuddered as we recounted the long list of phantom launches we've had to endure.
[+] Enlarge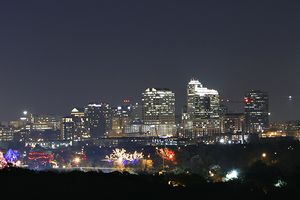 AP Photo/Harry CabluckAustin is a nice city, but is it really going to play host to a Formula One race?
I have taken down notes at announcements of the Detroit Speedway, Houston Superspeedway, Maryland Speedway, Tunica (Miss.) Speedway, Alabama Motorsports Park (subtitle: A Dale Earnhardt Jr. Speedway), and New Mexico Motor Speedway. There were also New York City plans 1, 2, 3, and 12, which spanned from Staten Island to the Meadowlands. There were plans for Ohio, Denver, Seattle, Tacoma, Portland and Vancouver. Overseas, there were big rollouts of future globetrotting CART/Champ Car events to be held at new facilities in Korea and China.
My personal favorite was the proposed indoor racetrack to be located adjacent to the Pittsburgh airport. During my days as an ESPN TV producer I was actually flown up to cover the Pittsburgh announcement in 1999. I started to have my doubts when the designers stumbled over questions about how the $400 million one-mile oval, built within a massive airplane hangar, was going to get the carbon monoxide out of the building before asphyxiating the 60,000 fans inside.
None of the above tracks were ever built. Heck, none even as much as put a shovel in the dirt.
One track, in the heart of NASCAR country, did get some dirt moved. It even got a rough layout bulldozed. I'm referring to the High Rock Raceway in Spencer, N.C., just a short drive north of the Charlotte Motor Speedway. In late March 2008, I was given a John Deere Gator 4x4 tour of the facility, described as a "racing country club," a road course lined with 120 "race condos" for motorsports enthusiasts.
As track designer and road racing legend Elliott Forbes-Robinson drove us through the mud and described the 2.15-mile speedway, track president and COO Rich Combs chattered away about Petty Enterprises looking into building a race shop adjacent to the track, a motorcycle racing school and financial backing from billionaire Richard Branson. Read my original ESPN.com story here.
Two and half years later, on Monday afternoon, I was driving back from ACC Football Media Days in Greensboro, N.C., and stopped by the High Rock site. It looked exactly the same. Same red clay. Same half torn-down textile mill. Though to be fair, the weeds were much taller. High Rock was supposed to have started hosting sports car events in the fall of 2008 with its first condo residents scheduled to move in the following spring. Instead, investors soured, Branson bailed and Combs resigned.
But our list of whiffs isn't limited merely to racetracks. The roster of race teams, series and sponsors that barely, if ever, made it past the news release is even longer. (Speedblock and Big Daddy's BBQ Sauce, where you at?)
I have shaken hands with billionaires, movie stars and sports heroes, all announcing that they were ready to become team owners. Some did get started, only to vanish just as quickly. Others never made it as far as purchasing a tool box. Alex Meshkin, Bobby Ginn, Tim Brown, the Wayans brothers, Jackie Joyner Kersee, Terrence Mathis, I'm looking at you.
Do we need to go over the career Formula One stats of USF1, which barely got out of the north Charlotte Starbucks where the idea was first hatched? (I was at that announcement too). Or can anyone tell me who won the inaugural championship of Team Racing Auto Circuit -- TRAC -- the Bruton Smith-backed, Cale Yarborough-endorsed "team-based" stock car series that was going to revolutionize American motorsports? No? That's because there wasn't one.
Remember Angela's Motorsports? It was a beautiful out-of-nowhere tale of a kindergarten teacher who had come into some money and loved NASCAR so much she started a team with a Wells Fargo Bank vice president named Gary Jones and longtime Busch Series driver Mike McLaughlin. As it turned out, Angela Harkness's actual name was Fatemeh Karimkhani. She was no school teacher. She was an Iranian refugee turned German resident turned California stripper turned homewrecker and scam artist.
Jones had left his wife to be with Harkness and the two went on a Bonnie and Clyde-ish spree of writing bad checks and securing loans by questionable means, including the identity theft of family members. Angela's Motorsports ran precisely one race, the 2002 season finale at Homestead. Their sketchy sponsor, WiredFlyer.com, bailed and so did Harkness and Jones, leaving McLaughlin and her other "partners" with more than $6 million in debt. She later rolled over on Jones, agreeing to testify against him in a bank fraud trial in exchange for immunity. But she once again fled, this time overseas. Harkness/Karimkhani was found hiding in Dubai in 2005 and is about to wrap-up a 3 1/2-year stint in federal prison.
So perhaps now you can understand my cynicism when a group of Texans I've never heard of announce that they are building a world-class racetrack in the middle of nowhere, backed by a billionaire, with plans to host a decade of racing by the world's richest, most prestigious motorsports series.
No, I'm not saying they will end up being international criminals like Angela or even well-intentioned failures like the Wayans brothers. Far from it. In fact, I'm pulling for the boys down in Austin. I really am. But I have been there and done that when it comes to big unveilings of new tracks, teams, sponsors and even series. History says they nearly always come up empty and. until they prove me wrong, I'll have to assume that this will whiff, too.
And if you don't believe me, I have a file folder full of unrealized news releases to back me up.