Is NASCAR in Antron Brown's future?
September, 16, 2010
09/16/10
1:27
PM ET
Antron Brown is up for anything. Even NASCAR. Maybe.
He admitted as much during lunch last week at the Charlotte Motor Speedway's Speedway Club, in town to promote this weekend's O'Reilly Auto Parts NHRA Nationals at the zMax Dragway (Sunday, 10 a.m. and 7 p.m. ET, ESPN2).
[+] Enlarge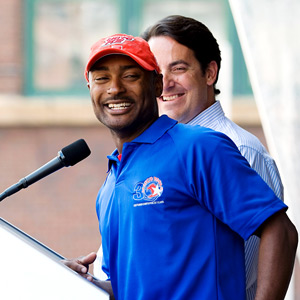 Mirco Lazzari/Getty ImagesAntron Brown has spoken with team owner Randy Moss about testing in the Camping World Truck Series, but the Top Fuel star admits he has unfinished business in the NHRA.
Brown is the only racer to ever make a successful jump from Pro Stock Bikes to Top Fuel. He's led the point standings in both divisions, winning 16 races on the bike and, so far, eight in the dragster. He's also ridden shotgun with the USAF Thunderbirds, set sprinting records at New Jersey's Mercer College, ran a 100-meter dash fast enough to qualify for the U.S. Olympic Trials, hangs out with NFL players and, as the folks at zMax Dragway have documented, he can do just about anything in four seconds.
This week Brown arrived in North Carolina a day early. Why? To jump out of an airplane with the U.S. Army's Golden Knights parachute team.
"I'll try anything once," the 35-year-old said during a machine gun-like conversation with a handful of writers. "And if I like it, I'll do it again."
His list of "tries" almost included a crack at NASCAR. It might still. When Randy Moss became a Truck series team owner in mid-2008, he started chatting up Brown about the possibility of testing one of his team's Toyota Tundras.
"Randy's serious about it. But we just haven't been able to get the schedules synced up. We chatted about it over the winter, but once the season gets going I'm all over the place, and now Randy's a little busy too, you know?"
Yes, we know.
"I think anyone would like to give oval racing a shot. I follow NASCAR and I also love to go over to Indianapolis to the see the Indy Cars. But I'm still a young guy and I have things I need to accomplish over here first."
Namely, winning an NHRA championship. He finished third in Top Fuel points one year ago (he would have won the title under the pre-Countdown points system) and finished second in the Pro Stock Motorcycle standings in 2001 and '06.
Brown is a sponsor's dream. He's a smart, good-looking racer who makes a memorable point nearly every time he opens his mouth, a la Jeff Burton. His stick-and-ball sports background, along with his skin color (which he has to be coaxed into talking about) crosses into demographics that racing has long struggled to reach. And no one works harder along the autograph ropes of Nitro Alley, citing the examples set by his childhood hero, Don "Big Daddy" Garlits, who once went out of his way to spend time with young Antron.
The general consensus among motorsport marketers is that Brown could become a media superstar if given the right stage. Some believe that stage exists only in NASCAR. Brown is not one of those people.
"I love where I am. I grew up at the dragstrip with my father and my uncle (who still compete in the NHRA's Division 1 Top Sportsman class). I like where the NHRA is right now. And I like where they are headed."
He illustrated his point with an example from another sport:
"Look at boxing. Boxing was the biggest sport in America. But they got so big and there was so much money it got corrupted. They got lazy. They got isolated. They forgot what got them to the top and started taking advantage of their fans, they got too expensive and out of touch. Then the UFC comes along and they start small, but they take care of their fans. Their athletes were relatable and they connected with a younger audience, and guess what? They start growing slowly and then just exploded in popularity. Now you've got boxers coming over to mixed martial arts. Why? Because now it's the place to be."
At no time did Brown say that in his story boxing represented NASCAR and the UFC represented the NHRA.
He didn't have to.