Now's your chance to revive Rockingham
October, 5, 2010
10/05/10
11:08
PM ET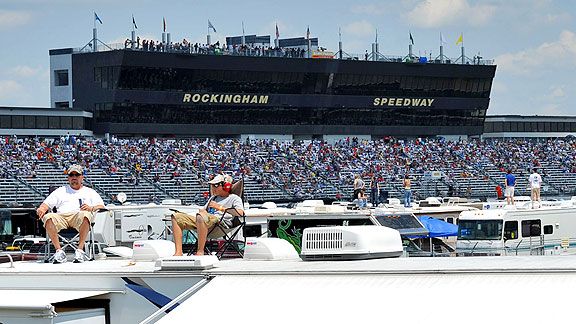 US PresswireFans have shown up at Rockingham Speedway since it reopened three years ago, but if they want to see the track back in the big time, it's more important than ever they make a visit this weekend.
The scene was almost too good to be true. The rusty old gates were flung open at the North Wilkesboro Speedway last Sunday for the resurrected track's second major racing event and a wonderful thing happened.
Race fans showed up.
I should not be surprised by this fact, but I am. Ever since the 63-year-old track was shuttered in 1996, my e-mail inbox had been steadily filled with cries of horror and pledges to do anything it took to support the old track should it ever be saved from mothballs and wrecking balls.
I've written two stories over the past year and half about the legendary half-mile oval, one about its decline and another, just weeks ago, about its reopening.
As usual, each story was met with a flood of "This is travesty!" and "I will be the first in line to buy a ticket if they save it!" But unfortunately, I had been there before, and my past experiences had been, quite frankly, disappointing.
Last weekend you redeemed yourselves. This weekend you can do it again. And you just might help alter the future.
Like North Wilkesboro, the North Carolina Speedway, aka "The Rock," was once abandoned for greener NASCAR pastures. Its 2004 closing was met with the same outrage and during the three years that it sat empty, I was showered with the same declarations of support when and if the track ever turned the power back on.
Three years later, when Andy Hillenburg put his financial life on the line to save The Rock from scrap metal salesmen and real estate developers, he heard the same vows of loyalty.
There was a solid crowd for his first race, a 2008 thrill-a-minute ARCA showdown between Ken Schrader and Joey Logano.
[+] Enlarge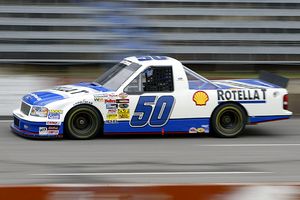 AP Photo/Chuck BurtonNorth Wilkesboro Speedway has seen some action -- and good crowds -- in recent years, but there's work to be done to get NASCAR back on the schedule with real regularity.
But each event that has followed has failed to meet expectations, despite super-cheap tickets and a pit road packed with some of stock car racing's biggest names and future prospects. Racing legends have attended every Rockingham event, from the Allison brothers and Tony Stewart to Ricky Rudd, Bill Elliott and Junior Johnson. Elliott and Johnson came to see their teenage sons, Chase Elliott and Robert Johnson, compete.
The Rock's next race, its marquee event, is this weekend's American 200 ARCA season finale, part of a two-race Saturday doubleheader with the UARA finale that drops the green flag at 11:00 a.m.
Robert Johnson, newly crowned rookie of the year, is entered in the UARA event and his Hall of Fame father plans on being there. Former Sprint Cup driver Steve Park is entered in the ARCA event, returning to the spot of his emotional win in the first race after Dale Earnhardt's death. Also entered are Ty Dillon, the grandson of Richard Childress, and former motocross superstar Ricky Carmichael.
Advance ticket sales, despite some crazy-cheap family pack promotions, have been steady but not spectacular. What race fans may not realize is that this Saturday might very well be the watershed moment for the reborn Rockingham Speedway (http://www.rockinghamracewaypark.com/).
"A lot of people have their eye on Rockingham this weekend," Hillenburg admits with his always enthusiastic tone. "For a lot of reasons."
The most frequent complaint from would-be fans -- and it has already started at North Wilkesboro -- is that they want to see NASCAR racing, not UARA, USAR and ARCA. However, there is a chance that NASCAR could return to its roots tracks, but only if fans prove that those grand old facilities can support them.
Sources tell me that NASCAR would like to bring the Camping World Trucks or even the Nationwide Series back to Rockingham, but two things have to happen for that become a serious consideration. One depends very much on the other.
First, Hillenburg must install the SAFER "soft wall" barrier around the 1-mile oval, a requirement for any racetrack to host one of NASCAR's top three national series. That will cost him about $1 million, nearly a quarter of what he paid for the entire track. He seems confident that he can get the money, but only if the fans come through on issue No. 2.
That's where you come in.
In order to prove to NASCAR that it can support a national event, Rockingham has to prove that it can draw a base crowd of fans big enough for NASCAR to build on should it bring a national event back to town.
This has long been the business model when phasing in new tracks, particularly in the stand-alone days of the Truck series and then-Busch Series during the late 1990s and early 2000s. When regional short tracks wanted to be added to the schedule, they first had to prove they had a baseline audience.
Now in Year 3 of its new era, The Rock can't afford to backslide this weekend if it ever truly wants to host NASCAR racing again. Though they won't say it aloud, it is obvious that Hillenburg and his staff feel that this Saturday's doubleheader is a make-it-or-break-it event for the track's potential NASCAR future, evidenced by their aggressive promotional push.
Their expectations are reasonable. They don't need a crowd of 40,000. A third of that would do.
"Rockingham is either going to be back on the national calendar or it's going to settle into being a speedway that runs like a weekend short track," says one local city official. "And it's not up to any of us now. It's up to the fans."
The same fans who have for years pledged to me -- and to Hillenburg -- that they were willing to do anything to get the track back on its feet. The same fans who packed the frontstretch grandstand at North Wilkesboro last weekend.
All I'm asking is that you grab 25 bucks and head down to Richmond County, N.C., this weekend.
After all, you promised.