'NASCAR Stuff I Am Thankful For'
November, 24, 2010
11/24/10
10:39
AM ET
If you follow me on Twitter (http://twitter.com/RyanMcGeeESPN), first allow me to say thanks. And if you were following me last year at Thanksgiving, then you may remember me locking myself up in my Aunt Betsy's bathroom, the only quiet place in the house, and firing off a list of all the NASCAR things that I am thankful for.
[+] Enlarge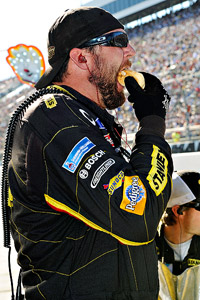 Rusty Jarrett/Getty ImagesIs it just a coincidence that Martinsville Speedway is home of the famous Martinsville hot dog
and
the Tums Fast Relief 500?
People seemed to enjoy it. However, my family didn't think it was so funny, and I have been warned that if I do it again, I will be banned from the dinner table. And if you've ever had my cousin's Cajun-fried turkey, you know that's just not a risk I'm willing to take. Besides, the track ball on my Blackberry has never worked quite right ever since I got gravy all over it.
So it is with great pride and, yes, thankfulness, that I present the 2010 edition of "NASCAR Stuff I Am Thankful For." Some are repeats, some aren't. And when you're done reading this I want you to send me what you are thankful for, via Twitter or e-mail (mcgeespn@yahoo.com), and I'll post some of the best next week while we all lie on the floor trying to aid the digestion process.
I am thankful for …
• Double-file restarts.
• The King.
• The Silver Fox in the NASCAR Hall of Fame, where he should have already been.
• Green-white-checkers.
• Green-white-wreckers.
• Three-way title bouts that go to the final weekend.
• Darlington, Martinsville, and the rebirth of North Wilkesboro and The Rock.
• Martinsville hot dogs, Michigan grilled corn, Bojangle's at Charlotte.
• The Pass in the Grass, The Lady in Black, The Man in Black, Humpy's Bumps.
• The Tunnel Turn, Bus Stop Chicane, Double Dog Legs and the Daytona Superstretch.
• "One to go," "Next time by" and "The lights are off the pace car."
• Spoilers instead of wings.
• Junior Johnson's drawl, Jeff and Jeff's brawl, Darrell Waltrip as Jaws, Barney Hall's "Give a call …"
• Loose in, tight off, half-round up, 1 pound down, got one up high, clear down low.
• Hornaday, Skinner and The Onion.
• HANS, SAFER and the Joie of Seating.
• Endless cable replays of "Days of Thunder" and "Talladega Nights."
• Cole Trickle, Ricky Bobby and Stroker Ace.
• Russ Wheeler, Rowdy Burns and Jean Girard.
• People who tattoo car numbers onto their necks.
• Low morning campfire smoke over Talladega.
• The boys back at the shop.
• The inevitable gap in the backstretch fence that track security will let you get only so close to before yelling at you, but it's totally worth it because the cars whomping-whomping by make the hair on head stand straight up.
• The endless and priceless (and slightly embellished) road tales of Ed Hinton, Steve Waid, Tom Higgins and their brethren who hauled typewriters into press boxes that were little more than double-wides in the sky.
• Glowing brake rotors.
• Glowing garage grills tucked between haulers.
• Glowing faces of people at their first race, inevitably turning to their friends and screaming, "IT'S SO LOUD!"
• Dale Inman's bone-crusher handshake.
• The Monster Bridge, Turn One Condos, Rattlesnake Hill.
• The Chrome Horn, everything being "a deal," and letting the rough side drag.
• Fireball, Cannonball, Red and Red.
• A.J., D.J., J.J., Big E, Little E, G.C., L.G., B.P., and R.C.
• That Mr. H lets people call him Mr. H.
• Humpy, Benny, Spenny, Smokey, Lennie, Buzzie, Buddy, Buck, Chocolate and Suitcase.
And finally …
• Five-hour post-Thanksgiving dinner family roundtable talks over microwave leftovers. There are always laughs, tears, and no one ever brings up Dale Jr.'s crew chief or start-and-parks -- even if they know I've been secretly Tweeting from the bathroom.