Tom Higgins was a NASCAR pioneer, too
January, 24, 2011
01/24/11
10:28
AM ET
CHARLOTTE, N.C. -- The National Motorsports Press Association (NMPA) kicked off media tour week Saturday night with its Hall of Fame induction banquet. The room was packed with a roster of NASCAR old-school greats.
Leonard Wood laughed it up with Barney Hall. Wendell Scott's daughter, Sybil, sat with Frances Flock, widow of two-time Grand National champ Tim Flock. Harry Gant, Jack Ingram, Tommy Houston and Mike Helton shared a table and shared war stories of the formative days of the Busch Series. Ned Jarrett introduced his son Dale, one of the night's three inductees. Kyle Petty introduced another, legendary engine builder Waddell Wilson, who produced the horsepower that won 109 races and three championships.
But the night belonged to a writer. Not just a NASCAR beat writer, but the sport's original beat writer.
Tom Higgins covered his first NASCAR Grand National (now Sprint Cup) event on July 1, 1956 at the half-mile dirt Asheville-Weaverville Speedway tucked into the same mountains of North Carolina where he'd grown up. He was a young sportswriter for the Asheville Times, directed into the profession by his basketball coach at Brevard College. He was assigned by his editors to cover the local race, and at the time he wasn't happy about having to do it. As he likes to say, "The first race I ever attended, I covered."
[+] Enlarge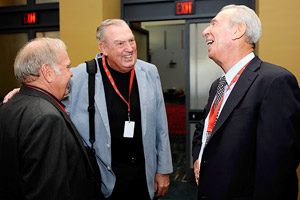 Rusty Jarrett/Getty ImagesTom Higgins, center, long ago earned the respect of NASCAR's pioneers, including Jerry Cook, left, and Ned Jarrett.
That day he sought a vantage point that would help him see over the flying dust and the crowd of 8,000. He climbed into a rickety old tower, where he found two men hiding out, helmets tucked under their arms and passing a fifth of Jim Beam back and forth. It was Curtis Turner and Joe Weatherly. "They didn't have rides for the race, but they didn't know that yet. They were still hoping to run it. That didn't keep them from drinking straight out of that bottle. I thought to myself, 'This here is a hairy-chested sport. I like these people.'"
Two years later, Higgins was sent to Darlington to cover the Southern 500. He was a little concerned when a Boy Scout assigned to watch the entrance to the open-air press box over Turn 1 handed him a pair of goggles. That concern grew into downright terror when the green flag dropped and the field of 48 cars roared directly toward his seat, which hung just a few feet over the first-turn guardrail. "Asphalt dust and sand and oil came blowing into the press box all over me. The only thing separating us from the cars was a net of rusty old chicken wire. We had cars flipping over that guardrail, riding up on top of it, and finally Eddie Pagan went completely through it, leaving a 150-foot hole in the fence."
They kept on racing. And for the next four decades, Higgins kept on writing. He eventually ended up with The Charlotte Observer with the dual beats of the outdoors and stock car racing. By 1976 he was on the road year-round, the first full-time NASCAR beat writer.
"Tom was the voice of the sport when it came to the written word," Ned Jarrett said on Saturday night. "My driving career goes all the way back to 1953. When I started winning races a few years later, you would go to Victory Lane and then go to talk to the media -- we called it the press back then. It would be the track public-address announcer and Tom Higgins. That was usually it."
Higgins was on the road during an era when those covering the sport were every bit as much a part of the traveling family as the racers and mechanics. He went fishing with Tiny Lund and Buddy Baker. He went hunting with Dale Earnhardt and Harry Gant. And he had drinks with everyone in between. But he also earned a reputation as the guy who seemed to get the story first. "That's a statement to the kind of man he is," Gant said at the dinner. "We trusted him to handle our business and our lives the right way. He helped so many of our careers."
In 1975, Higgins was the only reporter to show up at Charlotte Motor Speedway to cover Earnhardt's first real Cup Series test session. The kid who would eventually become The Intimidator refused to answer Higgins' questions until he realized that Tom had covered his father, particularly some of Ralph's most infamous moments on the short tracks around Asheville.
In 1984, it was Higgins who typed out one of the greatest lines in the history of motorsports journalism. Richard Petty, a local politician in his hometown of Randleman, N.C., won his 200th race with Ronald Reagan in attendance. Tom described the day as "the only time that a county commissioner has upstaged the President of the United States."
In 1993, it was Higgins who sat in an airport bar and pleaded with Neil Bonnett not to come out of retirement. "You don't understand," Bonnett said to his old friend. "Driving a race car is better than any sex you've ever had."
Higgins replied, "Either you can teach me a lot about driving a race car or I can teach you a helluva lot about making love." They hugged and said goodbye. The following February, Bonnett died at Daytona.
By 1997 Higgins had retired from his full-time job at The Observer. I was a field producer for ESPN2's night motorsports program "RPM 2Night." I was assigned to produce a twice-monthly NASCAR history feature with Tom called "Rearview Mirror." (I actually found an old one that someone posted on YouTube and you can watch it here).
For the next four years I drove to Tom's apartment, we'd shoot the piece, and then we'd talk. A lot. I never told him that I had grown up reading his stuff and that this assignment had been the most rewarding experience of my career. Looking back, I thought I was playing it cool, but I'm thinking that my endless questions about Fireball Roberts and Richard Petty and David Person and, well, everyone else, probably gave me away for what I really was and what I still am. A big Tom Higgins fan.
He is still the sport's greatest storyteller. And his "Scuffs" historical blog is still a must-read for any NASCAR fan. That includes me.
Now I am proud to call him my friend. He came to my wedding (and gave my wife a rolling pin to "keep that boy line"), he consoled me when my mother passed away, shared stories of his raucous grandchildren, and invited me to sit with him back in October 2009, when the NASCAR Hall of Fame announced its inaugural class. I called him Pap and he called me Young Hero. I don't do as good of a job as I should when it comes to calling Tom on the phone or stopping by for a visit, a fact that he rightfully gives me a hard time over. But when he saw me before Saturday night's banquet, he grabbed me and gave me a hug.
Later that night, during an induction speech that drew multiple bursts of laughter, applause and tears, he revealed the reason that he loved covering the sport so much. He talked about people who got their hands dirty, who worked tirelessly to make something out of nothing. He talked about his fellow honorees, Jarrett and Wilson, and he'd seen both of them under their race cars, covered in grease and sweat. And he beautifully described the image of Wendell Scott, perhaps the ultimate independent NASCAR racer, pulling his car off the track and working on it by himself for an hour, anxious to get back out and pick up one or two positions on the track because "that money meant the difference between whether or not he'd get to stay in a motel for the next race or have to sleep in his truck."
Scott's daughter, sitting at a table just a few yards away, just smiled, nodded and cried.
Choking back tears, Higgins declared that racers like Wendell Scott were the people NASCAR was built on. And as he wrapped up his speech, he issued a challenge to today's superstars, the ones "living in million-dollar motor coaches and traveling in private jet planes."
He said that if one of today's drivers ever happened to be in the same room with a racer from the 1950s, '60s or '70s, then they should "walk over and hug their neck and thank them, because no one would be doing what they're doing today or have all the things they have today if it wasn't for those pioneers."
To my friends and colleagues of the current NASCAR media corps, those who will be coming to Charlotte this week for the media tour, I have the same advice. If you see my friend, NMPA Hall of Famer Tom "Pappy" Higgins, hug his neck and thank him. Because none of us would be doing what we're doing today without what he did first.