Furniture, France and a Hall of Famer
January, 26, 2011
01/26/11
4:11
PM ET
I've always been pretty sure that the term "Wednesday Hump Day" was first used by someone who was on the NASCAR media tour. After countless miles on the bus and countless scoops of Sterno-warmed food eaten in race shops and hotel ballrooms, by Wednesday afternoon you could feel the motorsports media beginning to get a little rubber-kneed.
A day that ended at the NASCAR Hall of Fame around 10 p.m. had kicked off roughly 15 hours earlier with breakfast in a furniture store. Seriously.
Since Furniture Row Motorsports is based in Denver, the team's tour stop was held at its sponsor/owner's palatial new showroom just north of Charlotte. I knew I needed some coffee after I'd tried to interview Regan Smith for five minutes before I realized that I was talking to a cardboard standup of Regan Smith.
[+] Enlarge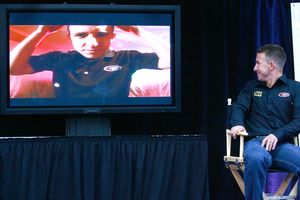 Jason Smith/Getty ImagesAJ Allmendinger, aka "Big Sexy," had some fun during Wednesday's media tour stop at Charlotte Motor Speedway.
Here's how the rest of the day went …
Best moment: Ford held a lunch honoring this year's NASCAR Hall of Fame inductees, all of whom had success with the blue oval. The Hall's executive director, Winston Kelley, introduced each honoree with a reading of some short bios. When he got to Bobby Allison, he couldn't resist a shot at the '83 Cup champ's longtime claims that he won 84 races, not 83 as the official NASCAR record book says. "If I go up to the Hall of Honor and see that someone crossed out '84' on Bobby's plaque and wrote in '85' with a black Sharpie, I'm going to have a pretty good idea who the culprit is."
Allison looked over at our side of the table, winked, and said, "I hadn't thought of that. That's a really good idea."
Flattest moment: I am a believer in NASCAR's Drive For Diversity program. I am a proud former employee of NASCAR Media Group. I am also very curious to see how the sanctioning body's new overhauled PR office will be structured. They all deserve a spot on the big stage.
But you could feel the audience tapping its collective foot as those three groups made presentations while everyone waited for NASCAR chairman Brian France to finally take the stage to unveil the new points system.
Best quote: When Dale Earnhardt Jr. was reminded that his 400th Cup series start was coming up, ageless Mark Martin interrupted and said, "That's really not that much."
Earnhardt replied, "How many do you have now? Four thousand?"
Honorable mention: AJ Allmendinger took a polite jab at his new RPM teammate, Marcos Ambrose, noting that he'd had some issues with running into the No. 9 in 2010 (with then-teammate Kasey Kahne).
Responded Ambrose: "If I run into you it's because you're going too slow."
He said what? France started his unveiling of the new points system by declaring: "The fans have been clear about one thing. They care about winning. They don't want drivers to just be content with a good points day or a good run." But when USA Today's Nate Ryan pointed out that the new system, while simpler, really isn't any different percentage-wise from the previous system, France replied, "You're right on the math, although it's slightly better for a win than the old system, albeit just slightly."
Stunner: Andrew Murstein actually knows a lot about cars, racing and sponsorship.
The president of Medallion Financial Group and the investor who ultimately saved Richard Petty Motorsports from the scrap heap talked about expanding to four cars and admitted to actively recruiting new drivers, even daring to throw out the name of Danica Patrick.
During his comments he went out of his way to distance himself from previous RPM owner George Gillett, who was spotted in the pits only slightly less frequently than D.B. Cooper. Murstein's family made their money in the NYC taxi business, from cornering the market on precious cab medallions (get it?) as well as advertising.
He told a great story about meeting with the mayor of New York to pitch the idea of posting ads on the doors of his taxis. The mayor replied, "What do you think this is, NASCAR?"
Later in the day I relayed that story to the crew chiefs of Hendrick Motorsports, who had just completed a well-polished 90 minutes with the media that only underscored their status as, well, Hendrick Motorsports. Chad Knaus chuckled and said, "That's how Benny Parsons got started, right? Driving taxis?"
As usual, Knaus was right.
And in Benny and Mr. Murstein's honor, I ended Wednesday Hump Day by hailing a taxi and calling it a night.