Long-suffering 21 fan sees payoff
February, 21, 2011
02/21/11
3:24
PM ET
I love the infield at the Daytona International Speedway. I like to come in early on Daytona 500 race day and walk the rows of RVs and tricked-out school buses. I love to inhale the early morning campfire smoke, smell the bacon and eggs, and listen to the laughter and the lies.
I always take stock of the flags that snap through the ocean breeze, proudly declaring their owners' driver allegiances. On Sunday morning I noticed one flag in particular, one that stood out both because of its uniqueness and because it was so old and frayed it looked like it had been stolen from the NASCAR Hall of Fame. I spotted it when I drove in for the Duel 150 qualifying races on Thursday morning, saw it again on Friday and Saturday, and on Sunday, with some time to kill, I walked back over that way to check it out close-up.
Lost in the sea of 3s and 88s, this banner featured a dark orange No. 21 against a white background. It was the number made famous by the Wood Brothers. There was a time when those digits and their apparel dominated the Daytona infield, powered to the top of the flag poles by the likes of A.J. Foyt, Cale Yarborough, David Pearson and Neil Bonnett.
This morning, in 2011, was not that time. Coming into the weekend, the Wood Brothers Racing team had 97 career wins, but none since 2001 and one since 1993. Over the last few seasons they had been reduced to running part-time schedules, and their following had deteriorated from perhaps the largest in the grandstand to the few but proud. I was intrigued.
"Who does this belong to?" I asked with a point as I walked toward the old Gulfstream trailer that it flew from, tucked into a parking spot near the Turn 4 tunnel.
"It's mine," said a man with a grey beard and a NASCAR Hall of Fame T-shirt, standing over a grill and frying bacon at 9 a.m. He said his name was Bill and he was from Orlando, Fla. That's all he would tell me. Turns out he'd called into work sick on Thursday and Friday to be at the track and he was afraid if I wrote his full name it would out him with his boss. "The 21? That's the greatest car number in NASCAR history right there. Want a beer?"
We chatted for about 15 minutes. He told me he'd been coming to Daytona since he was a kid. He became a Wood Brothers fan when he attended his first Daytona 500 in 1963. "It was the coolest thing I had ever seen and I've been with the Woods ever since."
He'd stuck with them during the glory days, watching them win Daytona 500s with Yarborough in '68, Foyt in '72, and Pearson four years later. And he continued to stick with them during the lean times. He caught increasing flak from his friends as the team, like his old flag, grew tattered. But his loyalty never wavered. It all went back to that day in '63.
[+] Enlarge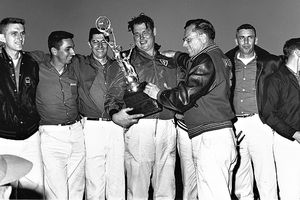 ISC Images & Archives/Getty ImagesTiny Lund put the Wood Brothers in Victory Lane 48 years ago. Lund wasn't even supposed to drive that day, but subbed for an injured Marvin Panch.
"It was rainy. Cold as s---. The Wood Brothers won that race with Tiny Lund in the car. Never changed tires. I was 8. You know Tiny wasn't even supposed to be in that car. My daddy spent half the race telling me that Marvin Panch was driving that car, but he wasn't. Tiny was."
Bill was right. And his father's confusion was understandable. Panch, the '61 Daytona 500 champ, was supposed to be in the car. But 10 days earlier, while attempting to set a sports car speed record, Panch flipped his Maserati into a rolling fireball. As the wreck happened, Lund had just entered the track. He saw the crash and immediately jumped the fence, joined by four others. Lund, who earned the nickname Tiny via his 6-foot-5, 250-pound frame, reached into the flames and pulled Panch out by his ankles.
The incident took place in Turn 4, right where Bill and I talked nearly half a century later.
I filled in the details for Bill, details that Marvin Panch himself had filled me in on while his '61 car was on display in the Fan Zone that sits in the middle of Daytona's garage area. I told him how Lund had come to Daytona down on his luck and out of a ride, hoping against hope that someone would put him in their racecar for the 500. I told him how Panch, in a "Win one for the Gipper" moment, lay in his hospital bed and told Glen and Leonard Wood that they needed to put Lund in his car as a reward for saving his life.
"Kind of reminds you of this kid this year doesn't it?" Bill said, referring to Trevor Bayne, who was once a development driver with both Dale Earnhardt Inc. and Michael Waltrip Racing. He was cut from MWR last year for financial reasons, eventually signing with Roush Fenway and landing his current part-time gig with the Woods. "No one wanted him. That kid's career was stalled out. So the Woods are giving him a chance."
We shook hands and said goodbye. Bill went back to his grill and I went back to wandering around the infield before reporting for work. I had no intention of going back.
Then, eight hours later, when there was 15 laps to go in the Great American Race, I took off out of the media center and headed for Turn 4. Why? Because Bayne, 20 years and 1 day old, making his second Cup Series start, had Bill's beloved No. 21 Ford running fourth in the Daytona 500.
"I was afraid you'd show up. I don't want to talk. Little nervous, brother."
During the long final caution period I had a chance to tell Bill that Marty Smith and I had stopped to wish Glen and Leonard Wood luck on the grid as the starting field rolled off. I also told him that earlier in the day I had chatted with David Pearson, in town to celebrate his induction to the NASCAR Hall of Fame. The Silver Fox said he figured "that 21 car will be faster just because they put our old paint job on it."
Then Bill cut me short as the green flag dropped for the final time. On the white flag lap the field roared down the backstretch. The radio play-by-play team screamed over the public address system, describing Carl Edwards' furious charge to try and take away Bayne's lead. But when the cars finally came into view, hammering out of Turn 3 and rolling by our vantage point, Bayne moved down to block Edwards' onslaught and they disappeared down toward the finish line.
The crowd roared and the trailing cars drowned out the PA system. Then a small crack of a name slipped through all the noise.
The 21 car had won the Daytona 500.
Bill slumped down into a folding chair and nodded his head. Then he heard the call of his buddies atop a school bus parked next to his Airstream. One screamed, "There you go, Bill! Now maybe they'll make some Trevor Bayne stuff so you can finally get you a new flag and replace that rag!"
After a few slaps on the back from his buddies, Bill stood, shook my hand again, and said, "Someone just needed to give that kid a chance. Just like Tiny. That's why I love the Woods."
Once again I asked him to tell me his last name. I told him, this story's too good not to write. Besides, this was Sunday and his boss probably wouldn't put two and two together. I didn't beg, but I came close.
"Sorry, bud. I'm probably gonna have to call in sick tomorrow, too. Me and my old ass 21 flag have got some celebrating to do."