Welcome to the Classic Track Tour
May, 16, 2011
05/16/11
5:28
PM ET
When my daughter was a little younger we used to joke that my pickup was a time machine. We'd joke about jumping in, hitting the gas, and turning back the clock to go visit heroes of bygone days.
This week, my pickup actually will be a time machine.
Starting Tuesday on "NASCAR Now" I'll be living every old-school race fan's dream, meandering through the Carolinas on what we're calling the Classic Track Tour. Just call it a crash course (in some cases quite literally) in stock car racing history as we march into a weekend that will be bookended by the Sprint All-Star Race, NASCAR's modern-day version of a Saturday night A-Main, and the induction of the NASCAR Hall of Fame's second class.
I'll spend the week jumping in my big red truck and going back in time to visit some of the greatest speedways in NASCAR history, bullrings where the men and women who fill the Hall of Fame became legends. All five of our stops played host to races in NASCAR's Strictly Stock, Grand National, or eventually one of the many sponsor-led versions of the Cup series.
All five were hosts to some of the biggest events and greatest stories that NASCAR has written. All five were eventually left behind by NASCAR's biggest division. But all five are still in business today, despite the financial struggles that continue to hamper short track racing. Just last week, one of our five tracks made headlines when it announced that it will be reclosing its doors for a while.
[+] Enlarge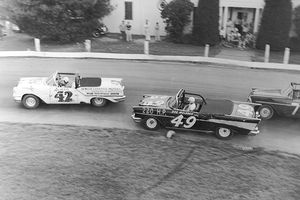 ISC Images & Archives/Getty ImagesLee Petty is getting into the Hall of Fame. Ryan McGee is visiting some of the places that helped him get there.
On Tuesday (5 p.m. ET, ESPN2), we'll kick off the Classic Track Tour at the place they call the Madhouse, the uber-flat, uber-tough oval of Winston-Salem's Bowman Gray Stadium. I'll be joined there by the Madhouse's most successful alum, Richard Childress. When he was still in elementary school, RC would walk halfway across town to sell peanuts in the Bowman Gray grandstands. As he got older he figured out how to get into the infield, where he fetched cold beverages for the likes of Curtis Turner and Fireball Roberts. As a teenager, he raced there. As a young man, he worked out of a shop just down the road. And now, as a six-time Cup series champion team owner, he serves as one of its living legends.
On Wednesday (5 p.m. ET, ESPN2), we'll head down U.S. Highway 220 to a place where Childress clinched that sixth Cup by stomping the field on a cool fall evening in 1994. Back then it was the North Carolina Motor Speedway. Shortly afterward it was known as the North Carolina Speedway. But no one ever called it that. They called it The Rock. Andy Hillenburg, the man who saved what is now known as the Rockingham Speedway from ruin, will join me to talk about it.
Thursday (5 p.m. ET, ESPN2), we travel northwest into the foothills of the Carolina Piedmont to check on the status of another once-proud NASCAR racetrack that is fighting to stay alive. The North Wilkesboro Speedway sat dormant for a decade and a half, then reopened to much fanfare last summer. Now it's struggling again and the men behind its revival will give us an update.
We'll wrap up the Classic Track Tour by kicking off All-Star Saturday (11 a.m. ET, ESPN2) with a bullring double-dip. First, we stay in the mountains at the place they call "Birthplace of the NASCAR Stars," the Hickory Motor Speedway. That's where 1970 Cup champ Bobby Isaac still overlooks his home track from the cemetery on the hillside above. And Ned Jarrett, barely 72 hours from his Hall of Fame induction, will revisit the track he once owned.
Finally, we'll visit a place that lists its all-stars along a world famous backstretch wall. The Greenville-Pickens Speedway is to Upstate South Carolina what Darlington is to the coastal plains, handpicked by Bill France Sr. to help NASCAR take root in the Palmetto State. It's been there, and at Greenville-Pickens, ever since. In 1971, GPS hosted the first flag-to-flag televised NASCAR race, called by Jim McKay on "Wide World of Sports." Forty years later it'll have to settle for me and "NASCAR Now."
Between the interviews and live shots we'll also teach you a history lesson on each track. Who built them? What was its greatest moment? Who were its greatest legends? What's happening at each racetrack today?
As the week goes along, be sure to check back here for my Classic Track Tour Travelogue. And I'll be tweeting my oil-stained fingers off at http://twitter.com/#!/RyanMcGeeESPN.
So, please come along with me on the NASCAR Now Classic Track Tour. Climb into my big red 4x4 time machine and let's take a ride down memory lane ... the fastest, loudest, greasiest, most barbecue sauce-covered memory lane there is.