F1's Webber the feel-good story of 2010
May, 18, 2010
05/18/10
11:38
PM ET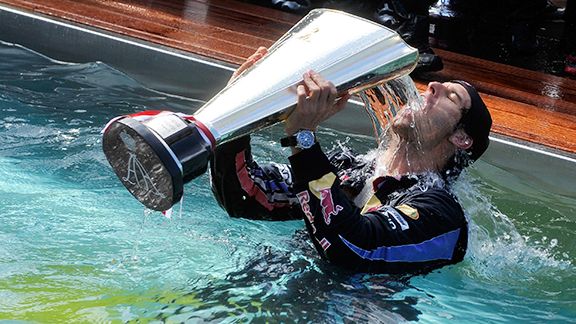 AP Photo/Gero BreloerMark Webber quenched his thirst in the Red Bull swimming pool after winning Sunday at Monaco.
In an age when young superstars are seeing success almost immediately, Mark Webber is a refreshing story.
While early success is no doubt extremely admirable, there's something commendable about a man who fights for years to reach the pinnacle of motorsport. Webber certainly exemplifies this, having competed in more than 130 events with Minardi, Jaguar, Williams and Red Bull before earning his first career win last season. He waded through the rough times with bad teams, and was able to finally find success the past two seasons with his current squad.
It's truly a testament to his sheer talent, as Webber has generally outperformed his teammates wherever he has been, and teams have no doubt noticed.
In his F1 debut with Minardi in 2002, Webber scored the team's first points since 1999, and throughout his career, he has consistently outshined teammates such as Nick Heidfeld, Nico Rosberg and David Coulthard while making the most of his machinery.
Now, it's finally paying off. Webber won the Monaco Grand Prix from the pole on Sunday.
For Webber and Sebastian Vettel, the Turkish Grand Prix on May 30 is the start of the season, as the two are tied atop the standings, with Webber owning the tiebreaker.
A case could be made that the drivers who gained the largest morale-boosters Sunday were Robert Kubica and Fernando Alonso. Kubica challenged for pole throughout much of Q3, and started an impressive second with Renault. After getting overtaken by Sebastian Vettel as cars were getting up to speed coming off of the grid, Kubica settled in and ran a clean, consistent race, winding up third.
Alonso's weekend seemed doomed when he crashed in practice, thereby missing qualifying. But on the toughest track to pass, Alonso and Ferrari caught a few breaks, notably during an early caution. He pitted on the first lap, changed tires and focused on gaining positions. While he endured a few frustrations (getting held up by Virgin Racing), Alonso used the track to his advantage, choosing to overtake almost exclusively while braking for Turn 10, which occurs right after the tunnel. Ferrari's keen strategy and Alonso's grit paid off, and he wound up sixth on the day after Michael Schumacher was penalized for overtaking during a safety car period at the conclusion of the race.
Jenson Button retired on just the second lap due to overheating, the shortest outing by a defending Monaco winner since Schumacher in 1996, when he collided with the wall on a slippery Monte Carlo track in the first lap of the race. Button is the latest casualty of recent history, in fact, as the past three defending Monaco winners have now each finished 10th or worse in the race the following year:
Monaco winner -- Following year's finish
• 2009: Jenson Button -- 23rd
• 2008: Lewis Hamilton -- 12th
• 2007: Fernando Alonso -- 10th

Button was one driver none too pleased over the race weekend, and not just from his disappointing race day. The tone of his weekend was set during qualifying, when he was held up by Felipe Massa toward the end of a quick lap. Instead of a potential front-row position, Button had to settle for eighth on the grid, a harsh reality for a title contender.
While it was likely nothing more than a weekend feud, Formula One could certainly use a strong rivalry for the new decade, or at least a few memorable on-track battles. A few that come to mind are Rene Arnoux against Gilles Villeneuve at France in 1979, Ayrton Senna and Nigel Mansell battling to the finish in Spain during the 1986 edition, and of course Alain Prost versus Senna at Japan in 1989 and again in 1990.
Some of the more polarizing rivalries of the past few decades start with Prost and Senna, while Schumacher and Damon Hill provided considerable entertainment in the mid-1990s. Nelson Piquet and Mansell were certainly fierce rivals while both at Williams in the mid-1980s. Recently, Alonso and Hamilton feuded while together at McLaren, and while this season has been very competitive up front, we've yet to see a true, lasting clash between drivers.
Perhaps as the temperatures rise this summer in the northern hemisphere, so will the tempers.