Fan mail running strong against Junior's move
February, 17, 2009
02/17/09
12:12
PM ET
DAYTONA BEACH, Fla. -- The e-mails still keep flooding in. People are upset with NASCAR and NASCAR's most popular driver for the wreck that ultimately decided Sunday's Daytona 500.
You can't blame them.
Had it not been for Dale Earnhardt Jr. taking out Brian Vickers after Vickers forced him below the yellow line with 76 laps left, Kyle Busch, not Matt Kenseth, likely would be celebrating the win.
Earnhardt insisted he didn't do it on purpose. Sound familiar? His famous father seldom if ever admitted to taking anybody out.
NASCAR insisted Earnhardt didn't do anything wrong, either. The governing body chose not to penalize him five laps -- or any laps -- as Jason Leffler was in the Nationwide Series race on Saturday.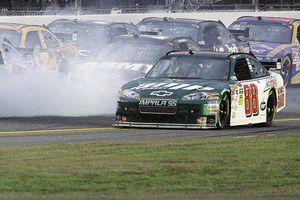 AP Photo/Mark YoungMany fans have voiced displeasure with an accident involving Dale Earnhardt Jr. in Sunday's race.
So the people are upset with Earnhardt, which is rather refreshing since the people have made Earnhardt the icon he is today. They are upset with NASCAR for letting his act go unpunished, which also is a bit refreshing.
Some are just upset in general.
Here are a couple of examples:
"As a fan of NASCAR, I would like to know WHY????WHY????? Just because of how you spell your last name? … Is that how NASCAR decides who gets penalties and who doesn't? … Or is it WHO OWNS the car???? … Can you explain this to me? … I am loosing interest in NASCAR very fast. … The top-35 rule is another one that needs to be explained. … I am getting very interested in NHRA … . No B.S. In NHRA … . You either qualify or put your car back on the truck and wait 'till the next race.
"I wish someone [NASCAR] would answer these questions … I am sorry for going off on you like this, but I know the A------- in DAYTONA don't care anything about one guy … . Go NHRA."
***
"I will say this about NASCAR, they make things almost impossible for the average fan to even have a comment. But after this last Daytona 500 it has become some much of a joke [that] NASCAR can to do whatever they can to get Junior a win. What he did, several drivers have done in the past and got severely penalized during the race. HMMMM, not a conspiracy person, but damn that is odd.
" … That was a huge mistake of his part … . Nobody wants to say it in NASCAR … the unwritten rule is protect 'Junior at all cost for the sport.' Well, I think that is [B.S.]!!!!!!!!! Have plenty of sources that specifically said from the head honcho Junior will save us. Well, after what I saw and as well as most NASCAR fans let's face the facts.THE FIX IS ON!!!!!!!!!!! Junior won't be penalized. He is an idiot."
Is there a storm brewing among Junior Nation that we haven't seen before?
Stay tuned.