Feather boa, grits and figs? It all goes together
August, 3, 2009
08/03/09
3:08
PM ET
CHARLOTTE, N.C. -- Pink feather boa, grits and a lot of figs.
Bossman told me not to worry about racing this past weekend, to forget about the Jeremy Mayfield soap opera, sponsor woes and what will happen to Kevin Harvick during the silly season. You know, re-energize.
So I took him at his word, figuring I'd skip Sunday's Sprint Cup race at Pocono entirely and see if the world stopped spinning. Naturally the race was postponed until Monday because of rain, which means no escaping 500 of the most boring miles you'll witness even if it does mean watching from the couch.
But for two days racing was the farthest thing from my mind, as the pink boa, grits and figs might indicate.
Curious what that all means? Let's start with the pink boa, which also included a pink wig, which by now must make you wonder if this idea of getting away from racing was such a good idea.
The alarm went off earlier than normal for a Saturday morning. My wife had agreed to promote a fundraiser for the Susan G. Komen Breast Cancer Foundation in Davidson, N.C., so we packed up Ernie the dog and headed North on I-77.
[+] Enlarge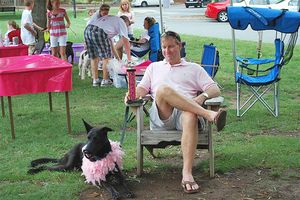 Newton Family Ernie and David Newton savor a hard-earned win in the Wildest Outfit category in the Think Pink Dog Show in Davidson, N.C.
Yes, the dog, not me, is connected to the pink boa and wig. Whew! Be patient. We'll get to that.
The event was the brainchild of 10-year-old Ally Miller, the daughter of Wanda Miller, the president and general manager of the Speedway Club at Lowe's Motor Speedway, which apparently won't be named that after this season because of sponsor woes. OK, so I can't get completely away from racing.
Ally began organizing what became the first annual Think Pink Dog Show when she learned that her best friend's mom, Nancy Brown, was in treatment for breast cancer. She did everything including knock on the door of the Davidson mayor for help to corral sponsors for donations.
At the age of 10 my idea of fundraising was collecting empty soft drink cans for enough money to buy candy. Ally raised more than $1,100, which far exceeded her goal of $500.
Oh, the pink boa and wig. That was the brainchild of my wife, who decided our big, black, German shepherd/Labrador would look hot in a pink boa and wig she had in her closet. Don't ask. And yes, he looked ridiculous.
One of the judges was Doug Herbert. Perhaps it was fitting that a drag racing star picked a dog dressed in drag for the Wildest Outfit Winner.
Ernie is in therapy now, but that's another story for another weekend away from racing. On to grits. Actually, it was "Grits the Musical."
This was the brainchild of Erica McGee, the wife of ESPN The Magazines writer Ryan McGee. Yes, another racing connection.
Erica, who is prettier and more talented than her husband, adapted Deborah Ford's novel "Grits: Friends Are Forevah" into a musical that is a must-see if you're a woman from the South -- or the husband of one.
Grits is short for "Girls Raised In The South" in case you were wondering. It made me wonder what the male counterpart could be. I came up with Butts -- "Boys Understand The True South" -- starring Larry the Cable Guy and Jeff Foxworthy. We'll see.
Back to "Grits the Musical." It reminded me of NASCAR. Stay with me here. What I mean is there are stars in the lower series who could be just as successful in the Sprint Cup Series with the right backing. Erica and her three co-stars fall into that category. They were amazing.
Now for the figs. I'll keep this one short. It was a Newton reunion. To be born into this family means you inherit the nickname Fig. My dad was the president this year, which made him the Big Fig. Enough said, other than the only thing to outnumber Newtons at the picnic were gnats.
That sparked another idea for a musical -- "Gnats," or "Girls Not About The South."
You're already thinking I need to get back to the track, or at least do something manly such as watching a "Die Hard" marathon.
You might be right. We'll see if I have enough energy after napping -- I mean evaluating -- through 500 miles at Pocono.