Thank you, Carl, for the ride of my life
November, 14, 2009
11/14/09
3:58
PM ET
AVONDALE, Ariz. -- Between the whirling wind atop Rattlesnake Hill and the roar of the trucks circling Phoenix International Raceway below, I barely could hear the person beside me.
These words I didn't miss.
"I'm gonna make you guys pay for everything bad you've written about me," Carl Edwards said as he strapped in the seat belt of the four-wheel-drive, all-terrain vehicle.
[+] Enlarge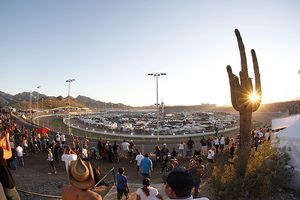 AP Photo/Matt YorkWant a bird's-eye view of Phoenix International Raceway? Climb to the top of Rattlesnake Hill.
Unfortunately, I was one of "you guys." The other was Joe Menzer of NASCAR.com.
We were squeezed onto the back ramp made for toting gear, not two out-of-shape sportswriters who thought it would be a good idea to watch the start of the Truck series race from atop this 1,158-foot mound of rocks and cactus. No padded seats. No seat belts. There barely was room for our combined rear ends -- no comments, please -- as our feet dangled over the edge. Were it not for the roll bar behind our hard heads we likely would have been launched into the dessert darkness as Edwards roared at what we guesstimated was 50 mph down the bumpy, narrow path.
"Any dust getting on you guys?" Edwards shouted in a tone that was almost as scary as the ride.
I wanted to reply with something smart like, "Not as much as the dust Jimmie Johnson has left you in during the Chase."
Unable to see my legs from the knees down and understanding who was in charge, I refrained.
As we approached the end of this treacherous journey that I accepted only for the health of my fellow scribe, who had to stop and rest on a rock during the walk up, Edwards asked where we wanted to be dropped off.
In my oft-sarcastic voice, noticing a 5-foot drop to the next level of rocky path and knowing Edwards would be overly cautious with his pregnant wife in the passenger seat, I said to take a hard left.
He did.
Joe and I became closer than we ever imagined -- or wanted.
"Watch your hands," he insisted.
"Sorry," I replied as I struggled to hang on.
The move didn't go unnoticed by a security guard, who informed us such maneuvers are considered a no-no in this wasteland around the track. He asked to see Edwards' identification.
Unlike Kasey Kahne, who in 2007 was sued for assaulting a 62-year-old security guard at Homestead-Miami Speedway when he couldn't produce anything but a driver's uniform with his name on it, Edwards had his wallet.
Fortunately, the guard wasn't Maricopa County Sheriff Joe Arpaio, who in 2005 said "our streets are not to be used as raceways" after Kurt Busch was charged with reckless driving not far from the track.
Fortunately, the ride was over. Edwards dropped us off at the entrance to the Sprint Cup garage and then disappeared as quickly as he came.
I have to admit, the ride made me better appreciate Edwards' skills. Had Joe or I been behind the wheel at that speed on a path better suited for rattlesnakes and tumbleweed they still might be looking for body parts.
I also better appreciate Edwards' sense of humor. Not for scaring the you-know-what out of us, but for leaving a voice mail for my wife explaining how he carried me off the hill after I was bitten by a snake.
I also better appreciate the view from Rattlesnake Hill. There may be no more spectacular place to watch a race. It is comparable to viewing a Boston Red Sox game from atop the Green Monster, more awe-inspiring than standing on the start-finish line at Daytona International Speedway.
The view, particularly as we watched the sun set over the hills, was breathtaking.
The ride down took my breath as well.
Only nice things to say about Edwards from now on.