Of Danica, stilettos, lobsters and tears
December, 17, 2009
12/17/09
4:23
PM ET
MOORESVILLE, N.C. -- The first thing I noticed when Thursday's press conference at JR Motorsports began were four-inch stilettos. You run across those in a NASCAR garage about as often as you find steel-toed boots in a Christian Dior store.
The second thing I noticed was Jerry Gappens.
Gappens had nothing to do with the stilettos except he noticed them, too. They were hard to miss when IndyCar Series driver Danica Patrick dangled them off her feet from her director's chair atop the podium.
And in case you're wondering -- and Patrick was so kind to point it out -- they come in black and tan.
Back to Gappens. The last person I expected to see at a press conference in Mooresville, N.C., a few days before Christmas was the president of New Hampshire Motor Speedway.
But that's why I am a writer and Gappens promotes races.
[+] Enlarge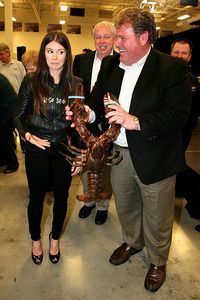 HHP ImagesNew Hampshire Motor Speedway president Jerry Gappens strives to make Danica Patrick an offer she can't refuse.
He gets it.
Gappens flew down for this get-together with JRM's newest Nationwide Series driver in hopes of persuading her to compete in the June 26 Nationwide race at his 1-mile facility in Loudon, N.H.
He even came with a bribe -- one eight-pound New England lobster and four two-pounders. The two-pounders taste better. The eight-pounder simply was to impress.
Gappens had done the math. He realized the IndyCar Series didn't have an event the weekend of his race and that he could give Patrick an opportunity to compete in a stock car without conflict.
He also realized he could sell a lot of extra tickets if she showed up.
"I'd say if I do my job as a promoter, she's worth 5,000 to 10,000 tickets on a Saturday afternoon," Gappens said.
Let's say 10,000 fans buy a low-end $25 ticket. That's an additional $250,000 in the track's pocket.
Cha-ching. Cha-ching.
Yes, Gappens gets it. He understands the value Patrick could bring to the male-dominated sport. He knows that if his 9-year-old daughter is talking about the IndyCar darling, then there's opportunity to bring more fans to a sport in need of a jump start.
"She could do for our sport what Hannah Montana did for Disney," Gappens said.
Hannah Montana? Lobsters? Stilettos?
Is this the future of a sport born of moonshiners and men who believed a woman's place was in the kitchen?
Apparently so. One look around the crowd at JRM on Thursday said this was important. NASCAR officials, track promoters and other people who had absolutely nothing to do with the announcement took time from their busy holiday schedules to drop by.
Gappens took the time to fly down.
As Dale Earnhardt Jr., Patrick's new boss, noted, "I don't think anybody really knows how big this is yet."
In case you're wondering, the lobsters did more to scare Patrick than lure her to New Hampshire. She apparently lost her dog of 14 years in March and gets quite emotional every time she sees a dead animal.
"I saw a dead bunny in my neighborhood and I cried all the way home," Patrick said. "I don't know what my problem is. I am an ultra-sensitive wuss when it comes to animals dying."
Stilettos and crying? Geez. What would Junior Johnson and David Pearson say about that?
If they are as smart as Gappens, they'll say this is a great opportunity for the sport.