Will Baby JJ be a distraction for Johnson?
January, 7, 2010
01/07/10
2:20
PM ET
Team owners and drivers have been searching for the past four years for ways to stop Jimmie Johnson's domination of the Sprint Cup Series. Nothing has worked. No sound solution to what some perceive as a problem for the sport has been found.
[+] Enlarge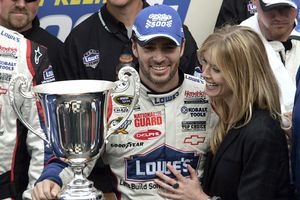 AP Photo/Steve HelberReigning Cup champ Jimmie Johnson and wife Chandra are expecting their first child in July.
Until now, maybe.
Johnson becomes a father in July.
Don't laugh. Baby JJ could be the equalizer 48 haters have been praying for.
Just look what fatherhood did to Johnson's Hendrick Motorsports teammate. Jeff Gordon won 79 races before Ella Sophia was born on June 20, 2007, including four that season. He's won only three since.
Gordon will tell you being a father is the greatest thing that's happened to him, greater than winning four championships. He'll tell you changing diapers and sleepless nights haven't affected his ability to drive the least bit, although I suspect a nanny lightened the load.
He may be right.
But facts are facts, and Gordon had four titles before fatherhood and none since.
Want more proof of what fatherhood can do to you? Matt Kenseth made the Chase the first five seasons, one of only two drivers to make it every year. He and Katie had a baby girl in July, and poof … he's on the outside looking in.
Again, don't laugh. Kenseth was 10th in points pre-baby. The week after the blessed event he finished 23rd and fell to 12th. By the time the Chase was set he had fallen to 14th.
Need more evidence? A father hasn't won the championship in the past six seasons. You could stretch it and say a full-time father hasn't won the title since Bobby Labonte in 2000, because Kenseth's son wasn't living with him when he won the 2003 championship.
In case you're wondering, the childless champions during that span were Gordon ('01), Tony Stewart ('02, '05), Kurt Busch ('04) and Johnson ('06, '07, '08, '09). That Stewart is childless may be a blessing. Do we really want Little Smokes inhabiting the planet?
Let's take this a step further and focus on newborns. Dale Earnhardt won consecutive titles in 1986 and '87. Taylor Nicole was born in 1988, and Earnhardt finished third with only three wins, eight fewer than he had the year before.
Coincidence? Think about this: It took Richard Petty four seasons after Kyle Petty was born in 1960 to win the first of his seven championships.
Carl Edwards announced in October that he and his wife, Kate, are expecting their first child in February. Edwards won a series-high nine races in 2008. He went winless in 2009.
But it's not just newborns who tug on heartstrings and can become a distraction. Cale Yarborough won three straight titles from 1976-78. Before running for a fourth he was headed for an appearance when he noticed one of his kids' bikes was broken. Discovering how long it had been neglected, he canceled the appearance, stayed at home to fix the bike and decided from then on to spend more time with his family.
He never won another title. Two years later, he was driving a part-time schedule.
Do I seriously believe fatherhood will slow Johnson down? Not really.
But there is enough evidence to give opposing team owners and drivers hope that between baby showers, 3 a.m. feedings and learning to say "goo-goo ga-ga," it will slow the champ down enough for them to close the gap.
Many probably are hoping crew chief Chad Knaus will be named the godfather. Think about it: A few hours of online shopping at the baby superstore are a few hours spent not outthinking the competition -- and NASCAR.
Or maybe Knaus will become obsessed with getting more speed out of a stroller. Can't you see Johnson, Chandra and Baby JJ on the seven-post shaker? In the wind tunnel?
Sure, it's a reach. There's a chance Johnson will become more focused, figuring he needs to win more because there's another mouth to feed and support.
The competition hopes not. Baby JJ may be their only chance.