Time to bring back the famed black No. 3
January, 19, 2010
01/19/10
5:37
PM ET
CONCORD, N.C. -- Day 2 of NASCAR's preseason Sprint Media Tour began with the unveiling of a black No. 3 truck that Austin Dillon will drive full time for Richard Childress Racing.
Next was a visit with Richard Petty Motorsports, where we saw the new paint scheme for the No. 43 that AJ Allmendinger will drive in the Sprint Cup Series.
[+] Enlarge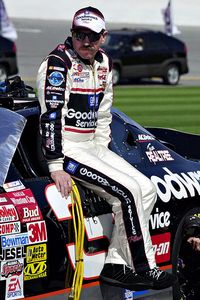 AP Photo/Chris O'MearaThe black No. 3 made famous by Dale Earnhardt hasn't been raced in a Cup event since Earnhardt's death in 2001.
They are the two most famous numbers in the history of the sport.
Hands down.
The images left from the two news conferences said a lot.
The No. 3 has been on the track in only three events in NASCAR's top three series since the day Dale Earnhardt was killed on the last lap of the 2001 Daytona 500. Dale Earnhardt Jr. drove a blue version of it in a 2002 Nationwide Series race and Dillon drove a black 3 in two truck races last season.
Otherwise, nothing. RCR owner Richard Childress has been adamant the number will be used only by a member of his family or another Earnhardt.
Even then, he's not sure it ever will return to the Cup series.
Richard Petty has done everything possible to keep the No. 43 on the track since the seven-time champion stepped out of it following the 1992 season. He has merged with three different companies the past three years and moved the shop from Level Cross, N.C., to Mooresville to Statesville and now Concord with the latest venture with Yates Racing.
He believes it is important to keep it on the track, for the heritage of the sport and his company, even if the performance is a far cry from the championship level he achieved in it.
Crew chief Dale Inman, who helped Petty to his seven titles, agrees.
Childress is of a different mindset. He has kept the 3 parked out of respect for the man who won six of his seven championships in it. He said on Tuesday, "I don't know that you'll ever see the 3 back in Cup."
I respect his thoughts. But I don't agree.
It is time for the 3 to return full-time. Perhaps Dillon can pave the way in the Truck series.
Baby steps, but progress.
Childress' 19-year-old grandson has been on stock car racing's fast track since he gave up stick and ball sports four years ago. He was the NASCAR Camping World East Series rookie of the year in 2008 with a win, a pole and 10 top-10s in 13 races.
Now he is on the fast track to the Cup series. It may take a year or two or three, but let's hope he gets there in the black 3. The sport needs it.
"The 3 has a history to it and it has a heritage to it," RCR driver Jeff Burton said during the media tour. "And that history and heritage is linked not only to Dale Earnhardt but to Richard Childress Racing. They collectively made the 3 a symbol of success, a symbol of commitment to do everything it took to win.
"Some people hated it. It was either loved or it was hated. It's such a huge part of our sport, it should only be back in the right situation through."
Whether that's with Dillon or Earnhardt Jr. or another of Earnhardt's children Burton can't say for sure.
But he believes the 3 belongs.
"It shouldn't be brought back as a gimmick, as a way to bring attention," Burton said. "It needs to be brought back because it's the right thing to do."
Childress hinted he might bring the color and number into the Nationwide Series with "an Earnhardt or Earnhardt's grandkids or one of [his grandkids] one day." He didn't rule out that Dillon might run it in a handful of races with the new car this season.
But Cup?
"That's kind of where Dale raced the whole time," Childress said. "Again, I wouldn't say never to nothing, but we don't have any plans of doing that."
If he did, Dillon can handle the pressure. A part of him would love to continue RCR's No. 3 legacy in the Cup series.
"You can't look at that as a pressure," said Dillon, already carrying the torch as the first family member to attend college (High Point University). "My grandfather has always told me to have as much fun with the racing as I can."
It'll be fun to see the black No. 3 truck on the track at Daytona next month. Perhaps that's enough for now. It's probably too much to think Dillon can be ready for the 2011 Daytona 500, the 10-year anniversary of Earnhardt's death.
That might appear gimmicky.
It also might be a great way to show respect.
Not everybody will agree. Kevin Harvick, who replaced Earnhardt in a car bearing the No. 29, would like to see the number retired in Cup.
But he likes the idea of Dillon driving it in the Truck series, where Kevin Harvick Inc. driver Ron Hornaday is the reigning champion and he likes to dabble behind the wheel himself.
"I see the black 3 and I just want to beat it every week," he said. "It's really good for the sport. It's really good for RCR to keep it in the family. It's great to have it a part of the Truck series."
This wasn't the biggest story of Day 2. That Cup series director John Darby will step aside and train a replacement when one is found was.
But the images from the first two news conferences left behind a great topic to debate. It's one I'm sure Earnhardt's widow, Teresa, would like a say in.
But the ultimate decision is for Childress, and he doesn't seem to be in a hurry to rush it back.
"That's a tough, touchy subject," said Mike Dillon, RCR's vice president of competition and Austin's father. " Richard has a lot of opinions on that. I'm going to agree whatever he thinks. It's really a personal deal. It'll be a wait-and-see type of deal."