Spoiler could make JJ more dangerous
March, 27, 2010
03/27/10
2:48
PM ET
MARTINSVILLE, Va. -- In pondering whether replacing the rear wing with a spoiler will slow down four-time defending Sprint Cup champion Jimmie Johnson, a few other questions came to mind:
[+] Enlarge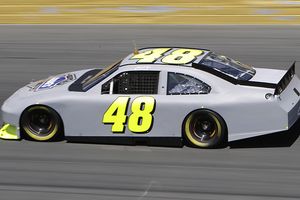 AP Photo/Chuck BurtonJimmie Johnson took advantage of this week's test session at Charlotte to try out the new spoiler.
Does a kid belong on the radio in the air traffic control tower at JFK Airport? Does Tiger Woods deserve a nomination for husband of the year? Does an apple a day always keep the doctor away?
Does a speeding bullet slow down Superman?
If you answered yes to any of the preceding questions, you're not operating in reality.
Spoiler or wing, it doesn't matter. You could put Johnson in the Flintmobile with a No. 48 sticker on the side and Chad Knaus on the pit box and that would be the dominant team, particularly at Martinsville Speedway, where Johnson has won five of the past seven races and six overall.
Those hoping the spoiler will be the great equalizer that stops the driver who has won three of five races this season and seven of 14 overall are dreaming.
"We could build the cars a hundred million different ways and they'd be a top team battling for the top anyways," Dale Earnhardt Jr. said as he prepared for Sunday's race at Martinsville. "They're talented."
And good, too.
Those who couldn't wait for NASCAR to trash the wing with which Johnson won 22 of 93 races (23.6 percent) need to remember that Johnson won 28 of 203 races (13.4 percent) with the spoiler.
The order of the garage is not going to change significantly because of a 4-inch-by-64.5-inch piece of metal, particularly the order at the top. If anything, Johnson will be better with a spoiler if reports are true that cars are looser coming out of the corners.
In case you haven't noticed, he likes a loose car.
[+] Enlarge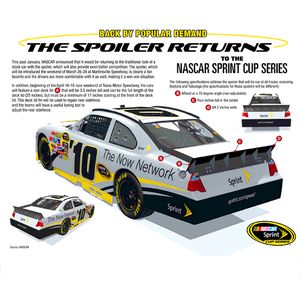 NASCARThe 4-inch-high spoiler, which is mounted at a 70-degree angle, replaces the wing beginning this weekend at Martinsville Speedway.
"Everybody is sick of getting beat by Johnson," Kasey Kahne said during Tuesday's spoiler test at Charlotte Motor Speedway. "But I doubt this will slow him down. We need to speed up."
In other words, it's up to the competition to catch Johnson because he's not going to come back to the field.
"I'm paying attention to what the 48 is doing, but I'm much more concerned about how it affects us," Jeff Burton said. "I don't think [the spoiler's] going to slow them down, but I know that we need it to make us better. I'm paying attention to that."
Johnson, who will start third after Friday's qualifying washed out and the field set by points, doesn't have to pay attention to anything but his own team. That already puts him a leg up.
"I don't think that there's much to really get worked up over," Johnson said. "We're viewing it as an opportunity. We might not be the first team to find the magic the spoiler wants, but we're usually pretty good at finding stuff in a hurry.
"In the short term I think there will be some opportunities, and I think our team should be able to find some things to take advantage of."
That's the attitude one would expect from one of the best drivers of all time. Hendrick Motorsports teammate Jeff Gordon, who also qualifies for consideration in that category, echoed those sentiments.
"The strong teams and the strong cars, you know, wins come from great teams," the four-time champion said. "They don't come from a spoiler or a wing combination."
No, it comes from being better than everybody else.
"[Kevin] Harvick, I feel like, really had something for them at California," Gordon said. "We had something for them at Vegas. [Kurt Busch] had something for them at Bristol.
"But they're just such a good team that they win because they keep themselves in position and Chad makes good calls. Jimmie really gets after it when he needs to. And that's just a sign of a great combination. I don't think that's going to change whether you put a spoiler or a wing on there."
And for the record, an apple a day doesn't always keep the doctor away.