Earnhardt special is one cool Camaro
May, 28, 2010
05/28/10
12:27
PM ET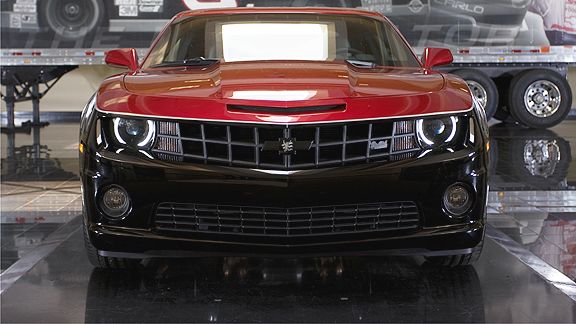 Courtesy of Dale Earnhardt ChevyThe 2010 Dale Earnhardt Hall of Fame Edition Camaro turns heads wherever it goes, at least around Charlotte.
CHARLOTTE, N.C. -- As I pulled up to the corner of Sixth and Trade after a musical Thursday evening on Speed Street, two women on the sidewalk turned their heads and shouted, "Wow!" One quickly fumbled through her purse, pulling out a camera and snapping a few pictures before I sped away.
They weren't gawking at me.
It was the car.
Not just any car, but a 2010 Dale Earnhardt Hall of Fame Edition Camaro, one of only 10 to be sold this year.
I got the car on loan for a day from Dale Earnhardt Chevrolet in nearby Newton -- no relation -- when the folks there heard I was interested in a muscle car. This candy-apple red and black machine is more than a muscle car.
It is a muscle magnet.
The car turned more neck muscles from the time I drove it into Charlotte Motor Speedway on Thursday morning until I returned it on Friday afternoon than Dale Earnhardt Jr. turns on a Sprint Cup weekend.
A fan wearing a Tony Stewart Old Spice No. 14 cap nearly broke his neck repeatedly turning for looks as he walked past the track's main entrance with a big thumbs-up and the kind of smile you would expect if "Smoke" won Sunday's Coca-Cola 600.
People on foot and in golf carts stopped by the media center parking lot to take pictures of the car all day, according to the security guard. The guard wanted one, too, drooling over it for more than eight hours.
And as I prepared to leave, he stopped traffic both ways, walked over to the window and softly said, "Show me what she's got."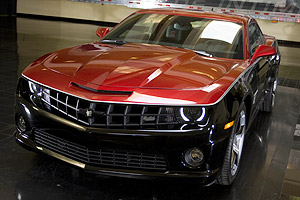 Courtesy Dale Earnhardt ChevyYou can't really find a bad angle to look at the 2010 Dale Earnhardt Hall of Fame Edition Camaro.
Don't tell the folks at Earnhardt Chevrolet, but there's a black skid mark that left the guard in love.
Did I mention the car has the big SS V-8 engine that had me thinking I could beat Ryan Newman for the pole?
It had muscle in places I never knew cars had muscle before.
As my mesmerized 17-year-old quickly noticed, the 100 mph mark on the speedometer was in the middle where 55 or 60 is on most cars.
But what surprised me most were the looks. From the HOF hologram of Earnhardt on the hood to the Intimidator's famous 3 on the wheel rims and other strategically placed spots to the Earnhardt brand embroidered on the floor mats and headrest, this bad baby was smacked out.
For 24 hours, I might as well have been driving the black No. 3 the way people stared. When I was headed home from the hardware store, a man in a blue BMW almost took me out he was so fixated.
But nothing beat the gawks leaving Speed Street, where the two women followed me to the next light to take another picture.
Alas, I had to give the car back. As cool as it was, I'm still trying to decide whether I'm a muscle car kind of guy.
Or maybe I'm just waiting for the all-black "Intimidator" edition coming out in 2011.