Time to test Barber for IndyCar race
March, 23, 2009
03/23/09
1:36
PM ET
What would you do if you had a lot of time, money and land on your hands? George Barber built a top-notch road course, something that American motorsports fans should be proud of.
[+] Enlarge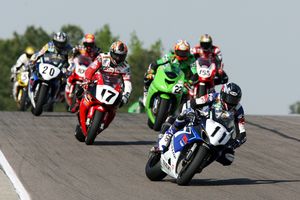 AP Photo/HO - Brian J. Nelson/AMA Pro RacingBarber Motorsports Park is tailor-made for motorcycles, may adapt well to IndyCar with a few changes.
Built just outside of Birmingham, Ala., on 540 rolling acres at a reported cost of $54 million, Barber Motorsport Park is probably the closest thing to a state-of-the-art road course in the United States.
I say "probably" only because I have not been to Miller Motorsports Park in Utah or Virginia International Raceway, both of which were constructed in recent years. But neither of those tracks features anything like the Barber Vintage Motorsport Museum, which displays more than 1,100 street and racing motorcycles, as well as some highly significant and valuable racing cars. The museum rivals the Honda Collection Hall at Twin Ring Motegi, which is high praise indeed.
IndyCar Series fans should also rejoice because Barber (who made his fortune in the dairy industry) and his track want to host an IndyCar race.
Check that. They really want to host an IndyCar race. The series' two-day open test at BMP was so well promoted that an announced 10,300 fans showed up Sunday to watch the likes of Danica Patrick and Scott Dixon come to grips with a circuit that was compared to Infineon Raceway, Mid-Ohio Sports Car Course, Watkins Glen International and even Spa-Francorchamps.
Team Penske's Ryan Briscoe said the atmosphere Sunday at Barber -- where the lines for driver autographs and portable restrooms were 10 deep -- compared to Formula One testing in Spain at the height of Alonso-mania.
All of the drivers were enthusiastic about the crowd; I don't have scientific facts to back it up, but I suspect the number of people on hand for the test exceeded the number of people who watched the first day of practice/qualifying at all of the IndyCar Series' oval tracks in 2009. Combined.
And none of them were listening to the NASCAR race from Bristol on the radio.
It was a diverse crowd, too, and not just in terms of ethnicity.
In my hotel parking lot, there were a variety of motorcycles, import tuner machines and several cars with Indiana license plates mixed among the usual smattering of construction company trucks and senior citizen-driven minivans with dashboards covered by plush stuffed animals. Who would have guessed that the southeast is a hotbed for road racing?
There are a number of reasons I think an IndyCar event at Barber would be successful. But the main one is its proximity to Indianapolis.
Although Indy is in the heart of the Midwest and Birmingham is the heart of Dixie, it's an easy one-day drive from one to the other. IndyCar Series officials say they don't want to cram too many races into one area, and maybe that's understandable in Ohio or Wisconsin. But Indy car racing's traditional fan base -- whether oval or road racing -- is the Midwest. And nothing has stopped NASCAR from hosting at least two-thirds of its events in the southeast.
Whatever kind of track, the IndyCar Series needs successful events. It's an embarrassment to the series when world-class drivers are running around at 200 mph in front of only dozens of paying customers.
And that's the way it is at most IndyCar oval events, with the exceptions of Texas Motor Speedway and Iowa Speedway, which draw reasonable pre-race day crowds.
Based on what we saw Sunday, there is every reason to expect that an IndyCar race at Barber would be successful. If 10,000 fans come out for a basically meaningless test day, how many would pay to see meaningful action?
Of course, there is work to be done on the track before that becomes a reality. Although every driver talked about how great a track Barber is to drive, there were serious concerns about its raceability when 20 or more wide, powerful cars are on the relatively narrow track.
As is stands, Barber is an outstanding venue for motorcycle racing, but it does not feature the combination of a long straight followed by a tight turn necessary to create passing in an Indy car road race.
The good news in that regard is that George Barber has a "whatever it takes" attitude and says he is ready to write a check to make whatever changes are necessary to bring the track up to a raceable standard for IndyCars.
Based on everything the man has done to date, we have no reason to doubt him.
And that's good news for IndyCar Series fans.
John Oreovicz covers open-wheel racing for National Speed Sport News and ESPN.com.