IndyCar and MotoGP made for wild weekend
September, 3, 2009
09/03/09
7:31
PM ET
Wow! A full weekend of racing for the Oreo man.
Last Friday and Saturday were spent at Chicagoland Speedway, where the IndyCar Series delivered up a clean and exciting race with one of those trademark photo finishes the series has become famous for.
Just a few hours later, it was time to head south to catch the second running of the Red Bull Indianapolis GP on the Indianapolis Motor Speedway road course.
Although not as close, this was a much less predictable affair, with pole winner Dani Pedrosa and MotoGP maestro Valentino Rossi both crashing out to open the door for Jorge Lorenzo to score a dominant victory.
What made the weekend double more difficult than it needed to be was the unusually late starting time at Chicagoland. At the behest of the Versus network, the green flag did not fly for the Indy cars until 9:06 p.m. local time, or 10:06 ET.
This isn't the time or the place to get into a debate or commentary about what happens when television dictates the start time of an event. Let's just say that the 9 p.m. start wasn't very fan-friendly; the race ended at 10:50 local time, which means anyone traveling from Chicago's northside suburbs were probably not going to get home until well after midnight.
That late start time surely had an adverse effect on attendance.
Estimated at 25,000, the crowd was by far the smallest to witness an IndyCar Series race at Chicagoland -- which is a shame, because three of the four closest finishes in Indy Racing League history occurred at the 1.5-mile cookie-cutter oval in Joliet.
The late start also meant the race ended too late to make the Saturday night local news and Sunday newspapers. I haven't seen the television ratings for the race yet, but I can't imagine they will be anything for Versus or the IndyCar Series to celebrate.
From my own narrow perspective, after writing three stories to file after the race, I got to sleep around 2 a.m. ET and was on the road to Indianapolis by 7:30. That put me at IMS just in time for the noon start of the 125cc support race. The MotoGP main event flagged off at 3:00.
It was shocking, to say the least, to see Rossi lay his Yamaha down and lose half of his MotoGP championship lead in the process. The other surprise at Indy was the less than robust attendance. MotoGP promoter Dorna announced the race day crowd as 75,130 -- a good crowd by any standard, but one that looks pretty sparse in a venue that has more than 250,000 permanent seats.
For a series like the World of Outlaws, a pair of races 250 miles apart on consecutive days is par for the course. In Indy-style racing, even when there were two competing series from 1996 to 2007, it didn't happen that often. The Chicagoland/Indy pairing got me thinking about some of the other notable race weekends on which I pulled double duty, including:
2000: Nazareth Speedway, May 27/Indianapolis 500, May 28
The CART race at Nazareth had originally been scheduled for April 9, and almost predictably, it was snowed out. The only feasible makeup date was the day before the IRL Indy 500 -- which really complicated things for Target Chip Ganassi Racing, the first CART team to break ranks and race at Indy since the 1996 open-wheel split.
[+] Enlarge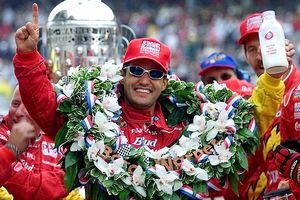 JEFF HAYNES/AFP/Getty ImagesJuan Pablo Montoya scored a big win at the 2000 Indy 500.
Juan Pablo Montoya was in his second and final season of CART. After leading 110 laps from pole position but finishing fourth at Nazareth, he appeared totally relaxed despite the busy weekend. Maybe that's why he now seems so well-suited to NASCAR.
"I'll go back to Indy and have some fun tomorrow, no matter what happens," he said then. "Hopefully we'll have better luck. But I'll really start thinking about tomorrow tomorrow."
The Colombian indeed had better luck and some fun at Indianapolis. He dominated the 500, winning easily, setting the table for the rush of CART teams that returned to Indy over the next four years.
Ironically, Montoya's Indy win diverted attention from the man who usually expects to be celebrating victory in the 500. Gil de Ferran scored Roger Penske's 100th Indy car victory at Nazareth, the first win for Penske's open-wheel team in more than three years.
2005-06: Richmond and Cleveland
I managed to accomplish this one two years in a row. Richmond to Cleveland is just under 400 miles; my game plan was to dash at the Richmond checkered flag to beat the traffic, get a couple of hours up the road, then write and send a Richmond story before copping a few hours of sleep prior to an early departure for Cleveland.
Richmond was always one of my favorite places to watch racing, but you can practically mail in your report because there generally isn't much action. Helio Castroneves won over Dario Franchitti and Patrick Carpentier in 2005 in a race that was most notable for all three Target Ganassi cars crashing out individually; Sam Hornish Jr. led the last 212 laps in '06.
Meanwhile, Cleveland produced its usual mayhem. Paul Tracy won over young upstart A.J. Allmendinger in '05, and there were no fewer than five leaders in the '06 race, one of five Champ Car events won by Allmendinger during that glorious summer when he was the hottest thing on the American open-wheel scene.
2004: Motegi and Long Beach
Believe it or not, I was on site for both races, green flags separated by about 40 hours and 7,000 miles. This was my most optimistic double, and pulling it off depended on lots of cooperation from Mother Nature and the airline industry. But the Japanese race was not rained out for a change, and it was an emotional Saturday at Twin Ring Motegi, where Honda finally won an Indy car race at its home track after seven years of futility. Dan Wheldon will forever be a hero at the Honda Motor Corporation.
I departed Tokyo at 5 p.m. local time Sunday, about 26 hours after the IRL race ended. We then landed at LAX at 11 a.m. local Sunday following a 10-hour flight. By 12:30, I was enjoying lunch at the Newman/Haas hospitality area, having just missed out on rubbing elbows with celebrity guests Paul McCartney and Tom Cruise.
The race was decent enough; the highlight came at the start when Paul Tracy debuted Cosworth's push-to-pass system by blasting past the front row consisting of Newman/Haas Racing teammates Bruno Junqueira and Sebastien Bourdais with a most audacious move.
Aside from the brutal travel schedule, what made this weekend difficult for me was playing double duty for National Speed Sport News. That meant supplying approximately 3,000 words of copy from Motegi and Long Beach, plus ESPN.com columns.
How was it? Tiring to say the least. But it was also educational and often fun. Typing stories into the wee hours of the morning is a small price to pay for getting to see the other side of the world while on the job.
By the time I got home from Long Beach on Monday evening, I was ready for a rest and I think my sleep schedule was out of whack for the better part of a week. But it all made for a pretty satisfying memory to look back on.