DeltaWing concept car stirs up controversy
February, 19, 2010
02/19/10
12:37
PM ET
A new technical package for the Izod IndyCar Series has been a long time in coming, and now that details about four competing proposals for the future chassis formula are starting to be made public, it looks like open-wheel fans should prepare for conflict and controversy.
On Jan. 29, DeltaWing Racing Cars announced that it would reveal a concept to be considered for the 2012 IndyCar Series formula at the Chicago Auto Show on Feb. 10. In the weeks leading up to the unveiling, conjecture ran rampant about the DeltaWing car, which was believed to be quite radical under the technical direction of Target Chip Ganassi Racing engineer (and former Lola designer) Ben Bowlby.
[+] Enlarge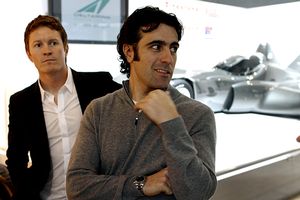 AP Photo/Jim PrischingIzod IndyCar Series drivers Scott Dixon, left, and Dario Franchitti appeared at the Chicago Auto Show on Feb. 10 to unveil the 2012 DeltaWing concept car.
A few days after DeltaWing scheduled its press conference but before the car was publicly shown, current IndyCar Series chassis supplier Dallara suddenly released artist's renditions of three future design proposals it submitted to the IRL. Two of the Dallara concepts were a fairly radical departure from the look of a current Indy car, while a third, more conservative design blended styling cues from Dallara's current Indy car with recent Lola and Reynard Champ Cars.
Perhaps prompted by the attention created by DeltaWing, former Champ Car chassis manufacturers Lola and Swift also quickly publicly confirmed that they submitted proposals to the IRL. Swift's presentation included three prospective designs; two of Swift's concepts were fairly standard-looking (though they employed retro-styling touches like partially exposed engines), while the other had swoopy, futuristic-looking enveloping bodywork. Swift's proposals include aerodynamic appendages below the rear wing called "mushroom busters" intended to clean up the turbulent wake for following cars, as well as some interesting, fan-friendly technical developments like LED displays built into the bodywork.
"We wanted to help communicate the car's critical information in real time to the fans, and to that end, we are pioneering a new lighting technology which we've dubbed 'SwiftLights,'" explained Swift's chief scientist, Mark Page. "SwiftLights will display car information like throttle, brake and fuel levels as well as race position. SwiftLights are lightweight, efficient, inexpensive, safe and extremely bright. TV-like sheets have also been demonstrated with this technology, offering amazing possibilities for team and series sponsors."
Lola was the last to reveal artwork of its potential designs, which bear a strong resemblance to Lola's final Champ Car chassis used from 2000 to 2006. Lola's chief selling point is a great deal of commonality between the cars used in the IndyCar Series and the Indy Lights feeder formula, including the use of the same basic nose box, fuel cell and tub, engineered for different engine installations. Two variations of Indy car bodywork would be available to provide visual differences between cars, and like Swift, Lola has also focused on cleaning up the aero turbulence to allow closer racing.
"We have worked closely and methodically to understand the needs of the IRL Board, the fans and the teams while remaining aligned and sensitive to the challenging commercial needs of all stakeholders," said Lola Cars managing director Robin Brundle. "For Lola it is also very important that the fans enjoy the cars and receive a great spectacle both trackside and on TV."
But in terms of shock value, nothing came close to the DeltaWing. Speculative comparisons to land-speed-record cars were on the mark; the DeltaWing features a long, slim fuselage that finally resolves into a fairly standard-looking open-wheel car cockpit. But there are no sidepods, bar-sculpted fairings fore and aft of the rear wheels. There's also no rear wing, but rather a tall fin like an aircraft.
The front end of the DeltaWing is even more unusual. Since the 1970s, designers have specified the widest possible front track to clear airflow to the sidepod-mounted radiators and the rear wing. The DeltaWing's front wheels are nearly together -- the front track measures 24 inches -- and while the rims are the standard IndyCar height of 15 inches, they're only 4 inches wide.
The DeltaWing, then, looks like a triangle -- hence the name. Bowlby said he didn't intend to essentially reinvent the wheel. But when he factored in all the performance, cost and safety parameters that the IRL was looking to meet, the DeltaWing was the result.
"We didn't set out to design what we ended up with," he said. "It wasn't like we had an idea as a starting point and tried to make it work. The shape was simply the outcome of addressing performance objectives. The breakthrough was when we realized we could achieve unbelievable vehicle dynamics if we went to a very narrow front track and a wide rear track with a very rearward weight distribution and aero distribution. Suddenly we kept the identity of the single-seater.
"Then we worked on how to still fair in the wheels for drag and safety reasons, because those were two important points, and still retain a true open-wheel feeling. If you completely cover the wheels, you end up with an ALMS sports car. It's not a fully exposed wheel, but as an interpretation it is perhaps the next step as the cars of the future become so driven by efficiency."
It's that tucked-in front end that is the most controversial aspect of the DeltaWing car. It's easy to envision it going around Indianapolis at 230 mph, but what about Iowa or Watkins Glen? Or the hairpin at Long Beach. Won't the front just wash out?
Au contraire, mon frere. Bowlby says that with 23 degrees of steering lock in both directions, the long DeltaWing car will get around the Long Beach hairpin just fine. He added that in computer simulations, the radical car is 1.5 seconds a lap faster around Mid-Ohio Sports Car Course than a current Indy car -- using a 300-horsepower engine.
"We discovered that our traction is better, relatively speaking, than the current Indy car, because of the weight on the rear of the car," Bowlby explained, citing the DeltaWing's 28:72 weight distribution. "And our braking performance is actually better. It's extraordinary. It's unique in this racing car that we have more than 50 percent of the braking force coming from behind the center of gravity.
"That gives you a very stable condition on corner entry. You have much less propensity to lock an inside front wheel because there isn't a lot of load distribution occurring at the front of the car. Suddenly we have a car that is out-accelerating and out-braking the current Indy car."
The biggest misconception about the project is that Bowlby and CEO Dan Partel don't want DeltaWing to become a racing car manufacturer. They want to essentially license their basic platform to the IndyCar Series for traditional manufacturers -- like Dallara, Lola and Swift -- to refine, build and market.
One issue DeltaWing faces is time. It is unlikely they could create a running prototype to test before August, and the clock is ticking on IRL officials to outline the 2012 engine and chassis specifications and select participating manufacturers. The concept requires on-track validation in terms of drivability, raceability and safety, and that is unlikely to happen in a timely enough fashion to satisfy IRL competition chief Brian Barnhart, who wants to pick a chassis supplier by May.
DeltaWing's other problem is perception. Once pictures of the prototype went public, the haters came out with a vengeance that in the past was reserved for the likes of CART team owners and IRL founder Tony George. Fan reaction was vehemently negative, suggesting that in the absence of a USAC/CART or CART/IRL war to debate, Indy car fans just need something to take sides and fight about.
There's no doubt that if the IndyCar Series wants to attract attention in its inevitable post-Danica era, adopting the DeltaWing platform would be one way to do it. Especially if the series' yet-to-be-determined new engine formula displays equally forward thinking.
But you have to wonder whether the concept can be sufficiently proven in time for a 2012 rollout. And maybe that's the solution: Adopt an evolutionary platform that achieves the IRL's current goals for three to four years as a bridge to the future, then aggressively encourage manufacturers to go radical for 2015 and beyond.
As such, it's highly unlikely that Barnhart and the IRL are going to give the DeltaWing concept serious consideration for the 2012 IndyCar Series formula. But that's not the point.
Chip Ganassi has financed the DeltaWing project to date. Ganassi is the closest thing to a visionary American open-wheel racing has had in the past two decades, and several team owners (including IRL founder/Vision Racing boss George) have endorsed the development of the DeltaWing platform. That in itself should send a powerful message to IRL management that business as usual isn't going to be good enough for Indy car racing to grow and thrive again.
The question is whether Barnhart and the rest of the management team at 16th Street and Georgetown Road in Indianapolis are paying attention. Because if they're not, there could be another revolt similar to USAC/CART or CART/IRL brewing that will shake Indy car racing to the core.
That's something the already beleaguered sport simply cannot afford.