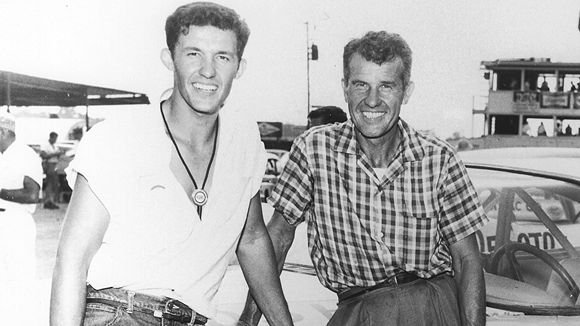 RacingOne/Getty Image
Dec. 15, 2007. The day Old-School NASCAR dies.
That's the day the last truck is expected to pull off the lot at 311 Branson Mill Road in Randleman, N.C. The last trailer packed with the possessions of Petty Enterprises, turning right and rolling down the same road on which Richard Petty first learned to drive a car. The same path where The King's father, Lee, first earned a little extra cash running 'shine (although he always denied it), then earned even more by racing his tricked-out cars against other local hot rods. Eventually, the dirt road became paved, and the Petty family used it as a test track to get cars prepared for Daytona, Darlington and Charlotte. The same road where Richard's great-grandfather had lost his life a few decades earlier trying to push the envelope in a Model T Ford. He was 98.
Soon, the Petty blue No. 43 will reside not in the 60-year-old garage that wraps around Lee's farmhouse but rather in a sprawling, sparkling factory of a race shop in Mooresville, N.C., forced there by a sport that continues to bulldoze its way into the future.
That future is a bright one, as Jeff Burton so eloquently reminded us in his speech at the Nextel Cup awards banquet two weeks ago. But even a professor of progression such as Burton must say goodbye to 2007 with some degree of sentimentality. The Pettys' evacuation of their roots isn't the only adieu to Old-School NASCAR this season. It is merely the final chapter in what has become a season-long farewell.
NASCAR's version of the Greatest Generation, the men and women who pulled the sport out of obscurity and into the big time with their bare hands, is all but gone. The car they used to build the sport is obsolete. The leaders who showed them the way are either dead or have called it a career. And all this has happened in 2007.
Here's a look back at the goodbyes you might have missed in the blur of the season's final few months, when the headlines were dominated by the Chase, the Hendrick dynasty and the Earnhardt family feud. As you read along, feel free to put on Boyz II Men's "End of the Road" and burn a tire in your backyard in honor of everyone on the list.
Ricky Rudd
Rudd took the checkered flag on his career when he took the checkers at Homestead last month (as did Kenny Schrader, although he is still shopping for a ride). Rudd made his first Cup start on March 2, 1975, at age 18. He finished 11th at Rockingham, where he would go on to run 54 races comprising 21,259 laps and earn the 17th of his 23 Cup wins. The top three finishers that day were Cale Yarborough, David Pearson and Richard Petty. Rudd raced against the big four (those three and Bobby Allison) in their prime, went door-to-door with Dale Earnhardt, Bill Elliott and Darrell Waltrip, then moved on to Jeff Gordon, Tony Stewart and Jimmie Johnson. Richard Childress finished sixth as a struggling driver-owner, and eventually Rudd would hand Childress his first win as a team owner.
Robert Yates
Rudd's boss the day of his final race was Yates, who also hung up his hard card after Homestead. Yates grew up on the east side of Charlotte and learned how to manufacture horsepower outrunning the highway patrol on his way up to the Shuffletown Dragway. As a boy, he worked on engines for the legendary Holman Moody race team, building motors for the likes of Pearson, Fast Freddie Lorenzen and Mario Andretti. Junior Johnson's legendary era of the 1970s also was powered by Yates engines, as was the success of Darrell Waltrip and Bobby Allison at DiGard Racing. The soft-spoken church deacon eventually became a team owner, taking a chance on Bobby's kid, Davey. From Davey to Ernie Irvan to Dale Jarrett to Rudd, the sound of a Robert Yates Racing engine struck fear in the hearts of men. All the way until his last days at the shop, Yates still had dirty hands, still was trying to find a few more horses under the hood. Now, his son Doug will oversee what is left of RYR, reduced to what is essentially a minor league affiliate of modern NASCAR mammoth Roush Racing. Shuffletown? It's now a strip mall.
Dale Jarrett
Jarrett brought Yates his only Cup title in 1999 and earned 28 wins and two Daytona 500 victories with RYR. But DJ's roots reach back almost as far as Petty's. As a boy, Dale traveled to the track to watch his father, Ned, win two Cup titles and 50 races. Most believed he would become a professional golfer, but instead Jarrett went racing and struggled to make ends meet on the Carolina short tracks and in the earliest days of the Busch … er, Nationwide Series. Friends and family practically begged him to give up and get a real job, but Jarrett answered by putting in endless hours at his shop in Hickory, N.C., building his cars with his own two hands. Eventually, he crafted a Hall of Fame-caliber career on his own terms, and he is retiring on his own terms, running six races in 2008 and walking away after the All-Star race in May.
Car of Yesterday
With all due respect to Toyota, the enduring image of Jarrett in the minds of most race fans is behind the wheel of his red, white and blue No. 88 Ford Thunderbird with that signature broad, flat nose that looked big enough to land a fighter jet on. When Ford flared out the T-Bird's fenders, Chevy did the same. When Chevy jacked its rear end in the air higher than the tail of a 747, Ford did the same. It was a beautiful yet painfully endless cycle of one-upmanship that managed to create excitement and aeropush all at the same time.
Now those cars are being sold to racing schools, ARCA teams, and pretty much anyone with a wad of cash and a racetrack entry form. Why? Because the Car of Tomorrow is now officially the Car of Today, going full time in '08. Some engineers are barking about the COT's lack of creativity, but only time will tell whether we'll actually miss the annual rite of passage known as "spoiler war" when we get to Daytona.
Bill France Jr.
On the never-stopping NASCAR calendar, June 4 seems like eons ago, but that was the day we lost the most powerful figure in racing history (sorry, Tony Hulman and Bernie Ecclestone, but it's true). Yes, his father, Bill Sr., had the vision and put the wheels in motion, but it was Junior who put some torque to those wheels. Under his guidance -- which began long before his father officially retired -- Bill Jr. streamlined the schedule, made the Cup mean something, brought in the money, brought in TV and radio, and pushed NASCAR out of its Southeastern incubator and into a world past the Mississippi. Even after handing off day-to-day operations to son Brian, Bill Jr. never lost his influence, as evidenced by anyone who spent any time with Brian over the last five years of his father's life. Nary was a decision made without a call to Pops, and Brian says it's those calls he still misses every day.
Benny Parsons
Parsons' Jan. 16 death set the tone for this season of goodbyes. If ever there was a perfect embodiment of Old-School NASCAR, it was BP. He was raised in the hills of North Carolina, the same hills that were home to Junior Johnson and the great bootleggers-turned-racers. He drove a taxi in Detroit, started racing in ARCA and eventually came back south to run for the ultimate mom-and-pop race team, owned by local Rockingham businessman L.G. DeWitt.
He won his only Cup title by pulling a tortoise vs. hare job on Cale Yarborough in 1973. He won the 1975 Daytona 500 with drafting help from Richard Petty to beat David Pearson on the final lap. Then he won the hearts of millions as the voice of NASCAR on ESPN alongside childhood hero Ned Jarrett.
Benny's funeral was held in a massive church just north of Charlotte, attended by an A-list of racing legends and multimillionaires. They gave eloquent speeches and told tales about the man they had raced against and loved. After the stars had departed in their big black SUVs and luxury automobiles, the church was opened to the public about 4 p.m. that Friday, but when the doors were thrown open, no one was there.
For an hour, the parking lot was empty and Benny's casket sat alone. Just as the doors were about to be shut, a pickup truck rolled in. Then a station wagon. And another truck. Soon, there were dozens of vehicles rolling in and the people came piling out to pay their respects. A painter, a teacher, a group of nurses.
"I would have gotten here sooner," said a guy named Walt, obvious by the name embroidered over his pocket. "But I had to get off work first."
These were Benny's people. Hardworking blue-collar race fans. Now they wanted a chance to say goodbye, with no idea that this was simply the beginning of a year of goodbyes. Let's hope they were merely saying goodbye to some old friends and not the sport they fell in love with so many years ago, packed up in an 18-wheeler and driven down off the family road and onto the interstate in search of something better.
Ryan McGee, the editor-in-chief at NASCAR Images and a motorsports writer for ESPN The Magazine, is the author of "ESPN Ultimate NASCAR: 100 Defining Moments in Stock Car Racing History."