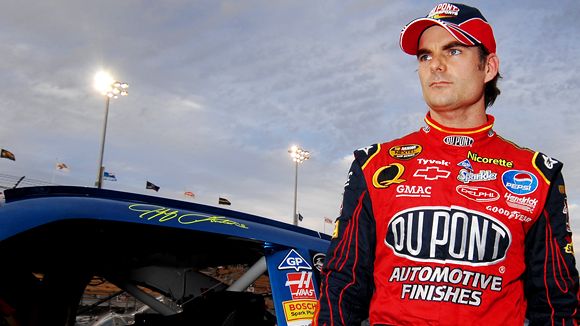 Mark J. Rebilas-US PRESSWIRE
NEW YORK -- In the cramped single-seater men's restroom at Café Luxembourg in Manhattan, on the wall behind the toilet, hangs a '40s-era black-and-white photograph of three women, naked, leaning on the bar, bare bottoms in all their cheeky glory right out there for the world to see.
In the photo, the ladies in the middle and on the right face forward, away from the camera. One stands left hand on hip, right elbow on the counter. The other holds a cigarette. Both lean easily to the right. Confident. Meanwhile, their counterpart on the left peers nonchalantly over her right shoulder and directly into the lens in a sassy, "What're you lookin' at?" sort of way.
The photo is striking, a testimony to perfect comfort in one's own skin.
It is the restaurant's mantra, it seems, so it is quite appropriate that Jeff Gordon loves the place.
That theme applies to him, now more than ever.
For most of his life, Gordon accepted conforming to the expectations of others. He was content being someone and something others wanted him to be, rather than focusing on who he was or what he wanted.
In the moment that dynamic is quite difficult to rationalize. And it wasn't until 2003, when Gordon's marriage to Brooke Sealey failed, that he realized it. For the first time in his life, Gordon recognized that he didn't truly know the man in the mirror.
He made a mental checklist of personal goals, all of which centered on a singular motivation: independence.
He would walk into a restaurant, sit down and order dinner. Alone.
He had never done that before.
"To some people that's not a big deal, but for me it was huge," said Gordon, hands folded over a plate of steamed mussels. He doesn't recall the specific restaurant where it happened, but the sense of pride is still very real, very palpable. Liberating. It is still evident in his stern gaze.
"I wanted to be independent, wanted to do things on my own and not rely on others. That was a proud moment for me."
It was a seminal moment in the life of a man groomed from youth to achieve brilliance, polished to gleam in even the brightest box of jewels. Gordon was always a pleaser. Do right. Say right. Act right.

I wanted to be independent, wanted to do things on my own and not rely on others. That was a proud moment for me.

-- Jeff Gordon
But this was his time. Do what you want. Determine what "right" is for you.
"When you go through a divorce, or big life transitions, it forces you to ask, 'What am I doing with my life? And what do I want and [what] do I do to achieve it?'" Gordon said. "I just wanted to enjoy life, and wasn't doing that to full capacity because I enabled myself to be molded by others.
"I got caught up in that, and realized if you don't do things to make you happy, it doesn't matter what you do, you'll never [be happy]. I'm still searching. I'm getting closer."
He also chose not to date for an entire year.
"Again, that might sound stupid, but for a guy that, as long as I can remember, either had a girlfriend or wife -- I sought out my independence," he said. "That way, when I met someone I liked I would have much more to offer."
Tucked away in this creaky corner booth near the restaurant's front door, Gordon giddily recalls his initial interest in the woman who would ultimately become that someone -- model Ingrid Vandebosch, now his wife.
He was lounging by a pool in the Hamptons several years back, sunning his frame alongside a trio of fair maidens, when a bronze goddess appeared in a white bikini. They had met before, introduced by a mutual friend. This time was different.
"Now that is a woman," Gordon said he thought to himself.
She commanded attention, a striking beauty who visually smote him as she walked by and dove directly into the pool.
See ya, ladies …
Splash! In Gordon went after her, no hesitation. The man knew what he wanted and paid no mind to potential ramifications -- yet another chapter in the identity evolution of Jeffrey Michael Gordon.
"I just went for it, man …" he said, pausing in thought through a grin, " … and somehow it worked."
The couple wed last year, and in June welcomed daughter Ella Sofia into the family. Gordon is a proud husband and father, a man so readily blissful it is infectious. When he smiles his guests smile. And he smiles often.
His life is truly complete, save for a few NASCAR championships he's yet to win.
He's been stuck on four titles for six seasons now, the last coming in 2001. His nickname in the industry is Four-Time. Folks wonder when, not whether, he'll be Five-Time. It is truly considered a foregone conclusion that he'll win another. In fact, most presume he'll make a run at seven championships, the record tally collected by Richard Petty and Dale Earnhardt.
It is admittedly a bit irksome for him when people ask whether he'll get to seven. The manner in which one wins a championship now is wholly different from the days when Earnhardt did it. Yet seven remains the standard.
"They completely changed the system they won with and we're still held to comparisons with them," Gordon said. "That's the only issue I have."
The Chase has changed everything. In 2007, Gordon enjoyed one of the best seasons in NASCAR history. His DuPont Chevrolet team won six times and set a record for top-10 finishes with 30. His average finish during the 10-race playoff stretch was an astounding 5.1. And yet, he failed to win the championship.
Hours before this lunch at Café Lux, Gordon stood onstage at the Hard Rock Café alongside the man who did win it all, Jimmie Johnson, and the other drivers in the top 10. They were being recognized for their respective achievements. Sort of.
Tissot, the official timepiece of NASCAR, was set to give each driver a commemorative watch for his effort. But as the company spokesman climbed the stairs and headed to the microphone he passed Gordon, who was exiting stage left.
Gordon is sponsored by Tag Hauer. He can't be up there. He was slightly mortified.
"I feel like an idiot," he whispered to Johnson, laughing, as he eased past.
Johnson, indirectly, was integral in Gordon's transformation. Throughout his career Gordon chose not to get too close to other drivers, including teammates. Some of that was due to just being different, living different lives. Some, though, was a result of the killer instinct. Gordon didn't want to let friendships interfere with championships.
But following his divorce, he found in Johnson someone with mutual interests and philosophies. From there, a friendship was forged that, judging by the fierce on-track battle during this season's Chase that didn't erode it in the least, appears impenetrable.
Gordon has a unique ability to make people feel special. When fans meet him for the first time he easily carries the conversation. They often can't speak. Such was the case in the green room at the Hard Rock, when Bruce and Carolyn Graham showed up.
For Carolyn's anniversary gift, Bruce spent nearly $21,000 in a charity auction to purchase a racing helmet adorned with autographs from former Daytona 500 champions. Gordon was to present it to Carolyn, a Jeff Gordon fanatic who came bearing gifts for Ella -- Waterford Crystal -- and was nervous to give it to Gordon because it's not engraved with Ella's name.
She wants to take it back and have it engraved. It is a verbal tug-of-war. Should I take it back? I will gladly do so. She asks Gordon's opinion. He ultimately chooses not to give it back. She is relieved. Out comes the camera.
As photos of the three are shot, Carolyn, trembling, comments that this photo will make the front page of the hometown (Belvidere, Ill.) newspaper. She says they don't want many people to know about the meeting.
"Well, it's too late to turn back on that one, now," Gordon quips. All chuckle.
With that, it's adieu and out the door, up the elevator to the back entrance of the Hard Rock. Hundreds of people clamor for his attention. He signs and poses all the way to the curb, then slides seamlessly into a waiting car.
It is 11:30 and he is starving.
"You guys want some lunch?" he asked. "I know just the place."
Marty Smith is a contributor to ESPN's NASCAR coverage. He can be reached at ESPNsider@aol.com.