Cruise Control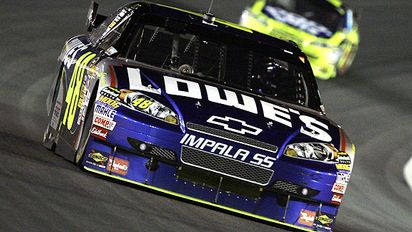 AP Photo/Terry Renna
Johnson has won three of the five Chase races so far, with five to go.
If anyone is going to derail Jimmie Johnson's march to a fourth straight title, they didn't show up Saturday night. Johnson drove past teammate and owner Jeff Gordon in a great duel down the stretch before Johnson pulled away for another easy victory.
Recap
|
Results
|
Standings
Must Read

What are track operators to do when times get tough? Get back to basics, which really means getting creative. David Newton
• Newton: Manufacturing a fix for all
• Newton: NASCAR at a crossroads

UP NEXT

SPRINT CUP SERIES
Daytona 500
Sunday, Feb. 20, 2011, TBA
Daytona International Speedway
•
Sprint Cup Series schedule
NATIONWIDE SERIES
DRIVE4COPD 300
Saturday, Feb. 19, 2011, TBA
Daytona International Speedway
CAMPING WORLD TRUCK SERIES
NextEra Energy Resources 250
Friday, Feb. 18, 2011, TBA
Daytona International Speedway
NASCAR on ESPN TV
Play Stock Car Challenge
Given a $100 million salary cap, build a team of five NASCAR drivers and compete for great prizes.
Select your drivers today!
2010 NASCAR Track Guide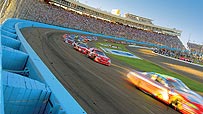 So this is the year you want to make NASCAR a bigger part of your sports existence. ESPN SportsTravel can get you started with a guide to all
22 tracks of the Sprint Cup Series.
Head out to the speedway