Jimmie Johnson Wins At Martinsville
Sprint Cup: Danica the big surprise at Martinsville
Jimmie Johnson wins at Martinsville Speedway. No surprise to anyone.
After all the tough talk for two weeks, it was 500 laps with no real paybacks. A little surprising.
Danica Patrick finished 12th in her first Martinsville start. Absolutely astounding.
That about sums up Sunday's event on the historic Virginia short track.
Let's start with the shocker. For those not in the know, it may not sound like a big deal for a rookie to post a 12th-place finish. It is.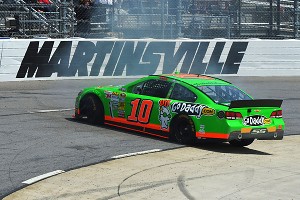 Drew Hallowell/Getty ImagesCup rookie Danica Patrick shook off an early spin to finish 12th Sunday at Martinsville.
In reality, it's probably Patrick's biggest achievement yet as a NASCAR driver, far bigger than winning the pole for the Daytona 500 and even bigger than finishing eighth in that race two months ago.
Martinsville eats rookies alive, and it's a devil of a chore for many veteran racers as well. But let's stick with rookie performances.
Johnson, who now has eight victories at Martinsville, finished 35th in his first start on the paper-clip-shaped oval. Kyle Busch finished 39th is his first attempt at Martinsville and brother Kurt finished 37th.
Patrick even outran a couple of former Cup champions. Hall of Famer Rusty Wallace, who won seven times at Martinsville, finished 15th in his first start there. Dale Jarrett finished 14th.
Tony Stewart, Patrick's teammate and boss, finished 20th as a Martinsville rookie. He finished 17th on Sunday, being outrun by Patrick in the final laps.
"I didn't know what to expect," Patrick told a Fox TV reporter afterward. "All I knew was that it was going to be a little bit crazy. I felt like I made a lot of passes. I feel like I just passed all day, but I'm sure a lot of people do that on a short track. It was a nice day for us. We've had quite a few bad ones since Daytona, so we'll take this and get rolling."
Patrick had an early spin and was two laps down at one point, but fought her way back. Crew chief Tony Gibson said he never dreamed Patrick could finish as well as she did on such a difficult track.
Gibson was amazed at how well Patrick ran on restarts and how aggressively she raced in the final laps.
"It will help her gain some confidence," Gibson said. "To come out of this with her proving what she can do on these restarts, be more aggressive and do what these guys are doing. Hopefully, it will build some confidence that will help her down the road."
Patrick's aggressive driving was surprising, but the lack of aggression by some others also was a surprise.
Stewart's anger at Joey Logano from the blocking incident at Fontana didn't result in a payback move Sunday. Other than a bump here and there, nothing unusual at Martinsville, this race was relatively tame.
It ended the way so many others have in recent years, another Martinsville victory for Johnson. His eight wins are three short of Darrell Waltrip's 11 Martinsville victories and seven shy of Richard Petty's Martinsville record of 15 wins.
"I'm not surprised that he won the race," team owner Rick Hendrick said of the five-time champion. "But I'm surprised [Patrick] finished 11th."
Hendrick was one spot too generous, but it was the surprise of the day, if not the season.
ESPN Staff Writer
Covered the NFL at the Houston Post and Houston Chronicle, including eight Super Bowls
Received Citation for Writing Excellence from Hearst Newspapers
Also has covered NBA Finals, World Series, Finals Fours, Indy 500 and Daytona 500
Patrick Impresses In Martinsville Debut
Camping World: Sauter 2-for-2
A six-week hiatus, a complete change in track styles and a charging group of young guns didn't stop Johnny Sauter from going 2-for-2 this season in Camping World Truck Series victories. It says a lot about his chances of winning a championship this season for the first time in his career.
Sauter was the CWTS championship runner-up in 2011. After winning the season opener at Daytona and following up with a victory Saturday on the Martinsville short track, he's sending a message that he can win anywhere and contend for the title in his 12th season as a NASCAR competitor.
"I don't know," Sauter said. "I think you have to be lucky at times, but I don't like to talk about it too much. I don't want to jinx anything. This is great to start the year off with two in a row and I couldn't be prouder.
"We just need to keep it all in focus and take it all in stride. We have to keep everybody grounded and keep everybody hungry. We still have 20 races left and there's a lot that can happen."
Actually, Sauter does have one NASCAR championship. He helped Richard Childress Racing win the Nationwide Series owners' title in 2003 as a co-driver with Kevin Harvick.
At 34, Sauter isn't an old guy by any means, but he's more than a decade older than five other guys who finished in the top 10 Saturday, including three teenagers.
Darrell Wallace Jr. (19) finished fifth, Chase Elliott (17) was sixth and Erik Jones (16) finished ninth.
And that doesn't include the pole winner, 20-year-old Jeb Burton, who was an impressive third at the end of the 250-lap event. Burton, the son of former Cup driver Ward Burton, had one rookie mistake when he got into a turn a little hot and punted Ron Hornaday Jr. into the wall, but Burton ran up front most of the day.
Dakoda Armstrong, 21, finished seventh, rounding out what was the youngest top 10 for any NASCAR race in a long time.
Nationwide: Texas on deck
The Nationwide Series had its first off weekend of the season, but the series returns to the track this week at Texas Motor Speedway for a Friday night race.
Ricky Stenhouse Jr. won the event one year ago, but he's hoping to earn a Cup victory Saturday night. Trevor Bayne is driving that Roush Fenway Racing Ford now, and Bayne is no stranger to Victory Lane at Texas. He won the fall race at TMS in 2011.
Bayne should feel good about his chances Friday because a RFR Ford has won four of the past five Nationwide races at TMS. Bayne is sixth in the standings after the first five races with three top-10s, including two top-5s.
Texas is Jack Roush's house. His drivers have won nine Nationwide races and eight Cup races on the 1.5-mile oval since TMS opened in 1997.
That tells you why Roush will be inducted into the Texas Motorsports Hall of Fame Thursday night at the TMS Speedway Club Ballroom.