The Rundown: Nationwide Series
Sprint Cup: You have to respect Truex Jr.
No matter who you are, or who your favorite driver is, Martin Truex Jr. has earned at least a little place in your heart.
Going into next Sunday at Kansas Speedway, Clint Bowyer and Carl Edwards' status as local boys notwithstanding, the sentimental favorite has to be the Jersey boy with the odd touch of Southern accent.
How many times, since his one and only Cup win, at Dover, on the Monday NASCAR czar Bill France Jr. died in June of 2007, have we seen Truex stand sorely disappointed on the pit road, accommodating TV reporters with a gutsy kind of class, calm and dignity?
That's how it went again Saturday night at Texas Motor Speedway after Truex had been breezing up front, with little worry about Kyle Busch, until the final caution flew with just 21 laps to go.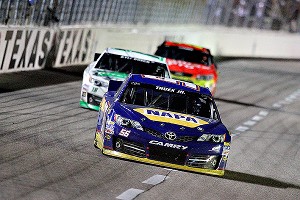 Sean Gardner/Getty ImagesMartin Truex Jr. came into the final pit stop ahead of Kyle Busch, but came out of it behind.
The leaders pitted, and it wasn't that Truex's crew had a bad stop, it was that Busch's crew had a superb one. Busch got out first, and is of course the master of restarts, and so jumped into the lead when the green flew with 16 to go, and you know how it goes with the guy who has the clean air, all alone, up front.
While the inimitable TMS promoter Eddie Gossage was presenting Busch with a custom broom in Victory Lane, signifying Busch's sweep of both the Nationwide and Cup events for the weekend at Texas, there stood Truex on the pit road again, summoning a smile and all that dignity again.
Truex would have none of a reporter's suggestion of what might have been, had that last caution not come out.
"Shoulda, coulda, woulda -- you know?" Truex replied. "It happened a few times to us last year, too."
Twice last year it happened to him at Kansas, where he dominated in the spring before losing to Denny Hamlin, and then finished second to Matt Kenseth in the fall.
In the six years since his Dover win, he has been so close so many times that the broadcasters in the booths can recite his disappointments by heart, making preparations for perhaps a break-through win and a feel-good story.
But it hasn't happened, 210 times in the nearly six years since Dover '07.
Saturday night, it was the same old story on an intermediate track, in that "The guy who gets the clean air is hard to catch in 10 laps," Truex said, although he'd actually tried for 15-plus after Busch broke away on the restart. "I was a little tight behind Kyle. I started catching him as we were running. Just out of time. The race was over in the pits."
Someone asked wheter this one felt like Kansas last year.
"Actually, it felt more like Atlanta," his heart almost like a computer file of the details of his disappointments. "We got beat out of the pits there and we were leading the race. We had a five-, six-second lead, everybody pitted, we came in first and went out second, and that was the race, just like it was tonight.
"So frustrating."
Back in the 1980s, when Harry Gant had become the most celebrated bridesmaid in NASCAR -- although Gant wasn't the kind of guy you'd call a bridesmaid to his face -- his team owner, the irascible Hollywood stuntman and producer Hal Needham, claimed tongue-in-cheek that there were standing team orders: If Gant found himself leading near a finish, he was to pull over and let someone else win, to continue the steady stream of second-place publicity for the Skoal Bandit outfit.
Truex's team owner, Michael Waltrip, would never even joke about such a thing with his driver. He knows it hurts too bad, and how gutsy Truex has been about it.
So next Sunday, watching the Kansas race, no matter who you are or who your favorite driver is, consider the blue and yellow No. 56, and all that heartbreak. And all that class.
Nationwide: Busch beats 'em again
At least you couldn't say Kyle Busch was beating up babies as his pillaging of the Nationwide Series continued unabated Friday night at Texas Motor Speedway.
Seven of his eight nearest pursuers at the end were, like Busch, Cup veterans. Those included second-place Brad Keselowski, the reigning Cup champion, whom Busch just flat drove away from in the late laps.
"You get to race against all the guys you're going to race against tomorrow night [Saturday night's Cup race], but you get to beat 'em here on Friday night," Busch told ESPN's Dr. Jerry Punch in Victory Lane.
The win was Busch's third straight and fourth in six races in the series this year, and his sixth in nine career Nationwide appearances at Texas. For all that, he acknowledged his Joe Gibbs Racing team, which gave him, he said, a Toyota that was "flawless" Friday night.
Keselowski reckoned afterward that Busch's praise of the JGR team effort was considerably more substantive than just obligatory politeness.
Busch "is a great driver for sure, but I think you have to look at the cars they have at Gibbs," Keselowski told reporters at the track. "Joey [Logano] won a bunch of races [nine] in that same car and Kyle had the reverse fortune [going winless in Nationwide in 2012 in his own car], so I think that shows you the effort that Gibbs puts into this series."
Busch, who like Logano last year isn't even running for the Nationwide points championship this year, is on a pace to do even better than Logano did in '12. Through six races last year, Logano had won only once.
Sam Hornish Jr., who is running for the championship, saw his points lead dwindle from 28 to just two over second-place Regan Smith, who finished seventh. Hornish tangled with Jeremy Clements with just 59 laps remaining of the 200. Hornish continued only after multiple pit stops and a visit to the garage area to repair his car, and wound up 34th.
Hornish, who was back in the pack and trying to move back up on fresh tires, reviewed the tape and declined to designate blame.
"I guess I could have given the 51 [Clements] more room there," Hornish said with a wry smile, "but I figured he knew that I was out there -- that his spotter would tell him."
The line of the night about Hornish's troubles came from Carl Edwards, working as a rookie broadcast analyst for ESPN.
"What good is a points lead," Edwards asked, "if you can't use it up once in a while?"
Camping World: Larson gets first win
Kyle Larson changed a lot of potential and ballyhoo into some substance in Sunday's Truck race at storied old Rockingham Speedway.
The heralded youngster, 20, made winning a shootout with the vastly more experienced Joey Logano look easy in a green-white-checkered finish.
It was the first win of a NASCAR national series event for Larson, known lately for his horrific crash in the charge to the checkered flag in the Nationwide race at Daytona in February, and then barely losing a Nationwide duel with Kyle Busch at Bristol, Tenn., in March.
In only his fifth career Trucks start, Larson dominated, hardly challenged for most of the race, leading 187 of what turned out to be 205 laps due to the overtime. And it appeared Larson would hold off even Logano's late charge -- until a caution came out with three laps left in regulation.
At that point -- considering the double-file restart, Logano's fresh tires and Larson's comparative lack of seasoning in such situations -- even Logano thought, "This is right where I want to be," he told Speed TV reporters at the track. Logano had flown in from the Saturday night race at Texas to drive Cup teammate Brad Keselowski's truck.
So the restart looked like easy pickings for Logano. But it was Logano, not Larson, who spun his tires. Larson shot out front and held on.
Even before the caution, "I was definitely worried," Larson said in Victory Lane. "I could see him [Logano] closing and closing in the mirror … and then we got the caution."
Which he took at that moment as more bad news.
"I'm usually not that fast on restarts," Larson said, "so I was surprised I got that good of a start."
"I just got beat," Logano said.