Matt Kenseth Wins At Kansas
Sprint Cup: Five things we know after Kansas
One quarter of the Sprint Cup season is in the books. Here are five things we know:
• Matt Kenseth did the right thing.
• Jimmie Johnson and the No. 48 Chevy are the team to beat, again.
• Brad Keselowski will keep battling.
• Joe Gibbs Racing and Hendrick Motorsports are the early winners with the new Gen-6.
• Tony Stewart is in big trouble.

Let's start with Kenseth. Moving to JGR may go down as the best decision of his career.
Kenseth won for the second time this season on Sunday at Kansas Speedway with a No. 20 Toyota that clearly was the class of the field. Kenseth has won two of the three races this season on 1.5-mile ovals, the tracks where success is a must for title contenders.
And for a guy who rarely shows his emotions, he is downright giddy over being at JGR.
"I'm so proud to be part of this team," Kenseth said on his radio moments after winning Sunday. "This is a dream come true."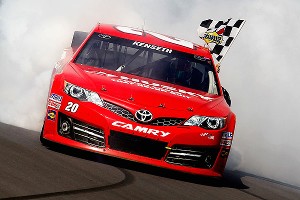 Jeff Zelevansky/Getty ImagesMatt Kenseth has two wins in eight starts behind the wheel of the No. 20 Toyota for Joe Gibbs Racing.
The JGR folks are thrilled to have him. Consider this stat: The No. 20 team never started a season with two victories in the first eight races (including Tony Stewart's two championship seasons in the car) until now.
Some people may point out that Kenseth (eighth) ranks below former Roush Fenway Racing teammates Greg Biffle (fourth) and Carl Edwards (sixth) in the standings.
Don't be misled. Kenseth suffered a blown engine at Daytona and was at the wrong place, wrong time when Jeff Gordon blew a tire in front of him at Bristol.
But the No. 20 team is as good as it has ever been. A second championship for Kenseth could come 10 years after his first one.
To do so, Kenseth will have to beat the master. Johnson and the 48 team were not running well most of the weekend at Kansas, but as usual, they were near the front when it counted down the stretch on race day.
Johnson finished third and increased his lead in the standings to 37 points over teammate Kasey Kahne and 38 over Keselowski. Johnson has an average finish this season of 6.6. Five-Time is looking a lot like Six-Time.
"It's hard to believe we've got a huge gap like that in the points, already," Johnson said afterward. "To be 37 points up is pretty awesome."
Johnson can thank NASCAR for 25 of the points he has on Keselowski. The reigning champ lost those points as part of the Penske Racing penalties from Texas, pending an appeal.
Regardless of the appeal outcome, Keselowski and the No. 2 Ford team showed the fortitude Sunday that helped make them champions last year. After going a lap down early and competing with a damaged car that had the back end torn off it by the end of the race, Keselowski finished sixth.
It was an in-your-face moment, a symbolic effort that says Keselowski's team can overcome whatever hardship befalls it.
"This was a gritty effort by the team today," Keselowski said in a postrace TV interview. "I usually don't feel good without a win, but to come away with a sixth kind of feels like one today."
Keselowski is winless in 2013, which will need to change if he hopes to earn the title again. JGR and Hendrick drivers have won seven of the first eight races this year.
Hendrick has three drivers in the top five -- Johnson, Kahne and Dale Earnhardt Jr. JGR has four victories -- Kenseth's two wins and two for Kyle Busch. Those two organizations are the early leaders on figuring out the Gen-6.
The organization that hasn't figured it out is Stewart-Haas Racing. Stewart is off to the worst start of his career, ranking 21st in the standings. He finished 21st Sunday, the fifth time this year he's finished worse than 20th.
SHR driver Ryan Newman isn't much better, ranking 17th, and rookie Danica Patrick is learning the ropes, ranking 25th.
Theories abound on why SHR is struggling, but something has to change soon for Stewart to have any hopes of making the Chase.
ESPN Staff Writer
Covered the NFL at the Houston Post and Houston Chronicle, including eight Super Bowls
Received Citation for Writing Excellence from Hearst Newspapers
Also has covered NBA Finals, World Series, Finals Fours, Indy 500 and Daytona 500
Kenseth's Success With Joe Gibbs Racing
Nationwide: Cup regulars mighty
The Nationwide Series had the weekend off before heading to Richmond for a Friday night race this week. Maybe the Nationwide regulars can regroup and get back to Victory Lane, but don't bet on it.
The past three Nationwide races, and four of the past five, were won by Kyle Busch. He has three Nationwide victories at Richmond, but whether he wins this one or not, a full-time Cup driver probably will go to Victory Lane.
It has been nine years since a non-Cup regular won the spring race at Richmond. Ironically, that was Kyle Busch.
Nationwide championship contenders won five of the first six races last season. It looked like the series finally was building its own identity outside of Cup winners.
But this season is back to Cup domination at the top. Five of the first six events were won by Cup stars -- four by Busch and the one by Tony Stewart (in the season opener at Daytona). Cup drivers have won at least five of the first six Nationwide races in seven of the past eight seasons.
But there is hope for the Nationwide drivers this weekend. Points leader Sam Hornish Jr. has four top-5 finishes in six races. He was fifth at Richmond one year ago.
Austin Dillon, who is third in the standings and has posted back-to-back top-5s, had top-10s in both Richmond races last season.
A few drivers who were expected to contend for the championship this year are off to a relatively slow start.
Trevor Bayne, who took over in the No. 6 Ford for defending champion Ricky Stenhouse Jr., is winless and 10th in the standings. Stenhouse had two victories and ranked second at this point a year ago.
Joe Gibbs Racing teammates Elliott Sadler and Brian Vickers also need to show more to improve their title hopes. Sadler is seventh in the standings and Vickers is ninth.
Meanwhile, their JGR teammate (Busch) just keeps on winning while moonlighting in Nationwide.
Camping World: ThorSport in control
The Camping World Truck Series has plenty of impressive young drivers, but it's two veteran teammates who are dominating things in Victory Lane and the top of the standings.
Matt Crafton made it three wins for ThorSport Racing in four events this season when he held off Joey Coulter to win Saturday at Kansas. Johnny Sauter, Crafton's teammate, won the first two races.
However, the NASCAR rules police may put a damper on Sauter's success. Inspectors confiscated the fuel cell from Sauter's Toyota truck on Thursday at Kansas Speedway. Penalties probably are coming this week.
A violation appears to be the only thing that can stop the ThorSport Racing drivers this season. Sauter has posted top-5 finishes in all four races. Crafton has four top-10s. Sauter leads the standings and Crafton is second, 12 points back.
Sauter is 34, a 12-year NASCAR veteran. Crafton is 36, racing in his 13th CWTS season. Neither man has won a CWTS championship.
Behind them in the top 10 are Jeb Burton ( age 20), Ryan Blaney (19), Ty Dillon (21), defending series champ James Buescher (23), Darrell Wallace Jr. (19), Coulter (22) and Dakoda Armstrong (21).
All of them are talented young drivers with a bright future. But for now, two guys who were doing this stuff when the others were in grade school or junior high are proving that experience in quality equipment still can make a difference.
NASCAR may have a say on Sauter's equipment soon.
Todd Bodine, an old pro, a former CWTS champ and the other ThorSport racing driver, was lucky to walk away from a scary crash Saturday on a day filled with accidents.
Bodine's Toyota hit the outside wall head-on at a high speed and ripped off the front of the truck, but the SAFER barrier did its job, along with all the other safety devices on the vehicle, to keep Bodine unharmed.