Matt Kenseth Wins First Southern 500
Sprint Cup: Beware Joe Gibbs Racing
One driver is playing hurt after missing four races. One is furious over his awful luck. One had to race Saturday night without his crew chief.
And believe it or not, this is the Sprint Cup trio from the best organization in NASCAR this season. The standings don't reflect it -- not yet -- but Joe Gibbs Racing is the team to beat in 2013.
Matt Kenseth earned his third victory of the season Saturday night at Darlington, Denny Hamlin finished second in his first full race returning from his back injury, and Kyle Busch had the dominant car all night before a cut tire cost him a likely victory.
Kenseth won at Darlington for the first time in his career. He has been strong this season at tracks where he wasn't that good while driving for Jack Roush.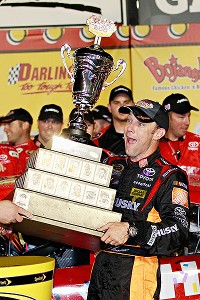 Geoff Burke/Getty ImagesMatt Kenseth, who has three wins in 2013, has exceeded all expectations at Joe Gibbs Racing.
Roush said last year that Kenseth was going to the dark side -- Jack's little dig at Toyota. This is about as dark as the surface of the sun.
It's still early, but Kenseth's move to JGR may go down as one of the best driver and team owner decisions in NASCAR history. It won't rival Dale Earnhardt's six Cup titles after moving to Richard Childress Racing, but Kenseth has made a career move that likely will mean more championships in his future.
"We have a good combination right now," Kenseth said Saturday night. "We've led a lot of laps this year. We've been up front, but not really finished them all off."
Race weeks don't get much better than last week was for Kenseth. He moved from 11th to third in the standings, thanks in part to regaining 38 of the points he lost in the NASCAR penalty from Kansas for a connecting rod that was too light.
The stunning reversal by the appeals panel also reinstated the three bonus points Kenseth will get in the Chase for the Kansas win, which means he would start the Chase first as of now.
He followed the good news on the appeal with a victory as crew chief Jason Ratcliff had to sit out his reduced suspension of one race. Wally Brown filled in for Ratcliff and did a remarkable job on in-race adjustments.
"I really feel bad that Jason isn't here," Kenseth said on the Fox telecast. "This is obviously his team and his effort, but Wally did a great job filling in. We had a fifth- or sixth-place car. Those last two adjustments were just awesome."
Those adjustments probably wouldn't have been enough, though, if not for Busch having a tire that was slowly going down in the final laps.
Busch didn't talk after the race, but who could blame him? Busch finished sixth after leading 265 of 367 laps.
"It's unfortunate," said Dave Rogers, Busch's crew chief. "Kyle was the fastest thing here from flag to flag. Thought we were going to capitalize, but when we came in, there was only 12 pounds [air pressure] in the right rear and you can see a hole in the tread. Thankfully, Kyle stayed on the wheel and didn't wreck the car."
Before the tire problem, Busch had another racing incident with Kasey Kahne while the two drivers were battling for the lead. Kahne hit the wall after Busch's car slid up the track and almost hit Kahne as Kahne went by before losing control.
Kahne blamed Busch, as did many people on Twitter. But Rogers said Busch was remorseful about it.
"He's pretty tore up that they were racing hard and Kahne tore up another car," Rogers said. "This is the third time we've been involved in an incident with Kasey. All of us over here have a ton or respect for that program. Kyle thinks the world of Kasey. Kyle still has friends in the 5 car. He used to drive that car. He certainly doesn't want to create more work for those guys.
"He was really somber and disappointed that it happened, but unfortunately it's part of the sport. They were putting on a heck of a race. Kasey made a great move to pass us and Kyle was just trying to pass him back. I can't tell if we touched or not, but it was obviously really close racing."
Things didn't go Busch's way in the end, but the night was a successful return for Hamlin in one of the most grueling races of the season.
"I'm sore and I'm tired," Hamlin said after the race. "Really, it's like starting your season over. There are some muscles that have gotten weak. I'm mentally tired, as well."
Hamlin moved up five spots in the standings (31st to a tie for 26th) and has two weeks before his next points race -- the Coca-Cola 600.
"But 600 miles at Charlotte aren't as tough as 500 miles here," Hamlin said. "I definitely didn't feel any back pain. I'm more sore -- shoulders, neck, things like that. I've got to get back in racing shape. Watching the races from the sidelines was tough. It will take time to get back to where I need to be. It just feels good to be competitive again."
The JGR cars are more than competitive this season, having won five of the first 11 races. Kenseth believes the best is yet to come.
"I think the goal of a race team and organization is to never peak," Kenseth said. "It's to continue to keep getting better. That's one thing I've seen over here pretty much from day one.
"They're not standing still. They're always trying to build a better car. TRD [Toyota Racing Development] is trying to build a better engine. We're always working on the future. I really feel like, with this team, the sky's the limit."
ESPN Staff Writer
Covered the NFL at the Houston Post and Houston Chronicle, including eight Super Bowls
Received Citation for Writing Excellence from Hearst Newspapers
Also has covered NBA Finals, World Series, Finals Fours, Indy 500 and Daytona 500
Nationwide: Kyle cruising
If you don't like it that big, bad Cup star Kyle Busch is beating up on the Nationwide Series regulars, he doesn't care. Busch made that clear moments after he won at Darlington Friday night.
When he stopped by the flag stand and climbed on the car, Busch received some cheers, but also some boos. So he balled up his hands and pretended he was wiping away crocodile tears.
It was his boo-hoo gesture to the crowd. If you don't like it, lump it.
The Nationwide Series -- or is it the Kyle "Busch" League? -- had its usual result when Rowdy Busch was the best of the dominant Joe Gibbs Racing quartet.
That's five wins in eight Nationwide starts this season for Busch, a Nationwide driver like no other -- a superior talent in superior equipment while moonlighting in the minors.
The JGR Toyotas never have been better in Nationwide than they were in this race. JGR drivers finished in four of the top five spots (Elliott Sadler second, Brian Vickers third and Matt Kenseth fifth) after sweeping the top four positions in qualifying.
"It's kind of deceiving when you're driving the stuff just exactly how good it is," Busch said of the JGR cars. "When I'm racing the car around, I'm like, 'Oh, this ain't bad. It can't be that hard to upstart an organization and come out here and beat JGR.'
"Obviously, that's not the case. These [JGR] guys are pretty smart and do an awful lot of great things to make cars go fast."
Only Joey Logano (another Cup regular) broke up the JGR party by finishing fourth in his Penske Racing Ford.
But this series is all about Busch. When one of the best drivers in the big leagues is racing in the best equipment in the minor leagues, that driver is going to win a lot of the time.
Busch didn't have great equipment last year when he drove for his own team, so he didn't win. Now he's back racing most of the Nationwide events in JGR's superior cars and he's smoking the field.
"It was an unfortunate year last year,'' Busch said. "I led a lot of laps and I was competitive, especially toward the end of the year. Unfortunately, I never made it to Victory Lane. That was sort of demoralizing, if you will. It's great to be back [in JGR Nationwide cars] this year."
Camping World: Charlotte on tap
Unlike the Nationwide Series, in which Cup drivers have won seven of nine races this season, the Camping World Truck Series is 4-0 for non-Cup regulars. It's the first time that has happened since 2007.
But take a wild guess which driver has the most CWTS victories at the next event in Charlotte? That would be Kyle Busch with four, including two of the past three.
The trucks are ending a one-month break Saturday night at Charlotte, which starts a stretch of three races in four weekends.
The ThorSports Racing duo of Johnny Sauter and Matt Crafton has dominated things so far in 2013, winning three of the first four events -- two for Sauter and one for Crafton. Sauter trails Crafton by 13 points because of a 25-point penalty resulting from an illegal fuel cell in Kansas.
None of the winners in the first four races last season has won this year, but 2012 champ James Buescher is the only one racing full-time in the series. Buescher is off to a bit of a slow start with only one top-10, but he's still sixth in the standings, only 29 points behind Crafton.