Johnson Wins Record Fourth All-Star Race
Sprint Cup: All-Star format works fine for JJ
It just didn't work.
The Sprint All-Star Race had another new format, a regular occurrence for the event, but the results were disappointing to almost everyone other than Jimmie Johnson and the No. 48 Chevrolet team.
Johnson is going to win at Charlotte more than anyone else no matter what the format is, whether it's a specialty event, a 600-mile race or a 500-mile race.
Under the 2013 rules, Johnson was a deserving winner Saturday night, despite fan confusion over how it went down and disappointment over an uneventful ending.
He is the first driver to win the All-Star Race four times. He also has six victories in points races at the 1.5-mile oval.
"No, we just get lucky, man," Johnson said sarcastically at people who didn't like the result. "That's what people say. There's no talent involved, we just got lucky tonight."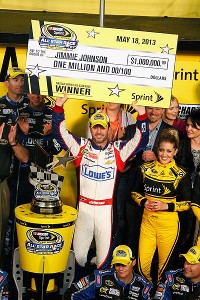 Jeff Zelevansky/NASCAR/Getty ImagesA familiar sight at Charlotte Motor Speedway: Jimmie Johnson celebrating in Victory Lane.
Not true, of course, but Johnson is a little tired of the complaints from his haters.
It ramped up Saturday night when a TV graphic was incorrect about where he should come in for the final pit stop before the last 10-lap segment of the race.
Regardless of that miscue, the format was too complicated and confusing for fans. Drivers entered the pits for the last stop based on their average finish in the first four segments -- just too much math for the guy in the stands having a cold one or even for the people watching at home.
It placed most of the emphasis on the pit crews and not enough on who won the first four segments. Kyle Busch and Kurt Busch each won two segments. They should have started side by side on the front row for the last 10 laps.
"Our four-segment average guaranteed us coming down pit road first for the final stop," Kurt Busch said. "But it didn't guarantee us leaving pit road first. We were one tick slow on our pit stop and one tick off on the chassis adjustment.
"That was the difference. You have to be perfect to win this race. We weren't. It was an A-minus overall performance."
Johnson managed to win the 2012 All-Star Race after sandbagging in some of the segments. The average-finish idea corrected that problem, but it de-emphasized winning.
There was less incentive to try to win a segment. The goal was to play it safe and finish well in each one, sort of like regular-season racing in which points are on the line.
Johnson was winless on the night until the 10-lap segment at the end, but he started ahead of the two drivers who did win earlier segments because the 48 pit crew was better.
Passing up front at the end has proved to be difficult in recent All-Star events. There hasn't been a single incident in the last five laps of the race over the past four years.
So it's likely one of the Busch brothers would have won if they had started on the front row as a reward for winning earlier segments.
"You've got to be on the front row if you're going to win this deal in 10 laps," Kyle Busch said. "We had plenty of speed tonight, but as always, the best car here with me behind the wheel didn't win."
Denny Hamlin, who finished sixth, was asked if there is anything he would change about the race format.
"It's so tough to say what you could change," Hamlin said. "A lot of it, for whatever reason, the top line just doesn't work anymore at all the racetracks. I don't know if it's the tire we've changed or what have you, but it's become such single-file racing [at Charlotte] lately that it's tough to pass."
It certainly was tough for Danica Patrick to do much passing. She finished 20th, last among the drivers who finished the event, after winning the fan vote to get in the race.
"First and very foremost, thank you to all the fans who voted for me,'' Patrick said. "I'm very fortunate to have the fan base that I do, and I never forget that. It really just makes me feel bad to win the vote and run in the back of the race."
The race didn't work for Patrick. It didn't work for the Busch brothers and it didn't work for a lot of fans. But whatever format you use, it works for Johnson.
ESPN Staff Writer
Covered the NFL at the Houston Post and Houston Chronicle, including eight Super Bowls
Received Citation for Writing Excellence from Hearst Newspapers
Also has covered NBA Finals, World Series, Finals Fours, Indy 500 and Daytona 500
Nationwide: Another title for BV?
More than likely, someone is going to win the Nationwide Series championship this year for the first time.
There is one possible exception -- Brian Vickers. He hopes to become the first driver to win the title 10 years after his first championship in 2003.
Vickers sits fifth in the standings after nine races, 49 points behind leader Regan Smith.
Technically, Joe Nemechek also could become a repeat champ this season. He won it 21 years ago, but Nemechek is not a serious contender; he's 16th in the standings with no top-10s.
So it's either Vickers or a new champ in 2013, and there are plenty of drivers with a shot at it. Sam Hornish Jr., Elliott Sadler (Vickers' teammate at Joe Gibbs Racing) and Justin Allgaier also rank in the top five.
But it's way too early to count other top-10 drivers, including 2012 Nationwide Series Rookie of the Year Austin Dillon, the 2011 Camping World Truck Series champion.
Trevor Bayne could be the biggest disappointment so far this season, ranking 12th in the car that Ricky Stenhouse Jr. drove to the past two Nationwide titles.
The series returns to the track Saturday at Charlotte Motor Speedway, where 15 of the past 16 winners were Cup regulars. Mike Bliss is the only exception; he won this event in 2009.
Camping World: Kyle keeps truckin'
Kyle Busch had much better luck in the Camping World Truck Series race Friday night, winning the Charlotte event for the fifth time in its 11-race history and the third time in four years.
Even when there's no Nationwide Series race, Busch still finds a way to win in the minors.
More importantly, the 2013 CWTS is shaping into a competitive championship battle. Eight drivers are within 50 points of leader Matt Crafton, and rookie Darrell Wallace Jr. is only 58 points behind in 10th.
Five of those drivers are 21 or younger -- Jeb Burton, Ty Dillon, Dakoda Armstrong, Ryan Blaney and Wallace.
And wasn't it refreshing to see Burton, 20, moved to tears when he turned a qualifying lap that earned him his third pole of the season?
Burton, the son of former Cup driver Ward Burton, is second in the standings in his rookie season.
"The whole family is here," said Jeb Burton, who finished 13th Friday night. "It's like a hometown track and it's really cool. I think we have proved to everybody that I belong in NASCAR. Hopefully, it's opening some doors. I look forward to the future."
The CWTS has become the place to be to see the drivers for NASCAR's future.