Harvick Wins Coca-Cola 600 With Strong Restart
Sprint Cup: Pit strategy helps Harvick prevail
NASCAR's marathon event is always about surviving for 400 laps, but this was the first time the Coca-Cola 600 included surviving a fallen television cable wire that slithered onto the track like Medusa's hair waiting to pounce and claim its victims.
If you managed to hang around until the end -- more than five hours of it, counting two red flags -- you saw a little bit of everything.
That included Talladega-like crashes and things falling from the sky, which brought the Cablegate moniker to one of the most unusual Coke 600s ever.
Pit strategy helped Kevin Harvick win it at the end, proving once again his lame-duck status at Richard Childress Racing will not hold back the No. 29 Chevrolet team in 2013. Leaving RCR at the end of the year will not make Harvick a victim of circumstances.
The biggest victim Saturday night was Kyle Busch, who was leading the race on Lap 122 when his car hit the cables, causing major body damage to the right front quarter panel. Other cars also suffered damage.
"It was like getting attacked by a giant squid," said Marcos Ambrose. "It was just flapping and I didn't know what was going on. I thought it was cords coming out of maybe one of the 55's [Mark Martin's car] tires or something, but I could just hear it flapping. Then it got caught up in the rear end and I lost my brakes, so it was a nightmare, but we got through it."
Matt Kenseth said he had concerns previously about the overhead camera cables.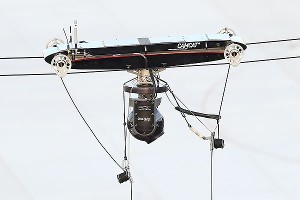 Streeter Lecka/Getty ImagesWhen a tow rope from an overhead camera fell on the track, the Coca-Cola 600 went from long to long and strange.
"That was kind of nuts," Kenseth said. "I remember seeing that camera for the first time at Las Vegas and I was talking to [NASCAR Sprint Cup Series director John] Darby about it and said, 'I hope that thing never falls down.' He said, 'Nah, it will never fall.'"
Well, never say never.
NASCAR red-flagged the race and did the right thing by going against the rulebook for such an unimaginable situation. NASCAR gave the teams 15 minutes to work on the cars, something that normally is not allowed during a red flag.
"NASCAR did a great job of actually handling a crisis," said Ambrose, who finished 10th. "We were hard-done, but they gave us our laps back and we were able to stay in the race and duke it out."
One driver even found a positive in the attack of the TV cables.
"I was kind of happy it happened," Joey Logano said. "I needed to go to the restroom [laughing], so it worked out good for me. It was the weirdest thing I've ever seen. I don't know how it happened or what happened, but there were a lot of cars torn up, including mine, some."
Logano finished fifth. It appeared Kasey Kahne was going to finish first. He had the dominant car most of the night but found himself in a no-win situation under caution near the end of the race.
Kahne and crew chief Kenny Francis elected not to pit. Every lead-lap car behind them came to pit road and got at least two fresh tires. If Kahne had pitted, no doubt some of those cars would have stayed out.
"We just thought there would be at least a couple of guys stay out," Kahne said. "I think two or three had just pitted within five or eight laps of there. We thought they would stay out and that would be enough to get away, but the whole field pitted.
"I felt like we were definitely the car to beat the last 200 laps, maybe the whole race. It was a great performance by the whole team. We just didn't get the win."
Harvick won because crew chief Gil Martin made the right call at the end, pitting for two tires and getting him into the second spot on the final restart.
"At the end of the race, we probably had 12 different scenarios to try and play out," Martin said. "Everybody started getting on different ones. When that final caution came out, I thought we needed to come in. I mean, it was a no-brainer. The car was going to be better, especially getting through the first couple of corners, to be able to run wide open on cold tires. And it worked out for us."
Things didn't work out in the end for Busch, who suffered an engine failure late in the race. From falling cables to a blown motor, it just wasn't his night, but he handled it with class.
"I commend NASCAR for taking the initiative and letting us all repair our damaged cars," Busch said on a Fox TV interview. "I appreciate that, but from there I thought we were about a fourth- or fifth-place car tonight. We had been running first, second or third most of the evening, but just had a catastrophic engine failure.
"I hate it for all my guys. They worked too hard and they always do. But [crew chief] Dave Rogers and these guys, they pour their hearts and souls into this deal. It's just so frustrating to see it end on a short note like that and not get the finish that we needed."
One team that did get some strong finishes it desperately needed was Stewart-Haas Racing. The organization has struggled all season, but Ryan Newman finished sixth and Tony Stewart was seventh.
"All three of our cars made big improvements this week in terms of performance," said SHR competition director Greg Zipadelli. "We ended up with a couple of good finishes. Danica [Patrick] had a bad day [finishing 29th after being involved in a crash with Brad Keselowski and Ricky Stenhouse Jr.], but overall it was certainly an improvement."
And the man who won the race will be at SHR in 2014, so things are looking up. Just watch out for those falling cables.
ESPN Staff Writer
Covered the NFL at the Houston Post and Houston Chronicle, including eight Super Bowls
Received Citation for Writing Excellence from Hearst Newspapers
Also has covered NBA Finals, World Series, Finals Fours, Indy 500 and Daytona 500
Nationwide: The Busch league
Kyle Busch won the Nationwide race Saturday at Charlotte. In related news, Robin Hood has decided to take from the poor and give to the rich.
Everyone knows I enjoy making fun at this situation, but the dominance of a Sprint Cup star in the lower-level series is an issue that needs to be addressed.
Busch now has won six of the nine Nationwide races he's started this season, including five of the last six he started. Meanwhile, Regan Smith, who leads the standings, is all but invisible.
Smith and Sam Hornish Jr. (who is second in the standings, 29 points behind Smith) are the only Nationwide regulars with a victory in 2013.
The series has no identity, other than the Kyle Busch warm-up league. Busch addressed the issue after Saturday's race. Dustin Long, senior writer for the Motor Racing Network, placed Busch's comments on Twitter.
"You're always going to have these detractors and everybody saying that I don't need to be in the Nationwide Series," Busch said. "Until all the rest of the Cup guys aren't there, I'm going to be there. So if I'm the only one that wins all the Nationwide races because the other Cup guys aren't beating me, that's their problem."
That's like a big-league baseball player saying it's OK if he plays in Triple-A because five of his MLB rivals are doing it and he wants to show them he can play better in the minors than they can.
Busch now has seven Nationwide Series victories at Charlotte, passing Mark Martin for the track record. Pardon me if I'm not impressed with either accomplishment.
People like to say that Cup drivers always have competed in the Nationwide Series, which is true. But years ago, they didn't race most of the events and they usually raced for Nationwide-only teams, not major Cup teams racing Nationwide cars.
Martin never raced much more than half the Nationwide events in any season once he became a full-time Cup driver. Busch has raced nine of 10 events this season.
I'm bombarded with emails and Twitter messages from people saying they are tired of the Cup dominance in the series and will quit watching. But I never receive a message saying the only reason they watch it is to see Busch win. So I don't buy the theory that people only watch to see the Cup stars.
Wouldn't it be more fun to see a talented rookie like Kyle Larson, who finished fourth Saturday, battle series leaders like Smith and Hornish for the victories?
And I have no problem with former Cup regulars like Smith, Hornish, Elliott Sadler or Brian Vickers racing full-time in Nationwide if they can't get a ride in Cup. It's the same thing as a former MLB player who has to work his way back up through the minors.
But as long as Kyle Busch and other Cup stars steal all the glory, this series will struggle to find its place.
Camping World: A tight title fight
It's only fives race into a 22-race season, but 2013 could be one of the most competitive championship battles ever in the Camping World Truck Series.
The top seven drivers in the standings are within the number of points (47) a driver can make up in one event. Ryan Blaney is seventh, only 42 points behind championship leader Matt Crafton. But even Timothy Peters in 16th is only 74 points back.
It means over a dozen guys have a shot at winning the title. That number will weed itself down as they go, but it's likely four or five drivers will hang in there until the end.
Defending series championship James Buescher is the only former CWTS champ among the top 13 drivers in the standings. Former champions Todd Bodine and Ron Hornaday Jr. are tied for 14th.
The top 10 includes three talented, young rookies -- Jeb Burton (20), Ryan Blaney (19) and Darrell Wallace Jr. (19).
Burton, the son of 2002 Daytona 500 winner Ward Burton, ranks second in the standings with two top-5s and three poles. Blaney, the son of Cup driver Dave Blaney, has three top-10s.
Wallace, an African-American driver who came out of NASCAR's Drive for Diversity program, has two top-10s, including a fifth-place finish at Martinsville.
The CWTS was off for Memorial Day weekend, but returns to the track Friday at Dover.