Tony Stewart Gets A Monster Victory
Sprint Cup: 10 things we know so far in 2013
Halfway to the Chase and here are 10 things we know about the 2013 NASCAR season:
1. After a pitiful first half of the season, Tony Stewart finally made it back to Victory Lane on Sunday at Dover and is back in contention for a Chase spot.
Stewart-Haas Racing has looked lost all season, and Stewart has looked like anything but a playoff driver in the No. 14 Chevy, but his surprising victory Sunday put him inside the Chase for the moment.
He is 16th in the Sprint Cup standings, but the first driver outside the top 10 with a victory, good enough for one of the two wild-card spots if the Chase started today.
"Man, it's been such a tough year," Stewart said in the Victory Lane TV interview. "We've been down a long time, but hopefully we'll start building momentum now."
2. Jimmie Johnson is as good, or better, than ever, despite seeing a victory slip out of his hands at Dover for a rare jumping-the-restart penalty.
Johnson had the car to beat Sunday, but NASCAR said he jumped the gun on leader Juan Pablo Montoya on a late restart, costing JJ a likely third victory this season.
"I was half-throttle," Johnson said in the postrace TV interview. "At some point, I've got to go. [Montoya] wasn't even going. It's a bummer way to lose a race. We certainly had the winning car."
Johnson, who finished 17th, still has a 30-point lead in the standings.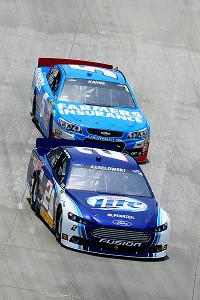 Robert Laberge/NASCA/Getty ImagesBrad Keselowski finished fifth Sunday at Dover, but his No. 2 Ford failed a postrace inspection.
3. Defending champ Brad Keselowski isn't as good as a year ago.
He's winless and now has to await another penalty decision from NASCAR after the No. 2 Ford failed a postrace inspection (front end too low) at Dover.
4. The new Gen-6 car is faster and way better looking than the old car, but whether it produces better racing overall remains up for debate.
Only 16 cars finished on the lead lap at Dover. At most tracks, it's still hard to make passes up front, but Stewart got it done against Montoya in an exciting finish to Sunday's race.
5. Kevin Harvick looks like the best lame-duck driver ever, and might even win the title in his final season at Richard Childress Racing.
Harvick has two victories, he finished eighth Sunday and he's fourth in the standings.
6. Kyle Busch is going to win the majority of minor league events he enters.
It's eight victories (six in Nationwide and two in Camping World Truck Series) and counting this year.
7. Kurt Busch has helped make Furniture Row Racing a threat to win in some races and a true contender for the first time.
Busch has led laps in each of the past five races. He has three top-5 finishes and ranks 17th in the standings, only 34 points behind 10th-place Paul Menard. At this point one year ago, the No. 78 Chevy was 25th with no top-10s when Regan Smith was the driver.
8. Danica Patrick has not been very good most of her rookie season, but every now and then, she surprises us.
She finished 24th at Dover, better than it sounds since she was four laps down, and she ranks 29th in the standings. But she did finish eighth in the Daytona 500 and a surprising 12th at Martinsville.
9. Matt Kenseth's move to Joe Gibbs Racing looks like the best decision of his career -- if the Toyota engines hold up, and that's a pretty big if.
He already has three victories this year and had a car capable of winning Sunday before the engine blew, his second engine failure of the year.
Toyota now has 17 engine failures this season compared to four for Ford and only two for Chevrolet. Something has to change, or the Toyota drivers are doomed.
10. NASCAR has its most talented crop of young drivers in many years, with future star Kyle Larson, 20, leading the way.
Larson is a once-in-a-generation type of talent who will become a star in Cup. But others are coming, including Jeb Burton (20) and skilled teenagers like Chase Elliott, Ryan Blaney and Darrell Wallace Jr.
ESPN Staff Writer
Covered the NFL at the Houston Post and Houston Chronicle, including eight Super Bowls
Received Citation for Writing Excellence from Hearst Newspapers
Also has covered NBA Finals, World Series, Finals Fours, Indy 500 and Daytona 500
Sprint Cup: No. 2 fails inspection
DOVER, Del. -- Brad Keselowski and Penske Racing face potential penalties after the front end of the No. 2 Ford was found to be too low in inspection following Sunday's Sprint Cup race at Dover International Speedway.
Keselowski finished fifth in the race to move up two spots to eighth in the standings.
If penalized, it would be the second time this season. Keselowski was docked 25 points after NASCAR discovered an unapproved rear end housing before the April race at Texas.
Penske Racing appealed that infraction, which included a six-race suspension for crew chief Paul Wolfe, car chief Jerry Kelley, engineer Brian Wilson and competition director Travis Geisler.
The point deduction was upheld, but the suspensions were reduced to two point races, with Dover being the first race back.
Nationwide: Logano rules Dover
Shocking news of the weekend: Kyle Busch didn't win the Nationwide Series race at Dover.
A Cup regular still did, of course (Joey Logano). In related news, Aaron Rodgers will start at quarterback for Alabama this fall and Adrian Peterson will play running back at Ohio State.
Cup drivers now have won nine of 11 Nationwide races this season, but Saturday was the first victory this season for Logano. He now has three consecutive Nationwide victories at Dover.
"I feel like I really know what it takes to win [at Dover] and what I need in a race car," Logano said. "I was able to give [crew chief] Jeremy [Bullins] the feedback he needs. We got up to the lead for a little bit, but really the winning call was the last pit stop when Jeremy made an audible and decided to do two tires."
Brian Vickers was the winner among the Nationwide regulars, finishing a season-best second in the No. 20 Toyota.
"Obviously, a good day in the points and that's what we really need," Vickers said. "We need to chip back away at the points. We're really racing towards the championship but, man, we want to win. I want to get these guys a win."
Regan Smith continues to lead the standings for JR Motorsports after his ninth-place finish at Dover. Sam Hornish Jr., who finished seventh Saturday, is 27 points back and Vickers is third, 42 points behind Smith.
Saturday was another strong run for 20-year-old rookie Kyle Larson, who finished 10th. He now has six top-10s this season, including four in his past five races, and ranks ninth in the standings.
The Nationwide Series has a stand-only event next weekend at Iowa, so it could be a chance for a Nationwide regular to go back to Victory Lane. Maybe, if they can beat Logano, who is on the entry list.
Camping World: Kyle wins again
Two teens finished in the top five Friday at Dover in the Camping World Truck Series race -- Ryan Blaney (19) was third and Chase Elliott (17) an amazing fourth after two pit-road speeding penalties.
Three other youngsters finished in the top 10. Darrell Wallace Jr. (19) ran up front most of the race before finishing 10th, Joey Coulter (22) was eighth and 20-year-old Jeb Burton finished ninth.
Oh yeah, one other thing. The winner was that Cup star guy, the only Cup driver in the field. Kyle Busch made it two in a row in the CWTS with his victory at Dover. It was his third Truck series win at the Monster Mile, a track record.
Matt Crafton improved in his season points lead by finishing second Friday. He now leads Burton by 30 points.