Jimmie Johnson Dominates At Pocono
Sprint Cup: Earnhardt gaining momentum
No offense to the five-time Sprint Cup champion and future Hall of Famer, but Jimmie Johnson winning at Pocono Raceway wasn't the big news on Sunday.
He wins every week -- or so it seems.
The big news was Dale Earnhardt Jr. being in contention for the victory, running second to his Hendrick Motorsports teammate on the final two restarts and finishing third.
OK, so Earnhardt never was a serious threat to take the lead unless Johnson bungled the restart the way he did a week ago, and that would be hard to do from the lead.
But it's still the biggest story of the day because NASCAR's most popular driver hadn't had a top-5 since finishing second at Auto Club Speedway on March 24. He was first in points then. He had fallen to sixth heading into Pocono with an average finish of 19.25 over the previous eight races.
Now he's put together consecutive top-10s.
Could a win be around the corner?
A year ago, Earnhardt led some laps and ran strong at Pocono, and then won the following week at Michigan. The same thing happened in 2008.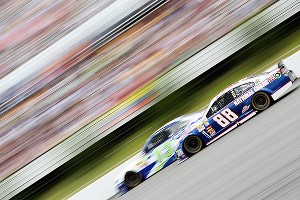 Nick Laham/NASCAR/Getty ImagesDale Earnhardt Jr. (88) heads to Michigan International Speedway -- where he last won -- having registered four top-10s in the past five races.
So maybe Sunday's finish is an indication of things to come.
"They grow stronger and stronger each week, and I know there's a bright light on those guys and what they do week in and week out," Johnson told reporters after his 63rd career victory. "They're strong, and they elevate their teammates, as well.
"We certainly do all we can to help them out and help them grow and get stronger. But they're clicking. They're doing a great job."
Unfortunately for Earnhardt and everybody else in NASCAR, Johnson and crew chief Chad Knaus are doing a superb job. They have elevated their game to a level that makes the No. 48 team a favorite to win every weekend, not just once every four years at Michigan.
As Earnhardt acknowledged, Johnson is one of the best drivers the sport has ever seen and Knaus is one of the best crew chiefs ever.
"They win championships," Earnhardt said. "They win a lot of races. He's going to have his opportunities all year long."
Earnhardt still has an opportunity, as well. Just because he didn't have enough of that Hendrick horsepower to get around Johnson on this day doesn't mean he won't in the near future.
This is a fickle sport. You can look like an also-ran one week and be a championship contender the next, as three-time champion Tony Stewart has shown with a win and a fourth-place finish the past two weeks.
Contending for wins is where it all begins, and that's what Earnhardt was in position to do on Sunday even though he didn't lead a lap.
"We knew we had a good car," Earnhardt said. "The last restarts were kind of tough. Being on the inside on the front row really ain't the catbird seat. The guys behind you can get good runs on you and put you three-wide, and I was just really more in defense mode there."
That showed, as another struggling driver, Greg Biffle, quickly moved to second on the final restart. But Earnhardt more than held his own, fending off Stewart, who was seeking to build on last week's victory at Dover.
"Hopefully, going to Michigan we've got a good package…," Earnhardt said. "But so far it's been real similar to last year. We were strong here last year."
That's good news for Earnhardt. Even better that he's going to one of only five tracks -- Michigan, Chicago, Homestead-Miami, Watkins Glen and Kentucky -- where Johnson hasn't won.
The bad news is Johnson is on a roll. He's led 271 of 560 laps between Dover and Pocono and is a jumped restart from consecutive wins.
That also is good news, since Earnhardt shares the same shop with Johnson's team.
"I get to lean on them and I get to know exactly what's happening under the hood, and I can learn and use that to my advantage," Earnhardt said.
"When it's good for Jimmie, it's equally as good for us in an indirect way."
Which brings us to Michigan, a place where Earnhardt has good thoughts because it's the scene of his last two victories.
"It is good for us to get a good run," said Earnhardt, who moved up two spots in the standings to fourth. "We were counting on sort of rebounding. We haven't had a good last couple of months, cars haven't been that fast, had some issues here and there.
"But it's good to get a good solid full race in and finish where I felt like the car was capable of running. Hopefully, we can do this throughout the summer and get ourselves in the Chase pretty comfortably."
Earnhardt was happy about his day, as was Biffle, who earlier in the week talked about how his team and Ford in general were missing something. The runner-up finish was his second top-5 of the year and first since April 13 at Texas.
It moved the Roush Fenway Racing driver up three spots to 10th in points as he, too, heads to one of his better tracks, where he has three wins -- including the second race last year -- and nine top-5s.
"We've still got a little bit of work to do," Biffle said. "…Clearly we're not celebrating that we finished second today … but definitely, this is a step in the right direction."
It was another step in the right direction for Kurt Busch, as well. His seventh-place finish was his fifth top-10 for a Furniture Row Racing organization that had only 11 top-10s from 2005 to 2012. It moved him up two spots to 15th in points, only 21 behind the top 10 guaranteed a spot in the Chase.
It wasn't a step in the right direction for Denny Hamlin, who was counting on Pocono as a place where he could win to climb back into Chase contention. He finished eighth and moved up only one spot to 25th -- and lost two points to 20th, falling 76 behind.
"We weren't competitive," said Hamlin, who didn't blame the finish on Toyota backing off horsepower for more engine durability. "Really, we were a little bit off all weekend."
That describes Earnhardt for much of the past two months. That's why, despite Johnson's dominance and excellence, a third-place finish by a driver seeking his first Cup title was the big news on Sunday.
"I feel the same way as Greg [Biffle]; we got a little work to do to get to where some of the other guys are," Earnhardt said. "But we're pretty happy about today."
ESPN Staff Writer
Covered Panthers, NFL for 11 years
More than 25 years experience covering NFL, college football and NASCAR
Joined ESPN in 2006
Trevor Bayne Wins Nationwide Race At Iowa
Nationwide: Big week for Bayne
No Sprint Cup drivers: Part 1
Maybe NASCAR stumbled into a way to keep Cup regulars from invading the Nationwide Series.
Stand-alone events and rain.
The postponement of Saturday night's race at Iowa Speedway to Sunday because of inclement weather meant Joey Logano, the lone Cup regular scheduled to compete in a car with a legitimate chance to win, had to stay in Pocono to compete in NASCAR's top series.
That took the driver who won the Nationwide race a week earlier at Dover -- a driver who was a nine-time winner in 2012 -- out of the mix.
Trevor Bayne took advantage, taking the lead from Austin Dillon with 11 laps remaining to cap a big week in which he was married on Tuesday.
Say all you want about Nationwide drivers learning from Cup drivers, winning means something to these up-and-coming stars who have won only three times in 12 events this season.
Just read what Bayne said afterward when asked if winning means more since it came five days after exchanging vows.
"Man, just getting the victory would be awesome, but to do it like this on such a special week for me ... I was teared up on the altar on Tuesday and I about teared up in Victory Lane on Sunday," the Roush Fenway Racing driver told reporters in Newton, Iowa.
And this from a driver who has won the Daytona 500.
Those are the emotions we miss week to week with Cup regulars stealing the spotlight. Buddy Baker may have summed it up best Friday on SiriusXM Radio when he said you never learn anything by looking at another driver's rear bumper.
You certainly don't learn how to win -- and experience the feeling that comes with it.
"We are back," Bayne said. "I get to drive a championship-contending car with a team that doesn't give up. We have been through some trials this season, but the Lord just made us stronger and we have come back and fought hard the last couple weeks, and now we get a win."
If you need further evidence that these moments are important to the Nationwide regulars, winning crew chief Mike Kelley skipped the wedding to work on the car.
Whether Bayne truly is a championship contender remains to be seen. His win came with a team that helped Ricky Stenhouse Jr. to Victory Lane three straight races at Iowa from 2011 to 2012.
And he remains ninth in points, 80 back of point leader Regan Smith.
But the good news is nobody had to count past the Cup regulars to find the highest-finishing Nationwide regular.
Thanks in part to a stand-alone event and rain.
And while we're talking Iowa Speedway, another packed house is further evidence the track deserves a Cup race.
Camping World: Jeb Burton's turn
No Sprint Cup drivers: Part 2
Think Truck series regulars are satisfied with learning while Sprint Cup regulars celebrate?
Read what 20-year-old Jeb Burton said after collecting his first Camping World victory on Friday night at Texas Motor Speedway, where no Cup regulars competed.
"I'm just living the dream," the son of 2002 Daytona 500 winner Ward Burton told reporters after the race. "It's huge. I've been telling everybody, once we get one they're going to start stacking up [wins]."
Well, Burton and his Turner Scott Motorsports team might if Cup regulars stay away. Kyle Busch had won the previous two Truck races at Charlotte and Dover, and he likely would have been a factor at a Texas track where he's won twice.
But if social media response is an accurate measuring stick, Busch wasn't missed at Texas and fans got a kick out of watching a finish of Burton, Ty Dillon, German Quiroga, Matt Crafton, Brendan Gaughan and Darrell Wallace Jr.
And if Busch or another Cup regular had been in Texas to steal the thunder, Jeb's dad wouldn't be experiencing this:
"Shoot, man, this is the most special moment in motorsports I've ever experienced," Ward Burton told reporters. "The biggest two races I won were the 500s at Darlington and Daytona. But anybody that's got children, the experience of them and all the sacrifices you make for them to be successful, it's such a different emotional experience."
Enjoy it while you can. Busch will return to the No. 51 when the series resumes in three weeks at Kentucky.