Greg Biffle Repeats At Michigan
Sprint Cup: Biffle's win signals momentum shift
Now what was all that talk a few weeks ago about the Sprint Cup season being only about Hendrick Motorsports, Joe Gibbs Racing and all those other teams that couldn't?
Maybe that was a little premature. In case you haven't noticed, the momentum has shifted in NASCAR's Sprint Cup Series.
Jimmie Johnson had the fastest car in each of the past three races. He has one win to show for it.
Matt Kenseth's assessment of Sunday's race at Michigan was simple: "The Hendrick cars had everybody covered."
And yet, Hendrick Motorsports didn't have a car that finished in the top 25.
Speaking of surprises, JGR hasn't placed a car in the top three in more than a month after winning five of the first 11 races.
Hendrick still might be the team to beat and JGR still has three strong cars, but what looked like a two-team runaway a few weeks ago has shifted back toward a little more parity.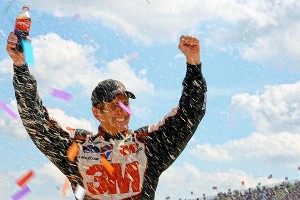 John Harrelson/Getty ImagesGreg Biffle's victory Sunday at Michigan gives Ford a much-needed confidence boost.
Roush Fenway Racing and Ford finally got back to Victory Lane on Sunday with Greg Biffle's win, one week after he finished second to Johnson.
After the worst start of his career, Tony Stewart has posted four consecutive top-10s, including three straight top-5s and one victory, moving up 12 spots in the standings to 10th.
Kevin Harvick has five consecutive top-10s, including a win at Charlotte and a second-place finish Sunday. Richard Childress Racing teammate Jeff Burton finished 10th at Michigan, and RCR driver Paul Menard would make the Chase if it started today.
Clint Bowyer is third in the standings for Michael Waltrip Racing, and teammate Martin Truex Jr. finished third Sunday.
Yes, there's more to Cup this year than Johnson and the two organizations that were dominating the races. And that's a good thing, but Hendrick won't have many days like its Michigan House of Horrors Sunday.
Jeff Gordon had nowhere to go when Bobby Labonte spun in front him early in the race. Kasey Kahne blew a tire with a car that could run up front. And Dale Earnhardt Jr. looked as if he might win at Michigan again before his engine blew.
Then there's Johnson, who had pit stop issues and cut a tire at the end while trying to catch Biffle.
"Yeah, it's just a bummer," Johnson said in a TNT interview. "We had a great race car. Our strategy was throwing some challenges at us today, and we just struggled with maintaining track position.
"We couldn't get it right on pit road with the strategy. I feel like one got away from us, but we'll come back next week at Sonoma, make some right-hand turns and see what happens.''
Johnson likely will be a contender again this weekend on the road race at Sonoma, where he won in 2010. But so will Ford driver Marcos Ambrose, along with 2012 Sonoma winner Bowyer and possibly Kurt Busch, who won at Sonoma in 2011.
Even Danica Patrick might be in the mix at Sonoma. She raced well on road courses last season in the Nationwide Series. Patrick is coming off a 12th-place finish at Michigan, her best showing in more than two months and only her third top-15 of the season.
"We caught some breaks out there," Patrick said Sunday. "Yellows definitely helped us get track position. The last run was the best run I felt as far as the balance of the car.
"It's nice to get a decent finish for the team. It's been rough going. This will hopefully get everyone's head up a little bit and we'll go on. I think we've been strong lately. We just needed to have days like today where we finish it off."
Stewart-Haas Racing's recent improvement as an organization could benefit Patrick and lead to better results.
Momentum means a lot in racing. SHR and RCR seem to be on an upswing in the Chevrolet camp. Biffle is giving Ford a confidence boost. And it looks as if the Waltrip drivers are getting close to showing the success they enjoyed a year ago.
One bad week won't derail the Hendrick juggernaut, and the Gibbs boys won't stay down long, either. But the drivers and teams behind them have done some catching up in recent weeks, proving they still can get it done, too.
ESPN Staff Writer
Covered the NFL at the Houston Post and Houston Chronicle, including eight Super Bowls
Received Citation for Writing Excellence from Hearst Newspapers
Also has covered NBA Finals, World Series, Finals Fours, Indy 500 and Daytona 500
Nationwide: Regan Smith Wins At Michigan
Nationwide: Regan Smith wins for JR
Guess what? The chances of Dale Earnhardt Jr. winning a championship this year are looking pretty darn good. As a team owner, that is.
There's a long way to go, but Regan Smith and JR Motorsports could be headed toward their first NASCAR championship.
Smith earned his second Nationwide Series victory of the season on Saturday at Michigan, giving him a 58-point lead in the standings for the No. 7 Chevy team owned by Earnhardt.
Maybe the biggest surprise of the day was the Cup regulars who failed to win it. Paul Menard was third, and Joey Logano finished 11th. Kyle Busch, who has six Nationwide victories this season, finished fourth in a car that didn't have the straightaway power to get to the front.
Nationwide rookie Kyle Larson continues to impress. He finished second, his third top-5 in the past four races.
"We're gonna win shortly," Larson said. "It's close. We'll get one soon."
Newlywed Trevor Bayne, who won a week earlier at Iowa, posted his third consecutive top-5 by finishing fifth in the No. 6 Ford. Bayne has moved up four spots in the standings in the past four races, going from 12th to eighth.
Everyone involved in Saturday's race was thinking about Jason Leffler, the Nationwide Series regular who was killed in a dirt-track race three days earlier.
After the victory, Smith stopped on the start-finish line, climbed out the window and touched the two decals on his car that honored Leffler. Smith said a portion of his winnings will go to the fund that was set up for Leffler's 5-year-old son, Charlie.
Camping World: Trucks on hiatus
It's a bit disappointing the Camping World Truck has a couple of weekends off after the exciting finish at Texas June 7 and the emotional first victory for Jeb Burton.
It was tough to tell who was more excited -- 20-year-old Jeb or his father, Ward Burton, who said watching his son go to Victory Lane was a bigger thrill for him than winning the Daytona 500 in 2002.
Jeb held off a hard-charging Ty Dillon in the final laps to earn the victory as Ward watched from the spotter's stand above and received hugs from some of the other spotters.
It was an exciting finish between two rising stars in the CWTS youth movement, and a far better outcome than watching some Cup regular win the event.
Jeb Burton is second in the standings and trails Matt Crafton by only 23 points.
The next CWTS race is June 27 at Kentucky Speedway, where James Buescher won twice last season en route to his 2012 championship. Buescher is winless this season, but he ranks fifth in the standings, 50 points behind Crafton.